Charming baroque palaces, delicious Italian food and a sparkling azure pool. Do you need another reason to go on a weekend trip to Noto in Sicily?
A slice of paradise in the South of Sicily: Noto
Time out. My body was slowly shutting down. Work, responsibilities and what I call "free time stress" were wearing me out for far too long. I desperately needed a break.
So when my big sister asked me to go on vacation with her: I immediately said "YEAH!".
During our one week long trip to Sicily we also made a stop in Noto. A city well-known for having one of the most beautiful baroque old towns on the island.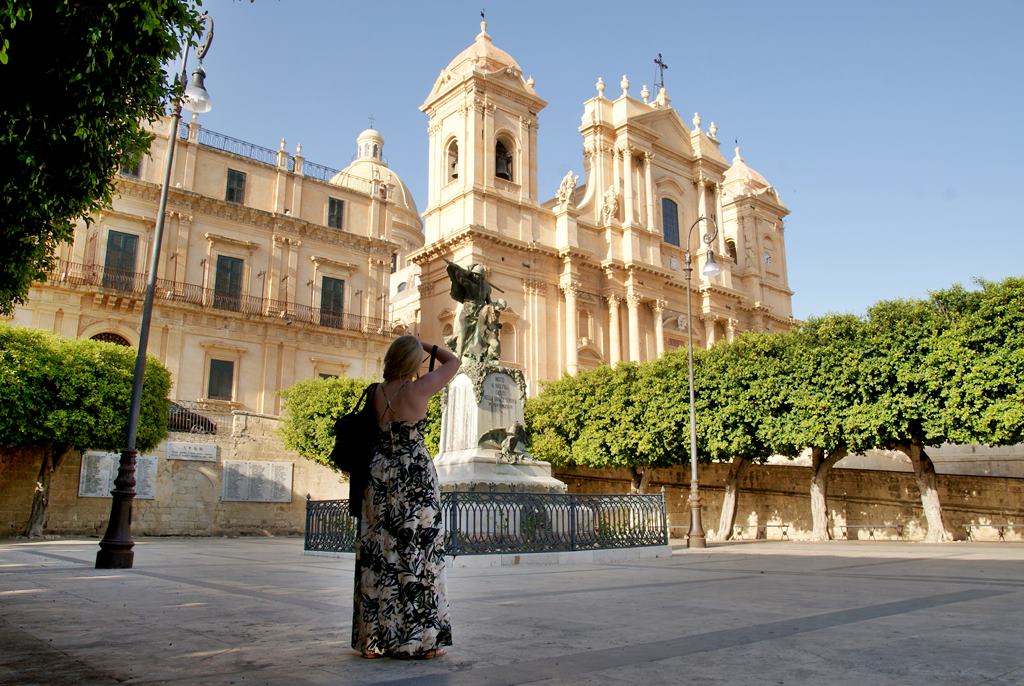 First adventure, then relaxation!
After our time in northern Sicily, we rented an apartment at Casa Quattromulini. A cute, little Bed and Breakfast on the countryside of Noto. Ten minutes by foot from the city center. But before we could lie at the pool and relax after our challenging hike up Mount Aetna, we first had to find our accommodation. To say upfront: This alone was an adventure in itself!
Well prepared – or so we thought – we hit the road in our rental car. Beforehand we entered the route into Google Maps and together with a GPS signal had it with us while driving. But what we couldn't plan for were the new roads that were being built or that we would lose our GPS signal right after leaving the highway A18. So we were driving around without direction. Meanwhile the streets became smaller and smaller.
We hit rock bottom when driving down a gravel street which turned out to be a dead end. Needless to say: We were real close on giving up. But then a little sign ordered us to bend sharply into a steep entry to our destination. It's the understatement of the year to say that Casa Quattromulini is a hidden gem.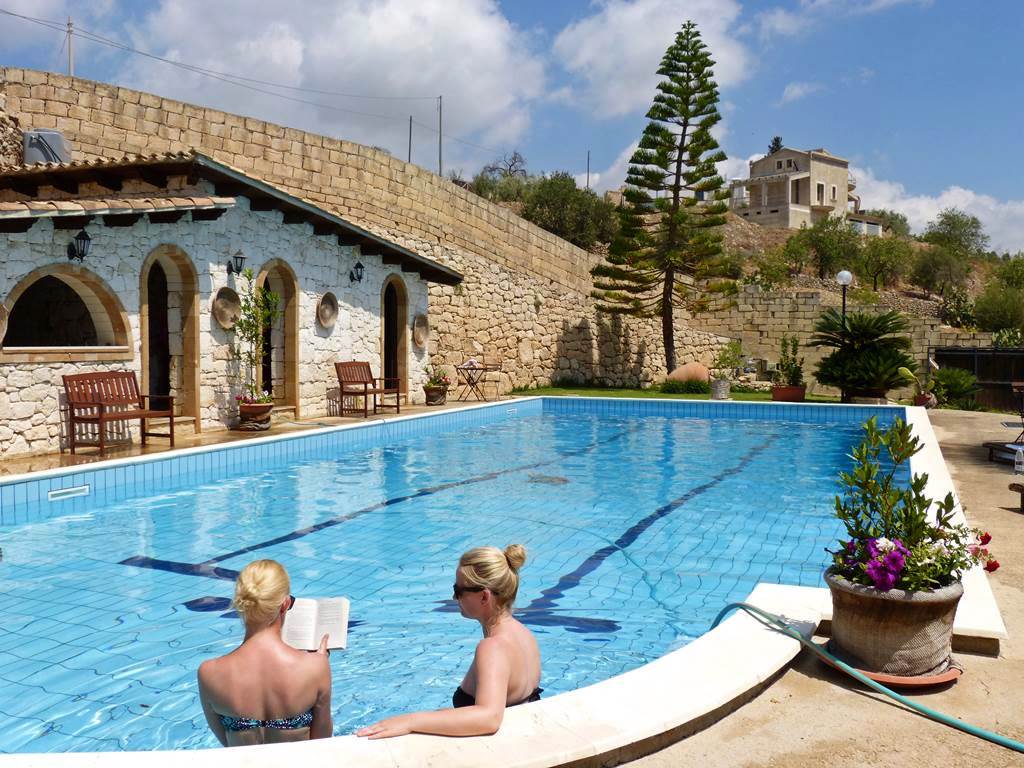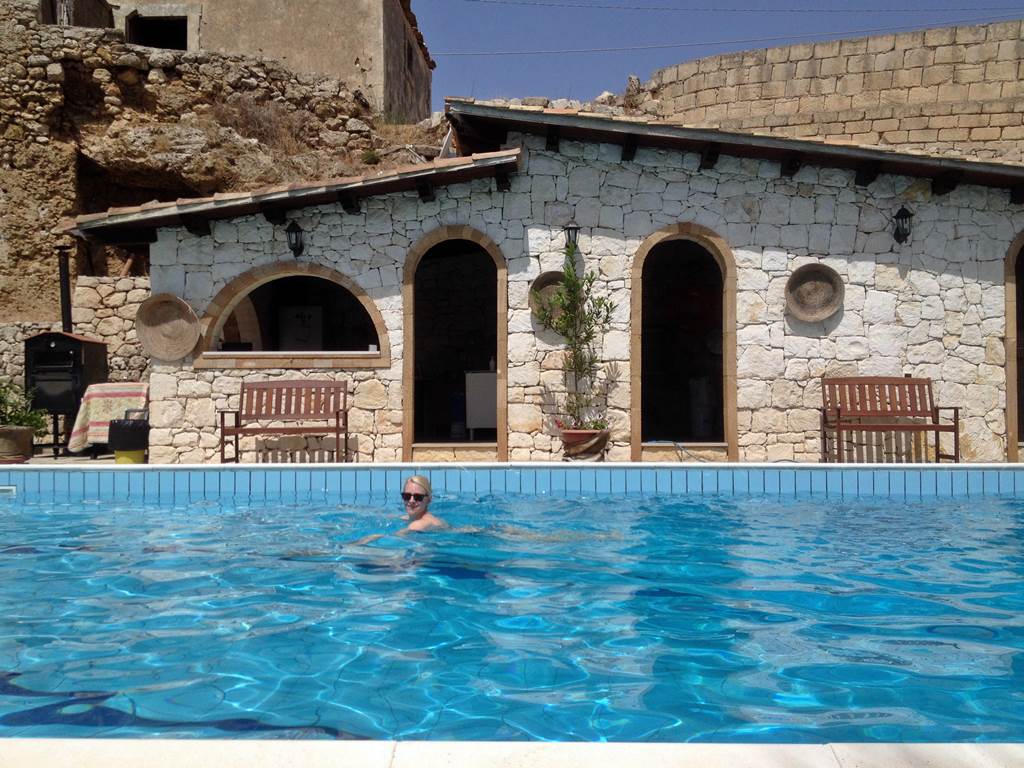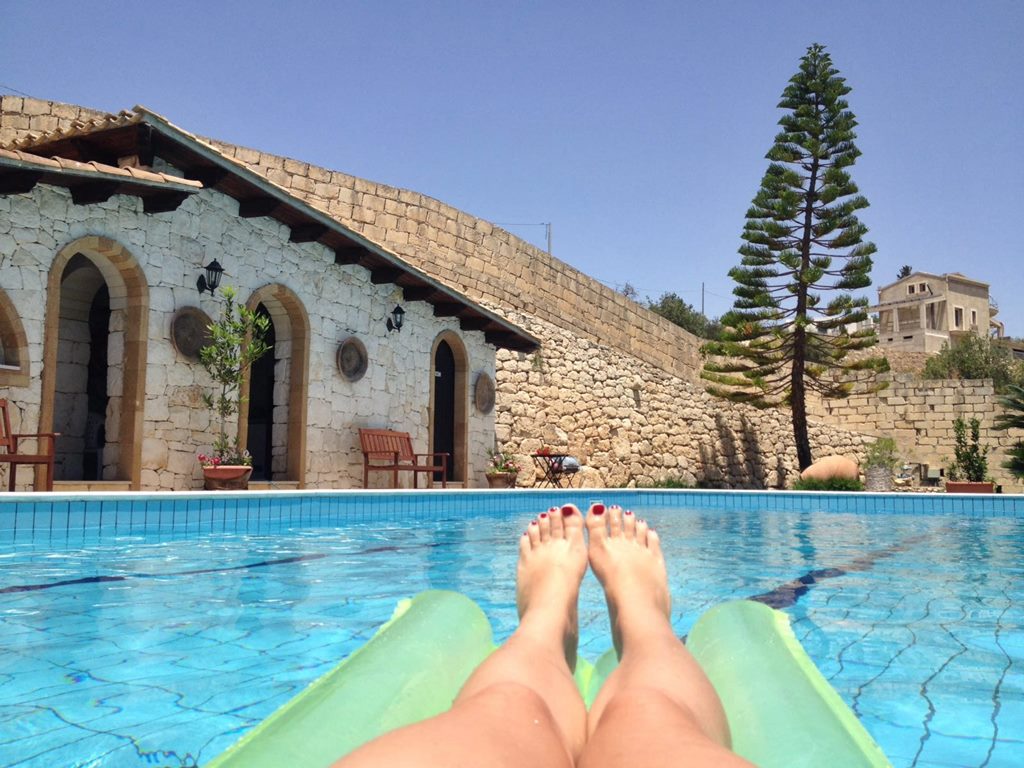 Immerse into the past of the city
The next morning the sun nicely warmed our skin. Birds were chatting to each other in the treetops. I inhaled. Exhaled. Enjoyed the peaceful neighborhood. While Giovannis wife was preparing our breakfast my eyes started to wander. From the sparkling azure pool to the untouched nature on the other side of the property.
The scenery was extremely beautiful. We didn't wanted to leave this little paradise. So we changed our plans. Instead of going to the nature reserve at the east coast we decided to spend the first half of the day at the pool. Swimming. Reading. Chilling. Recharging our inner batteries.
In the late afternoon we then set off into the historic old town of Noto. I couldn't wait to see this UNESCO world heritage site with my own eyes. One thing I wanted to see: the red-golden colors of the houses during sunset. And they didn't disappoint.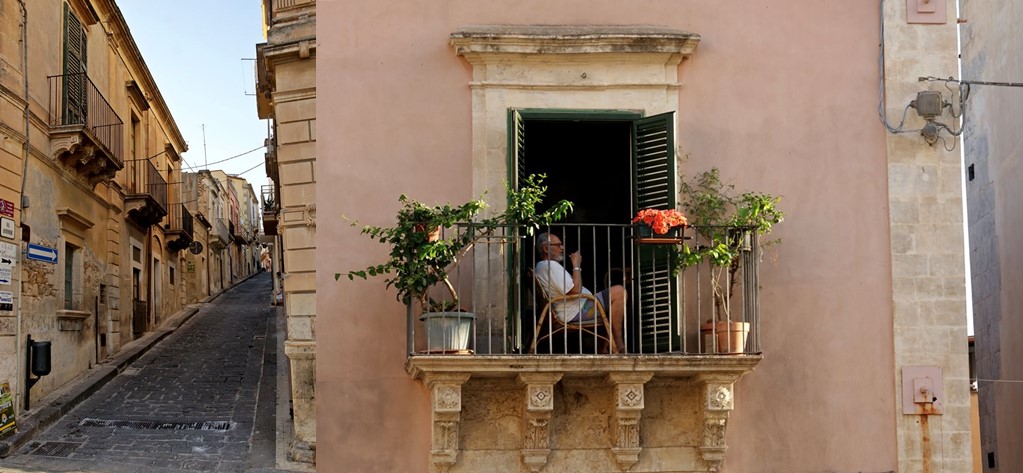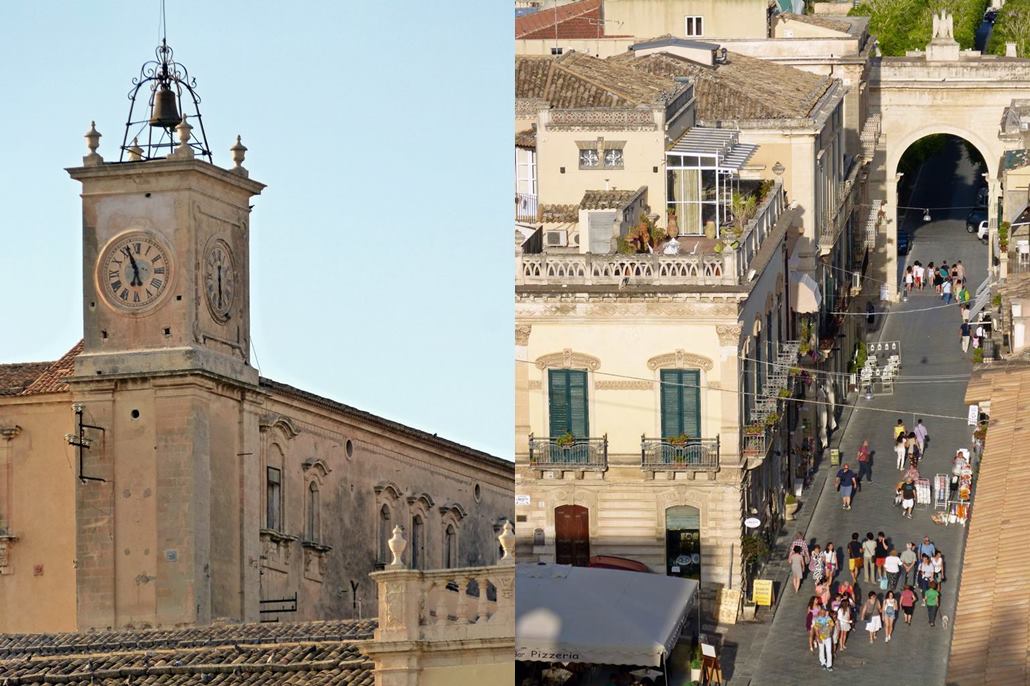 Noto is not only beautiful but also has a thrilling origin: In 1963 a massive earthquake has shaked the South of Sicily. It destroyed Noto Antica. Rebuilding it wasn't worth it due to the dangerous loose subsoil. Therefore the Noto of today was erected approximately 10 kilometers away from the original site. In contrast to many other Italian historic old towns, the heart of Noto is a planned center rather than a randomly spread one.
In the 18th century the rich aristocratic families and convents competed with each other over the most precious and expensive buildings around the three main streets of the city. Every new building had to be bigger and better than the bordering one. Noto grew fast and so they nicknamed it "Garden of Stone". The Hercules Fountain on the upper right picture is one of the few relics in the city from Noto Antica. It can be found in the garden of Villa d'Ercole on the Piazza XVI Maggio and is not very noticeable. You can easily walk by this monument and not know about its remarkable historic value.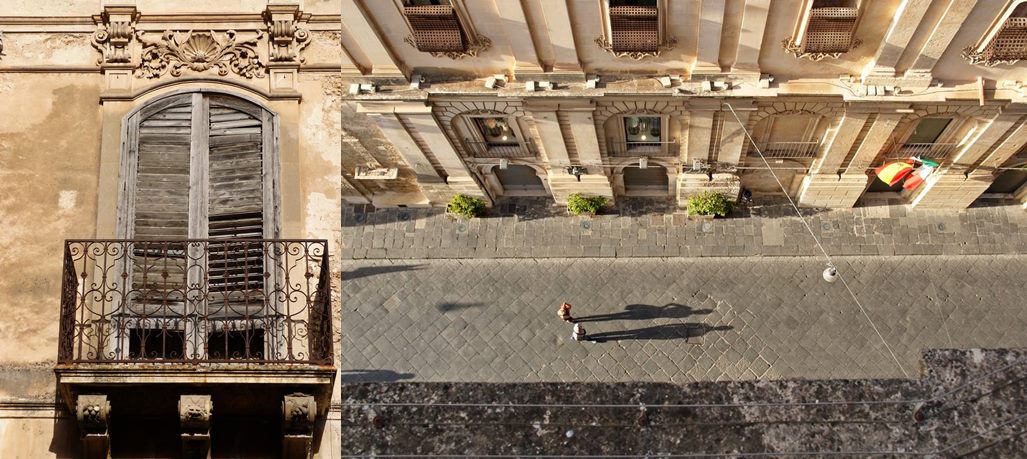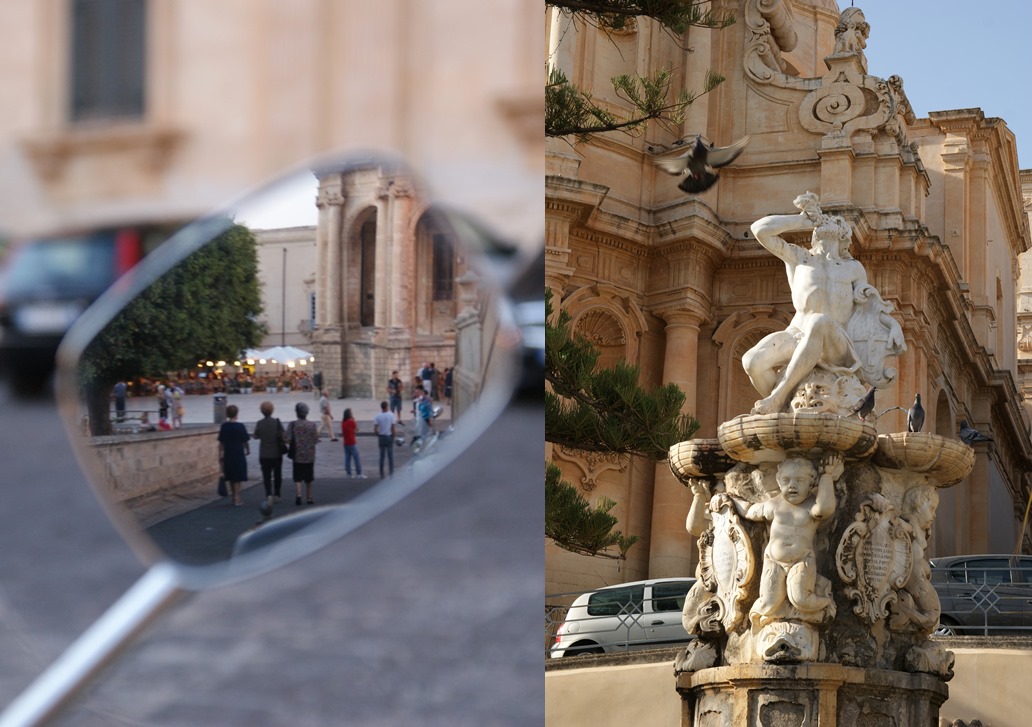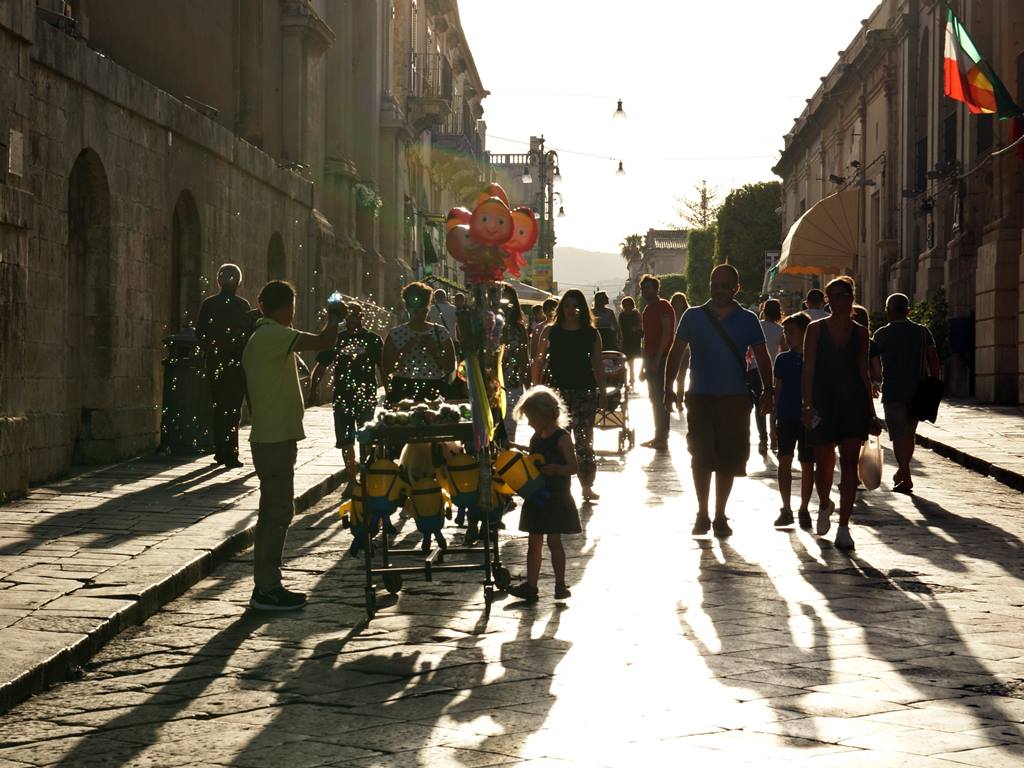 Not to miss: Cattedrale di San Nicoló
The Cathedral of San Nicoló on Corso Vittorio Emanuele is one of the, if not THE main attraction in Noto. Its architecture and beauty are eye-catching, but what I really love about this church are their flights of stairs. A little chit chat, a selfie or just silent admiration: Throughout the whole day they're the main meeting point for locals and travelers alike.
But if you think San Nicoló is already impressive standing in front of it, check out the sight from the roof terrace of Santa Chiara. Pay a small contribution at the cash desk and head upstairs. By foot. There's no elevator, sorry! The interior of Santa Chiara is relatively unspectacular. Better hurry up and safe your time for when you get to the top.
After stepping out onto the terrace me and my sister enjoyed the view for a little while. Later we layed out our equipment and started taking pictures. We got there shortly before closing time, therefore we weren't bothered by other people. Little advice for the amateur photographers among you: For better light go see the church in the early morning hours! Then you – unlike me – won't have the problem of looking straight into the sun.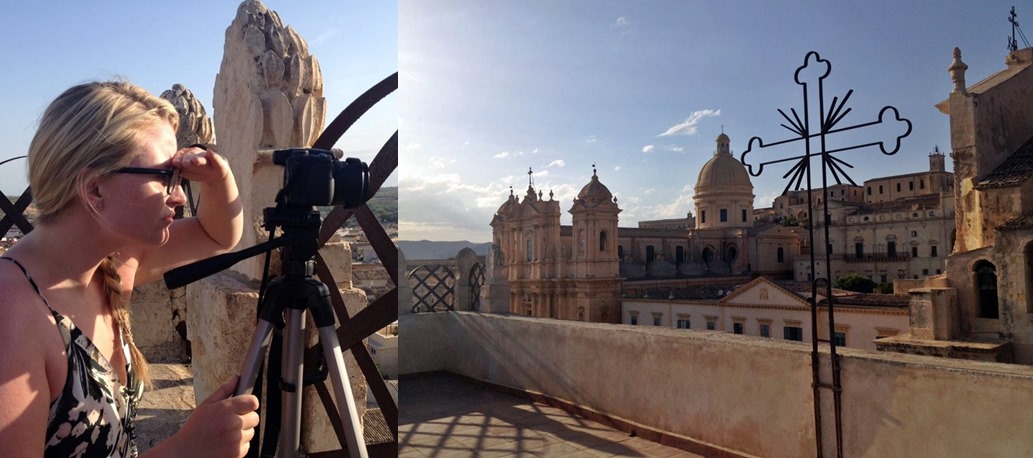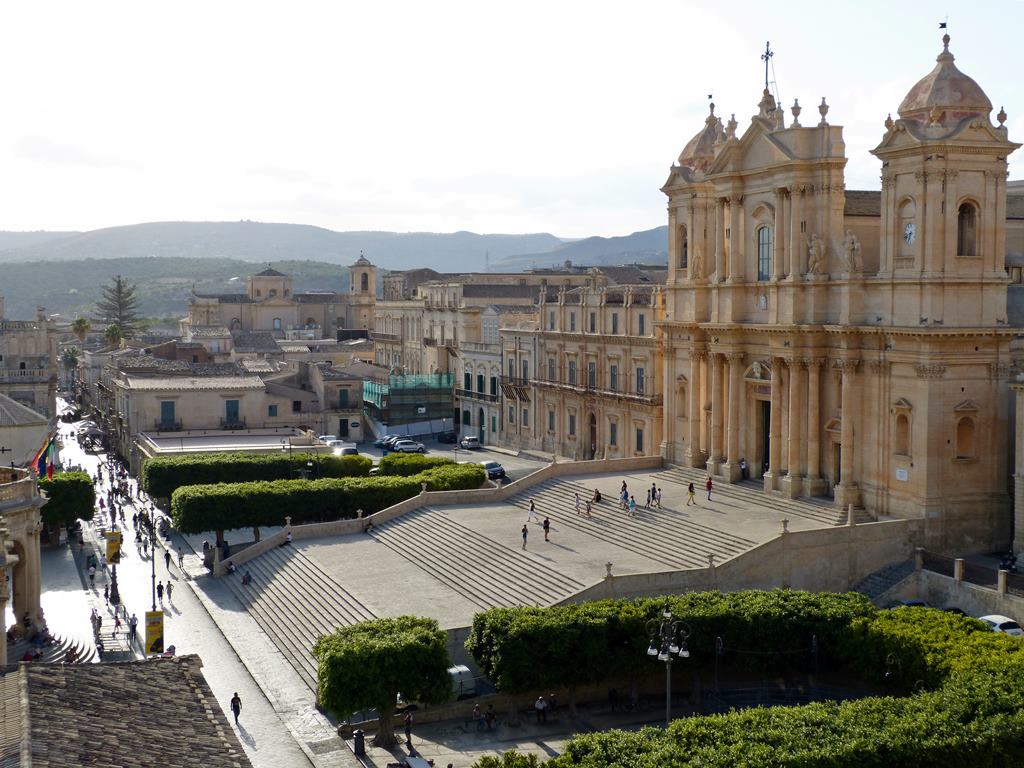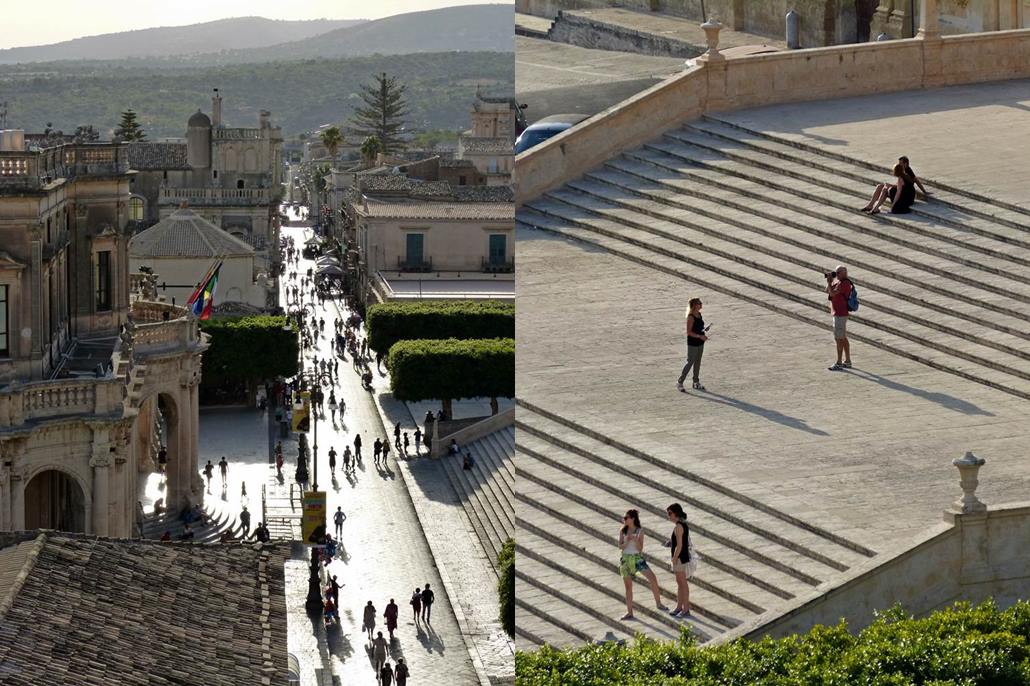 However, Noto has more than only one amazing building. Exactly on the opposite side from the cathdral stands the Palazzo Ducezio. An old palace from the 18th century. Today it houses the city hall. It's the one with the colorful flags in front of it.
Furthermore on the left side of the cathedral you can see the Palazzo Landolina di San Alfano. Once it belonged to the most powerful aristocratic family throughout Noto. By gazing through the middle of these two buildings, you'll see a church tower in the background. It's a great photo spot as you can see on the picture below.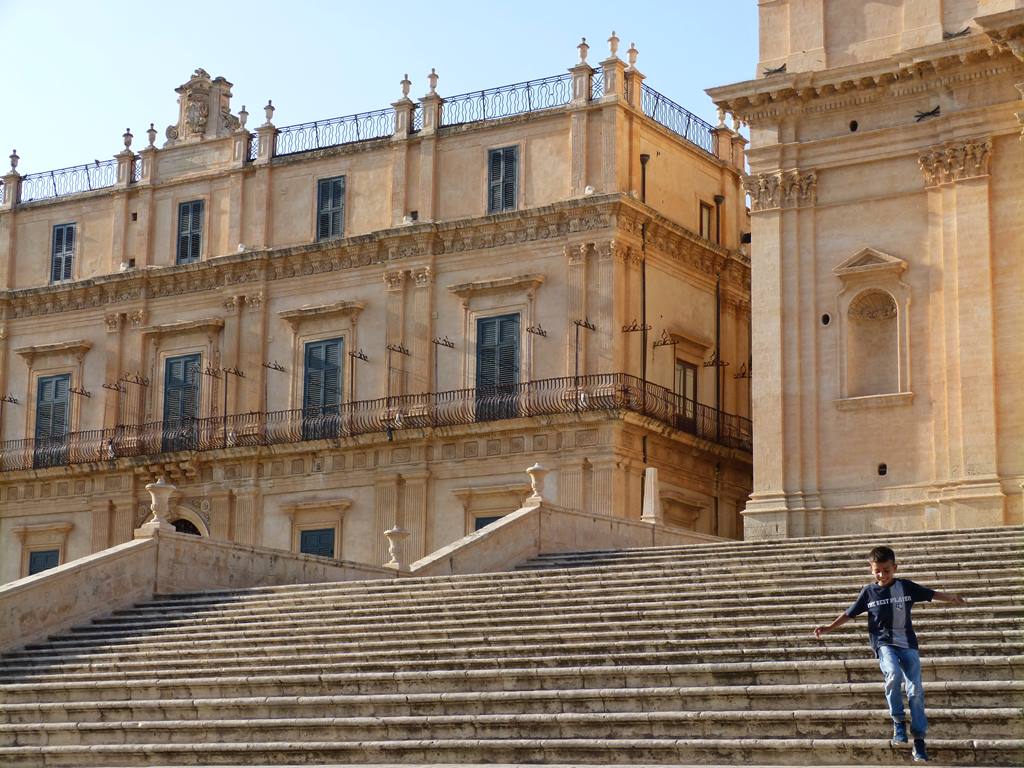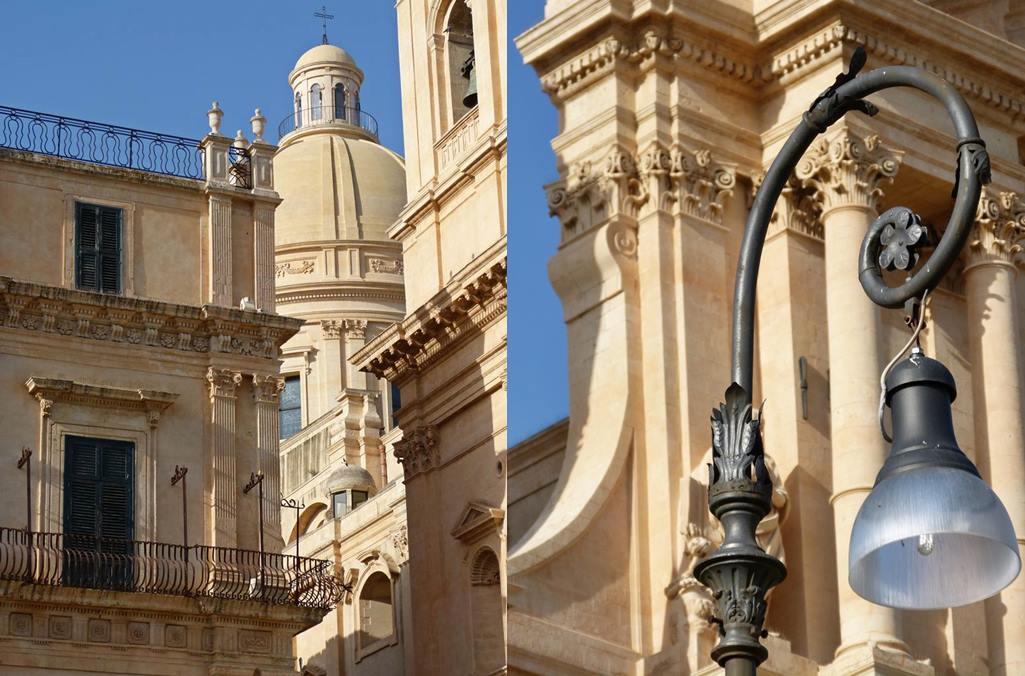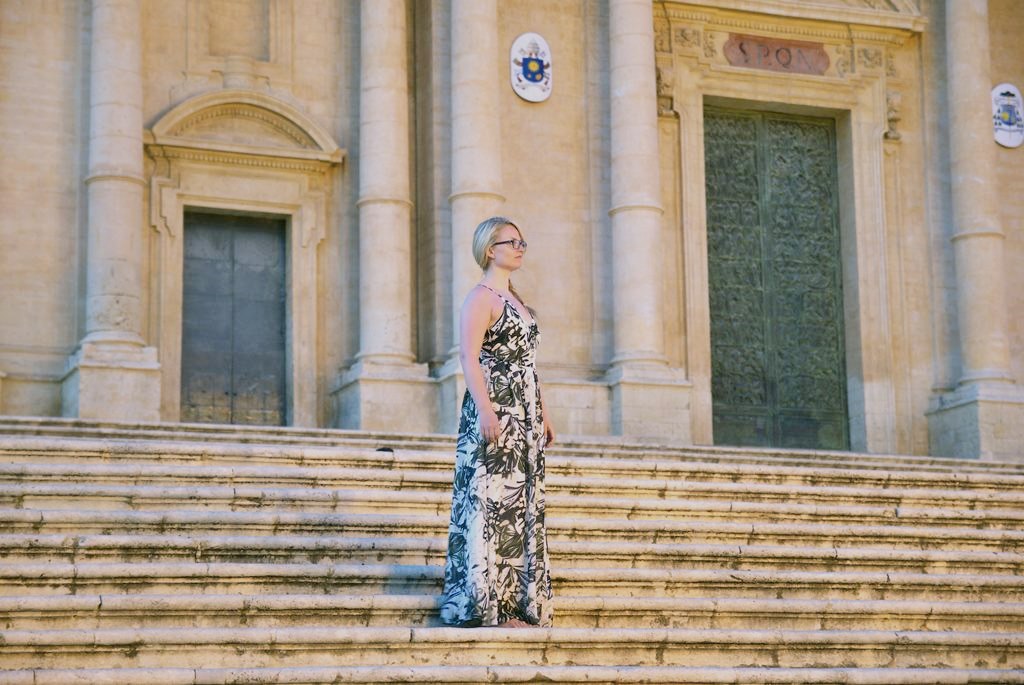 Wine and dine at Cantina Modica di San Giovanni
With all that exploring and roaming through those lovely side streets of Noto, me and my sister worked up an appetite. However, we don't like eating in close proximity to a promenade. So we ended up eating at Cantina Modica di San Giovanni on Via Nicolaci.
We went for an outside table because even in the evening it's pleasantly warm in Noto in June. In the distance a man plucked his guitar. Apart from that it was quiet. Our waiter welcomed us quickly and politely. As if he was sincerely happy to see us. This totally corrected the bad hospitality we experienced one day before.
We were just arrived and followed the advice of our host Giovanni by making a reservation on Via Ducezio. We were really looking forward to eating some authentic Sicilian food. That evening unfortunately eveything went wrong. When we got to the overcrowded location we were totally ignored by the staff. Then they didn't serve us for like fifteen minutes and after we have ordered we waited. And waited some more. 30 Minutes. 45 Minutes. No comment and no apology from our waiter. In the end our food hasn't even made its way through to us after more than an hour of waiting. It has been one of the few times in my life that I left a restaurant mad and still hungry.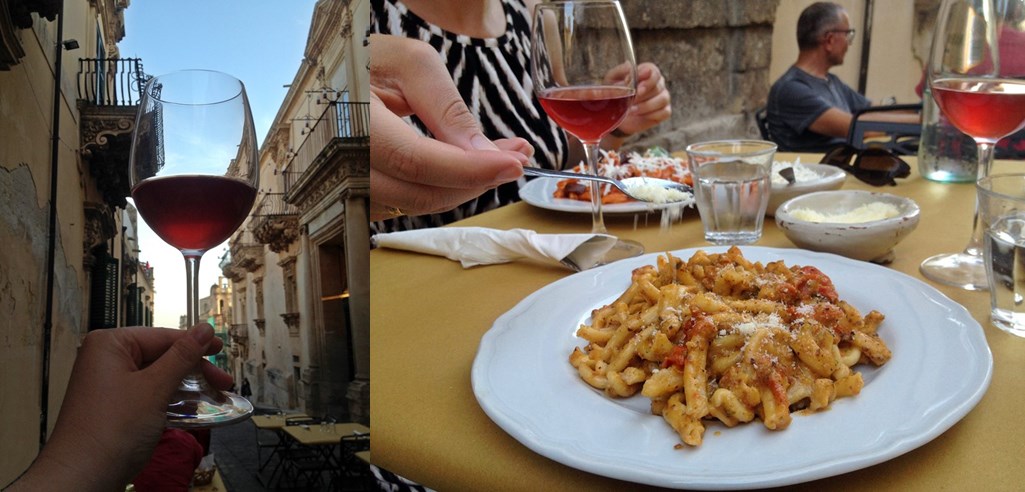 Luckily our experience at Cantina Modica the next day was so much better. You should definitely try out the pasta with pistachio pesto and tiramisu for dessert. Unbelievable delicious!
While we were enjoying our food and the atmosphere, we noticed the Palazzo Nicolaci di Villadorata on the other side of the street. In earlier times this palace was owned by a former civil family, which came into money, prestige and a title of nobility. What is so special about another old building, you ask? Answer: The figures below the balconies! Sirens, satyrs, centaurs or sphinxes – allow yourself a few minutes to take them all in. They seem almost lifelike.
Fun fact: Every third Sunday in May Via Nicolaci attracts huge numbers of tourists. At the Infiorata di Noto this pedestrian street will be transformed into one colorful sea of flowers. By creating paintings out of different blossoms. It must be one hell of a sight!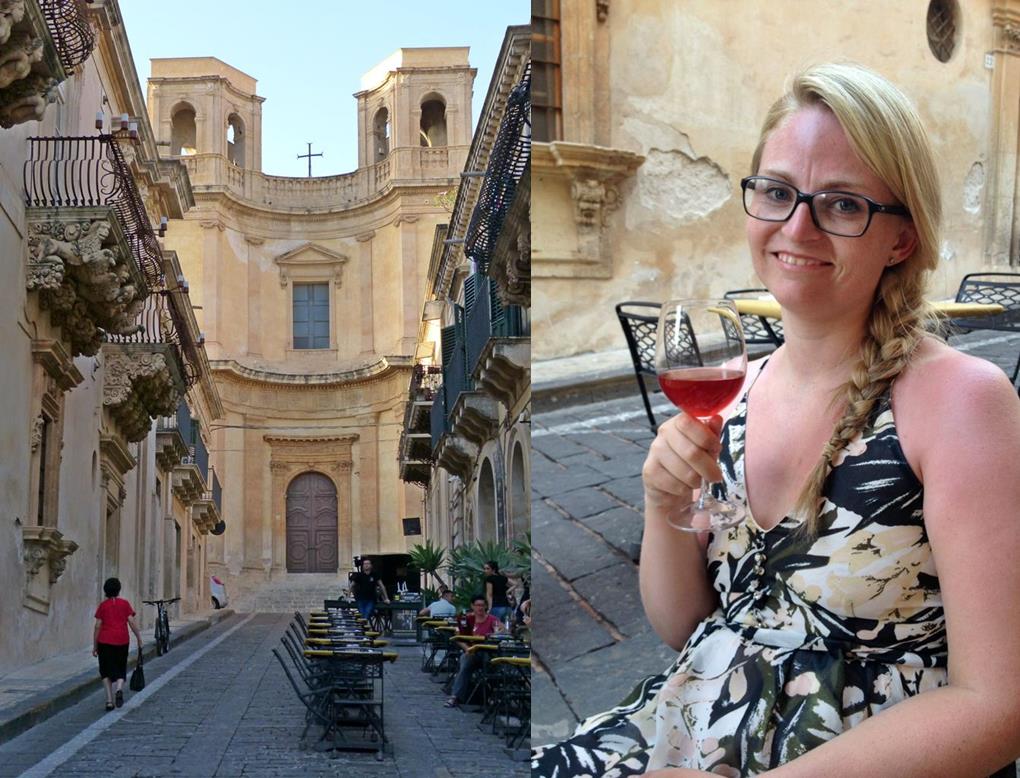 Evening stroll around the old town of Noto
Pasta and wine simply weren't enough for us that evening. We were in the mood for something sweet and headed to Caffé Sicilia. Its ice cream and other sweet treats are famous beyond the city limits of Noto. To our amazement the waiter not only spoke Italian and English, but also German. He recommended pistacio ice cream to us – so this is what we got. Sooo good!
We ended the day with an evening stroll through the historic streets. I love the Italian joy of life, which in Noto you can even feel in the middle of the road at 10 p.m. on a Sunday night. Taking in the lively atmosphere and watching some locals is one of the favorite things I do while traveling.
A group of men were drinking red wine in a restaurant, two elderly women chit-chatting at a corner and even small children were running around with big smiles on their faces. The Sicilian way of life is just a bit different to countries up north. Because their daily routine doesn't start until 9 a.m. and around noon it's too often too hot to do anything, their center of life has been moved into the evening hours.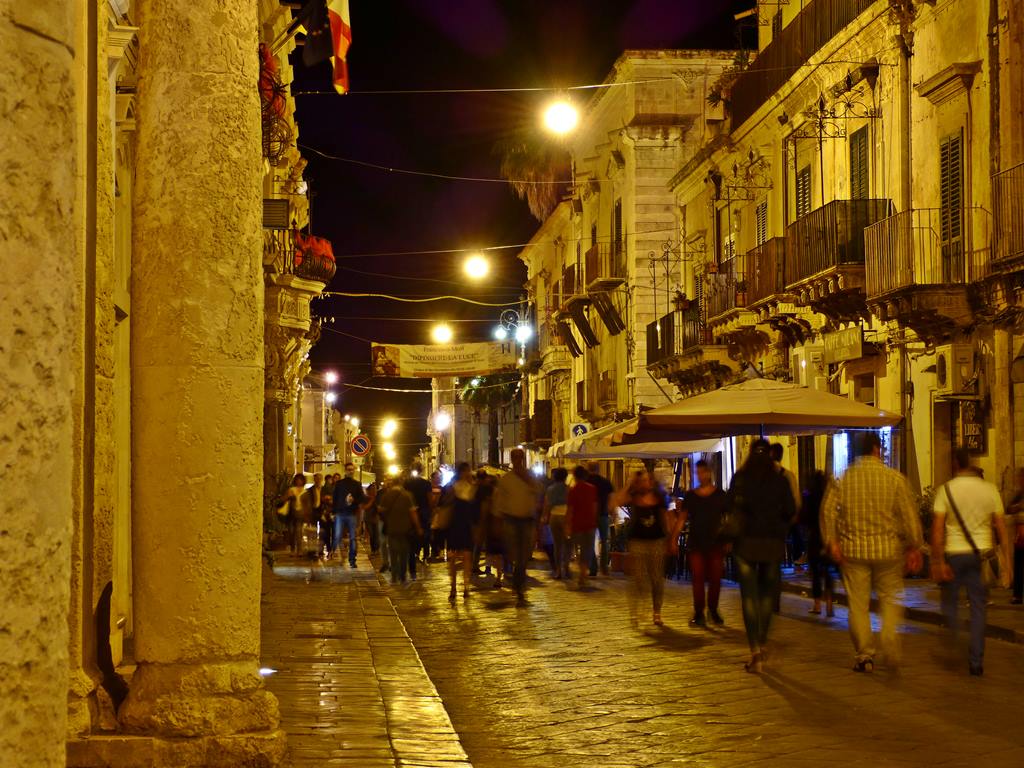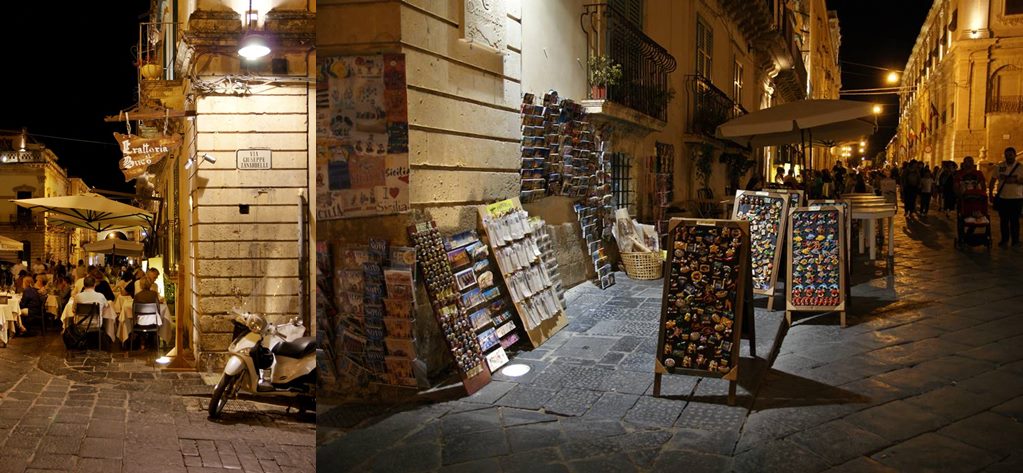 If you're someone who has an eye for the little things, sooner or later you'll find something amazing in Noto. My advice: Simply keep your eyes open and walk off the tourist tracks as often as possible. I personally just can't get enough of deserted little side streets. They're something that draw my attention in every new city I visit. Not only don't I particularly like overcrowded places, but they remind me of my lovely time in Venice.
All in all Noto isn't a city for crazy parties and wild nights. So if you're looking for that, better choose another destination. However, if you want to veg out, enjoy some delicious food and soak up the Italian joy of life: Noto will be perfect for you! But don't just trust my opinion, I dare you to book a flight and go experience it for yourself.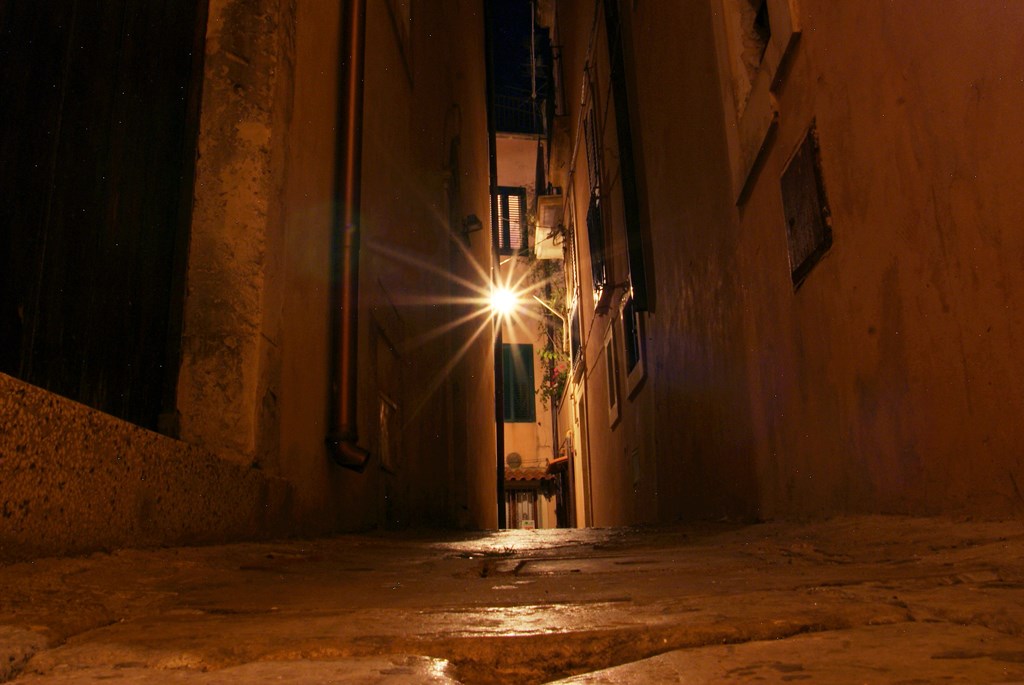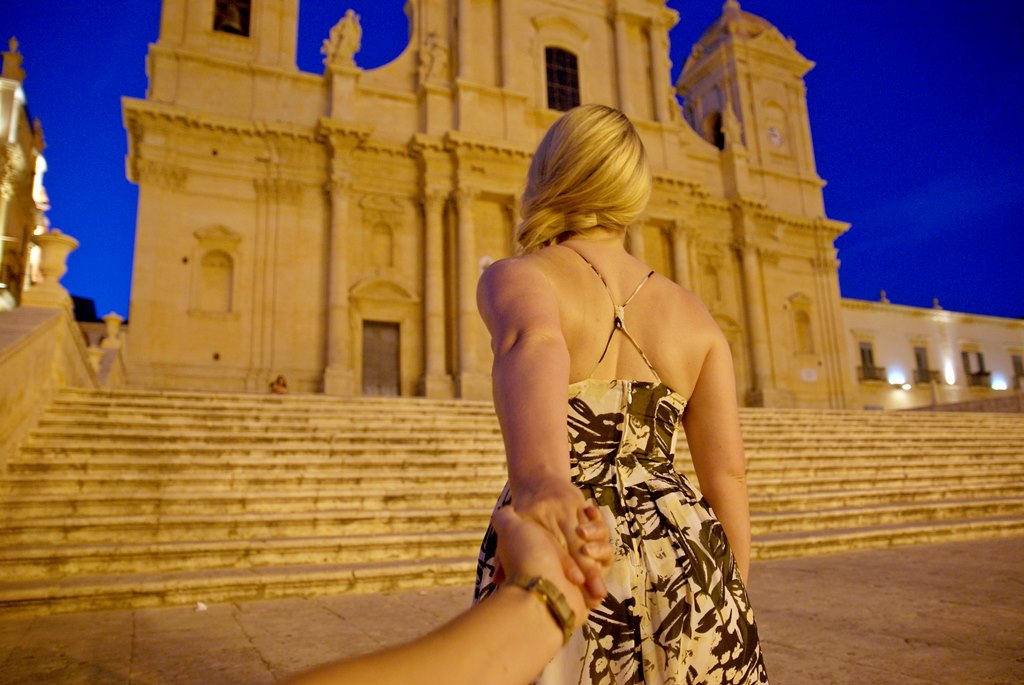 Do you want to go or have you been to Noto? What are your experiences with this baroque city? Tell me about it in the comments below. I'd love to hear it.
***
Photos by SDonnerstag and myself