It's December. That means Christmas lights and decorations wherever you go. But those are not the only reasons why the Irish capital is worth a visit: Dublin at Christmas time
Dublin at Christmas time
Getting there
From Hamburg I flew directly to Dublin with the Irish airline Aer Lingus. I took the Airport Express Bus which costs 7 euros per ride and half an hour later the bus driver dropped me of on O'Connell Street, one of the main roads in the city center. Apart from taking a taxi this is the only way to get from the airport to Dublin. There is no subway system. What caught my eye right away were the Irish signs. The names of streets, museums, buildings and so on are first written in Gaelic and then a bit smaller in English.
Christmas decorations
I checked in at the Mec Hostel and shortly after I grabed my camera, tripod and stepped outside again. The Christmas decorations are omnipresent and beautiful to look at. Especially on O'Connell Street, Grafton Street and both their side streets. That weekend I was really glad I brought my winter clothes even though it wasn't particularly cold. However, is was extremely windy. My tripod fell over more than once and if you watch the mini-video I made about Dublin at Christmas time you may notice a few shake-ups.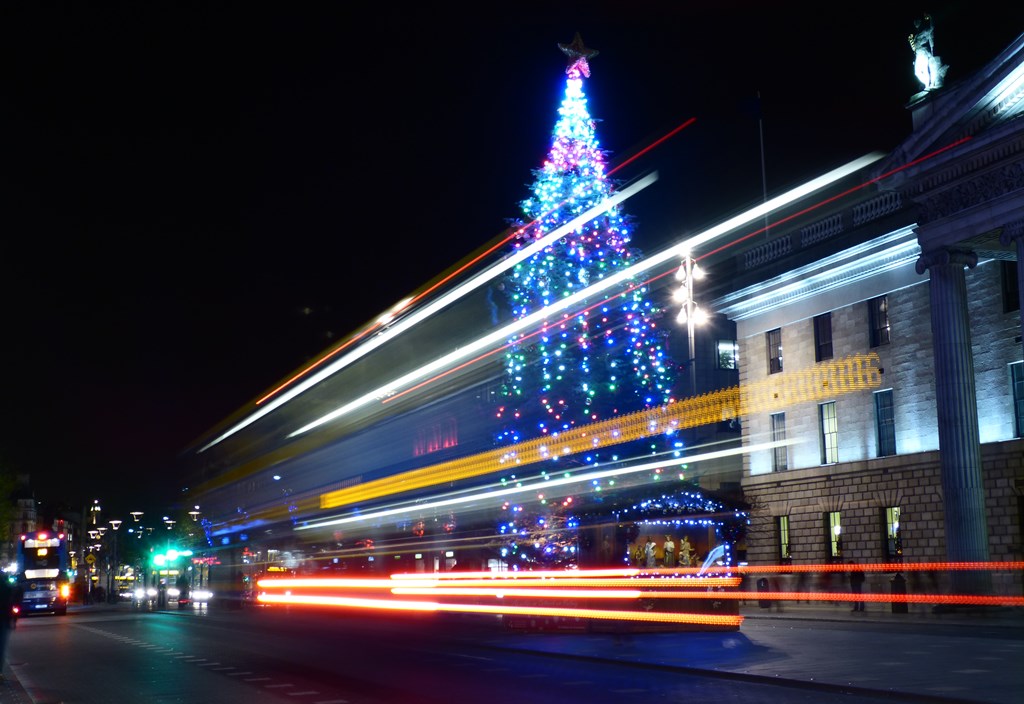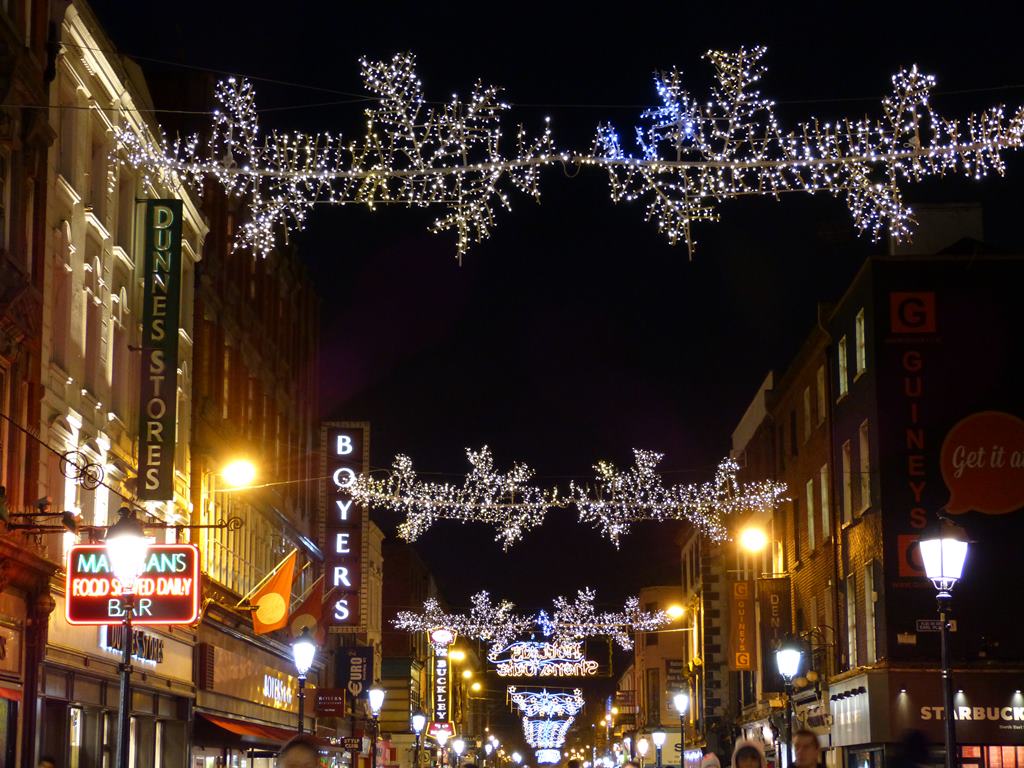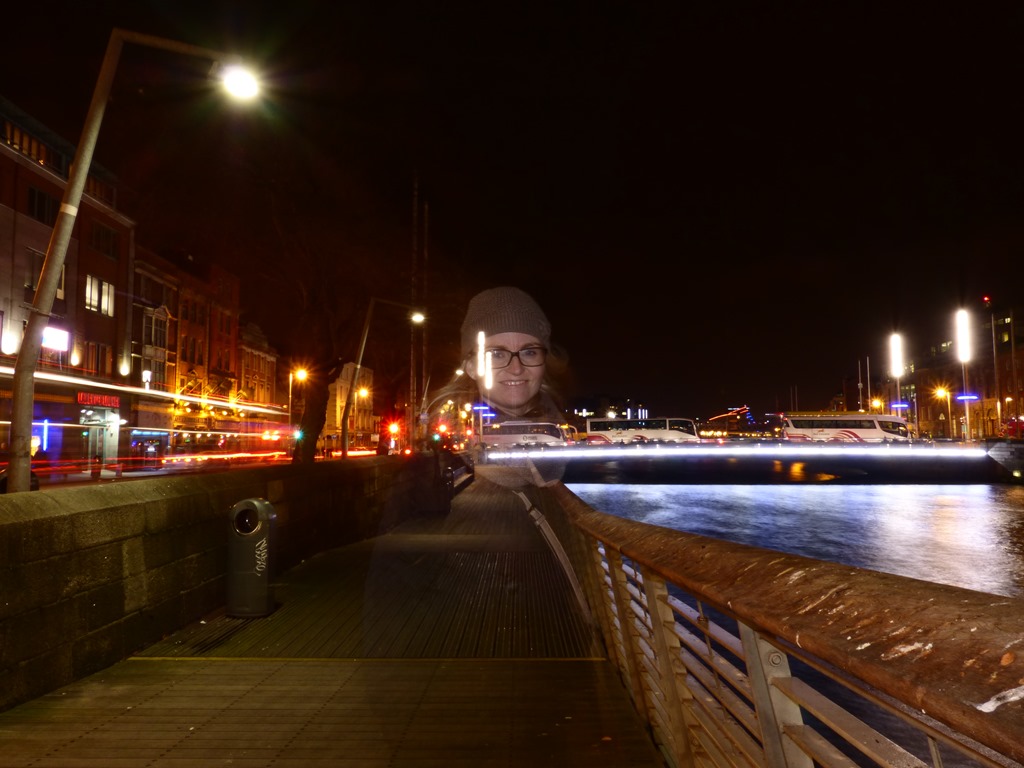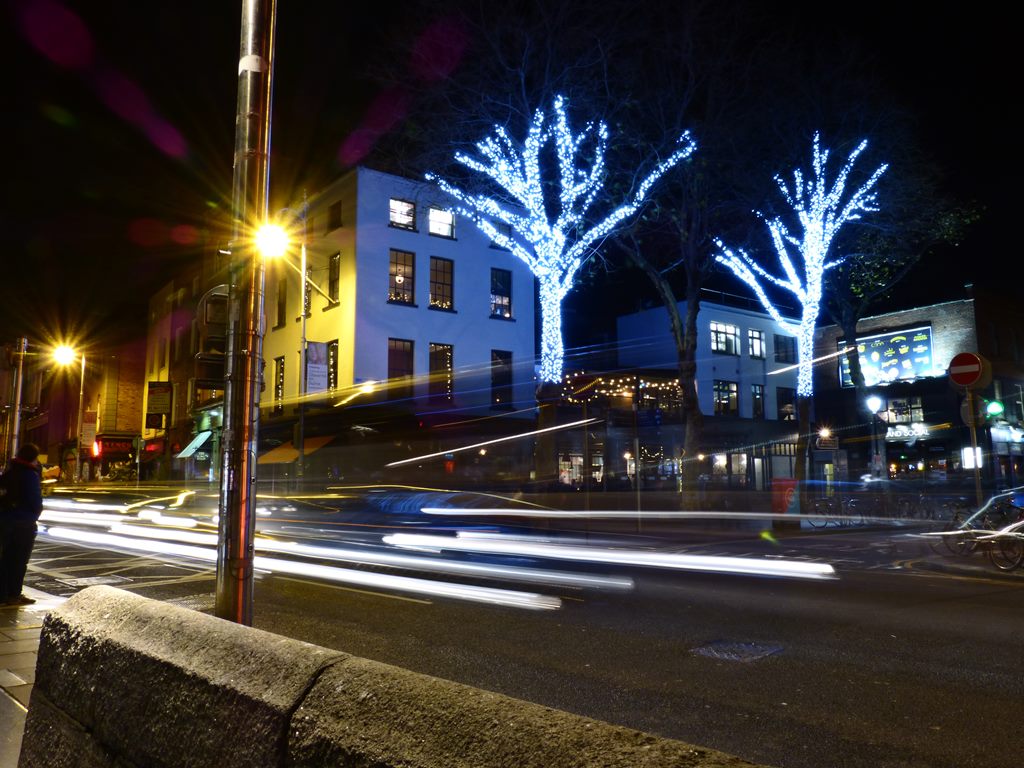 Real Irish breakfast at the Stage Door Café
The next morning I got up early and found my way to Temple Bar. This is not only the most famous pub in Dublin but also the name of the quarter where it is located in. In comparison to other parts Temple Bar still has a ton of cobblestones and old narrow streets. Situated south of the Linney the area was formerly known for being a creative center for artists. Nowadays Temple Bar hosts a lot of pubs, live music and night time attractions.
As you may know about me I love to explore a new city in the early morning hours. Watching it wake up without tons of tourists by my side just is lovely and it offers great photo opportunities as well. After meeting up with my cousin, who temporarily lives in Dublin, together we kept an eye open for the Stage Door Café on Essex Street. Her two Irish roommates recommended it to her, so you know it must be good.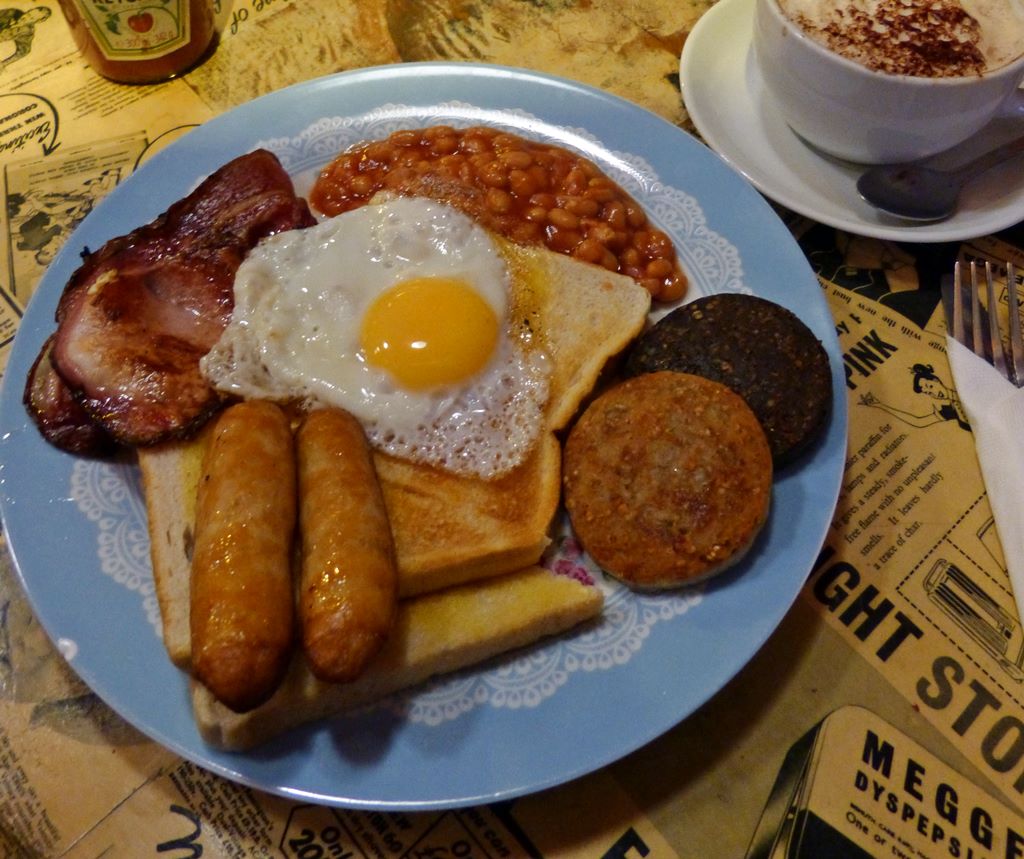 What we didn't know was that most of Dublin's restaurants and cafés open at 10 am. For a German girl who loves to have an early breakfast, that was a bummer. We killed the time by walking around and minutes after they opened we were the first two customers. Turned out that was a good idea because only a short amount of time later this place was croweded with people.
The waiter welcomed us and led us to a cozy booth. After sitting down we noticed the little interior details that make this place quite unique. The tablecloth are made out of old newspapers, naked sculptures and paintings are hanging everywhere in the small, rustic Stage Door Café.Relaxing elevator music came out of the speakers while we ordered. I went for a cappuccino and the Real Irish breakfast. What I got on my plate then was bacon, sausages, beans, butter toasts, a fried egg, one black and one white pudding. It was tasty but definitely not a meal that I would eat on a regular basis.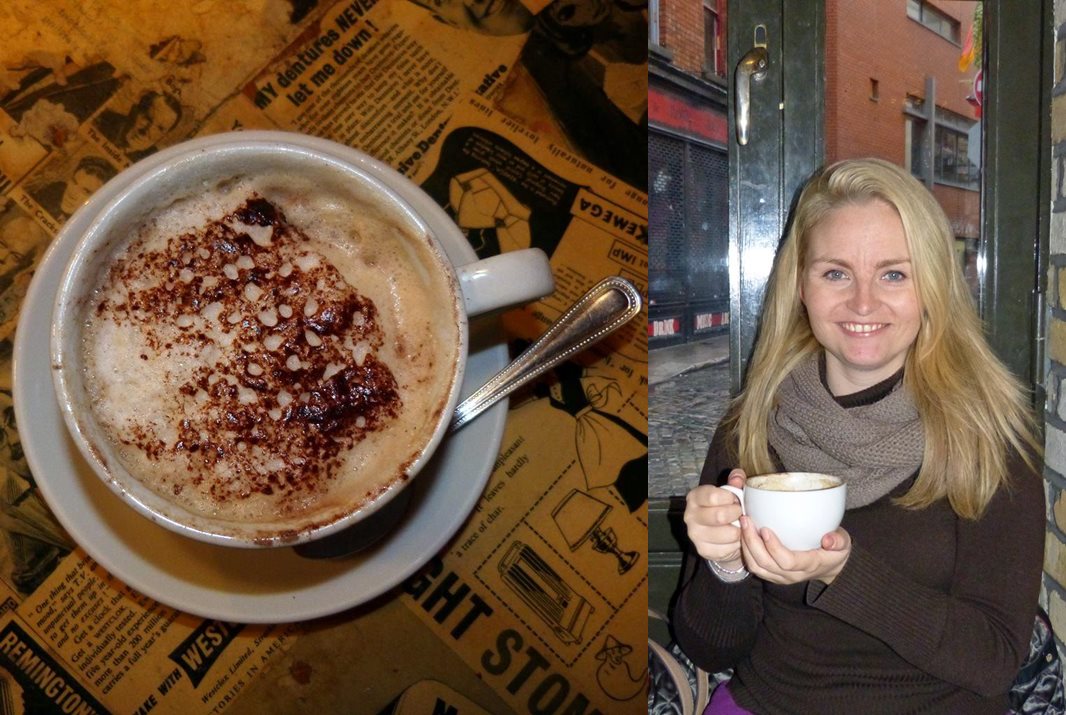 Trinity College Library
Well-fed after some time we hit the road. The destination this time? The Trinity College Library. I have seen photos of it beforehand and instantly knew I had to see this architectural jewel with my own eyes. It is located in the Old Library building on campus and the entrance fee is ten euros. Not cheap but with that you can also see and exhibition on and the two of the four Book of Kells. The books were written around 800 A.D. and contain the four gospels of the New Testament.
The Trinity College Library is the largest library in Ireland and absolutely breathtaking. For that reason alone I brought my tripod with me to Dublin. Unfortunately at the entrance was a "tripod forbidden" sign and a guard who made sure nobody overstepped this rule. I got creative and looking at them now I even could take some decent shots. On my way to the exit I passed a souvenir shop which is probably cool for some but I like to buy the postcards which I buy on every journey in cute little side street shops.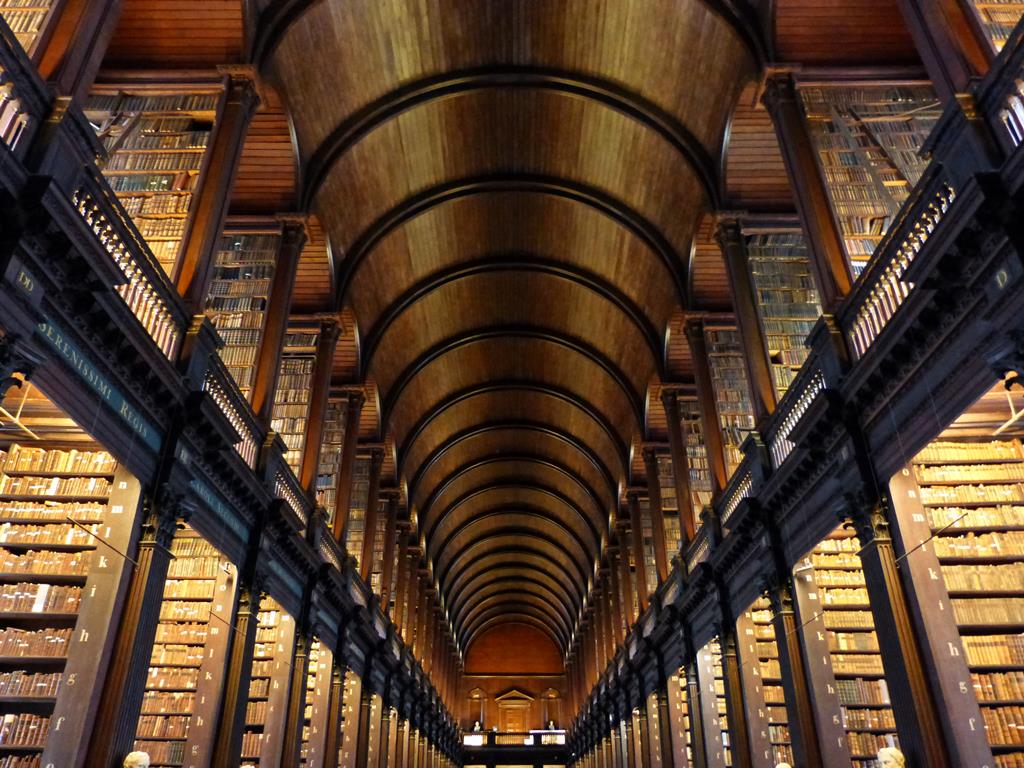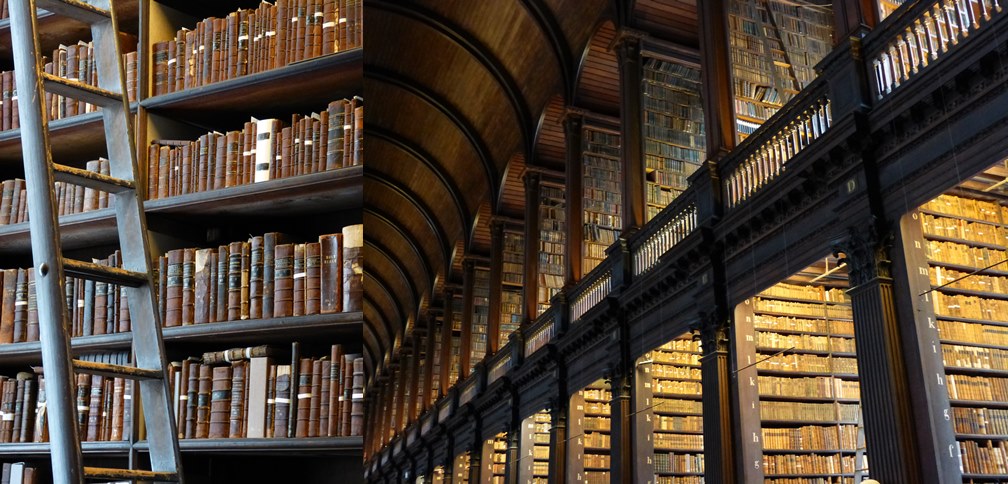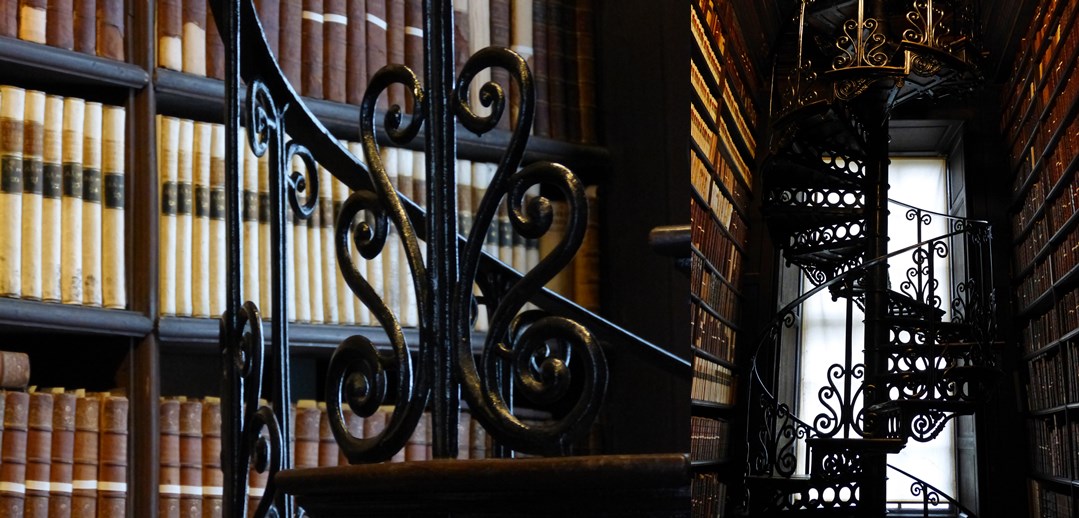 Café en Seine
Leaving the library it started to rain. Not unusual in Ireland or so I have heard. I changed plans and remembered my sisters words: You need to see the Café en Seine. Coffee and some cake? That sounded amazing and so I started walking towards the Dawson Street. It's close to Grafton Street, another mayor shopping street, and opens daily at 12 PM . I set food inside and everything I could think of was "WOW". The grey sky, raindrops and heavy wind were forgotten, I instantly felt like being in Paris. Because it is impossible to describe how beautiful and magical this golden and turquoise place is, I let the photos speak for themselves.
My advice to you: Come early and you have the place to yourself. I ordered coffee and a chocolate brownie with sweet cream which tasted heavenly. The prices were not cheap, but moderate. Listening to pop/jazz music I did totally relax and taking in all Christmas decorations and other cute and amazing little details. If the location does not convince you by itself, there is another why this place is so lovely. I seriously fell for the waiters Irish accent and could have stayed there the whole day.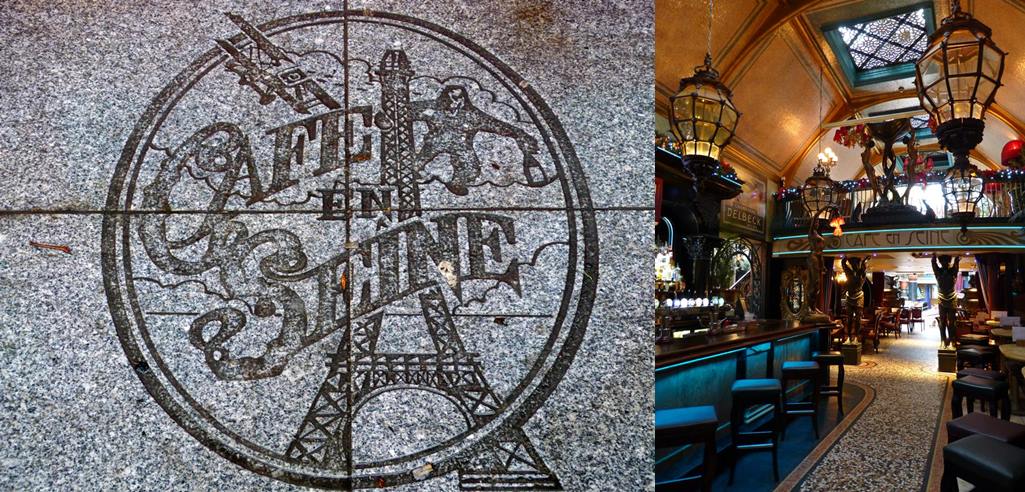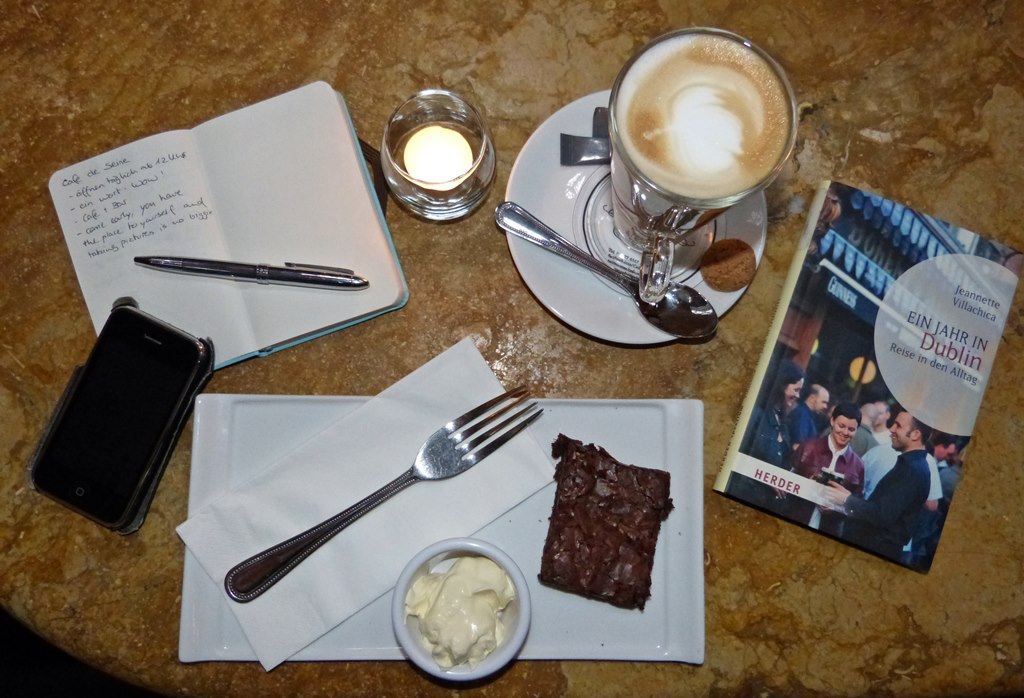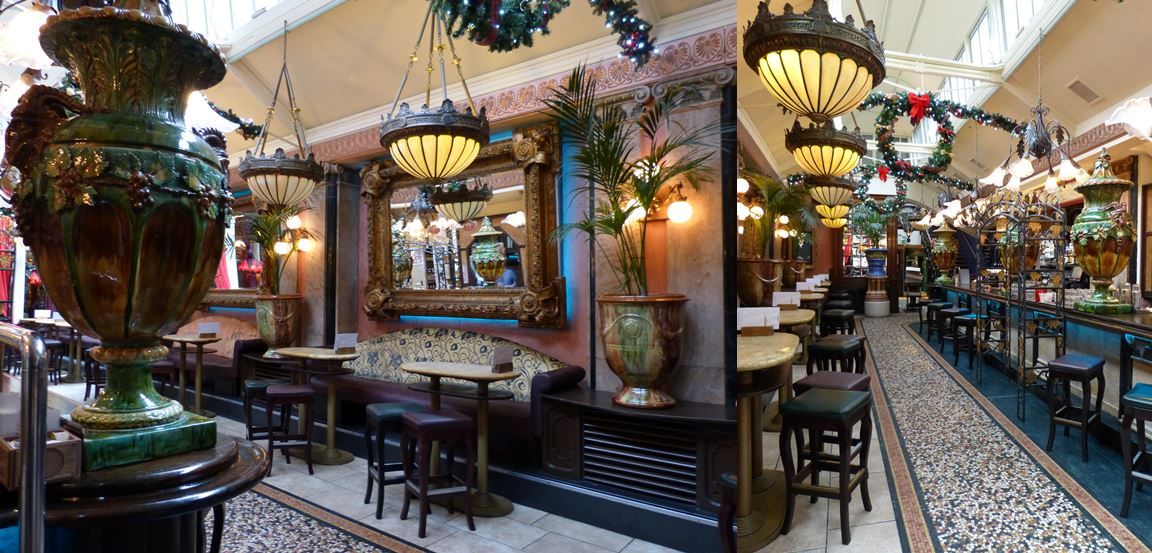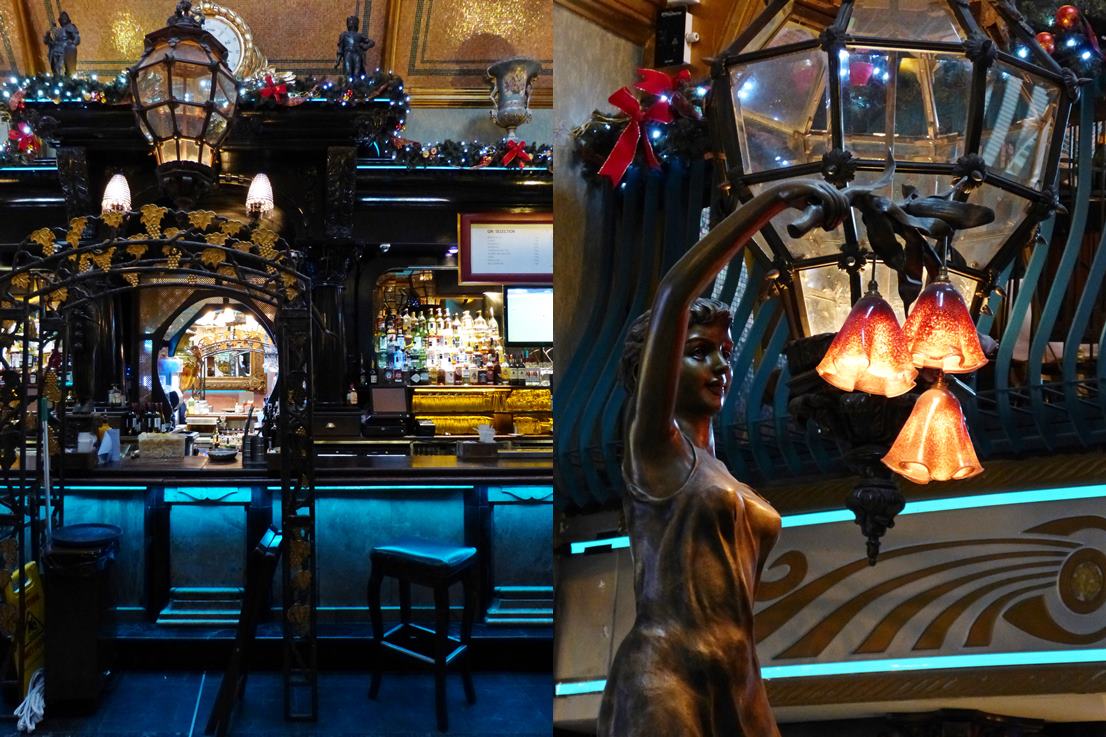 Dublin City
Probably five pound heavier but happy, I left Café en Seine. The rain had stopped and so I strolled around Dublin for a while. The historic center is quite small, easily walkable and extraordinary calm – apart from peole being in a hurry to buy their Christmas presents. There are not as much old buildings as I expected there to be, but all in all Dublin rather is a mixture of architectural styles of different cities like Stockholm, Miami and Edinburgh. It is not uncommon for a modern glass building to stand next to a house from former centuries.
Half of the Dublin houses in the center have white window frames, colored doors and chimneys like the ones in Great Britain. The other half have shops and pubs on the ground floor. The Irish capitol is an expensive city. I talked to an Irish lady who was born in Dublin and lived in France for some time now but wants to move back into her home town. But because the rents are so high she cannot afford a decent appartment. Not only the city center the suburbs have rocketing prices, too.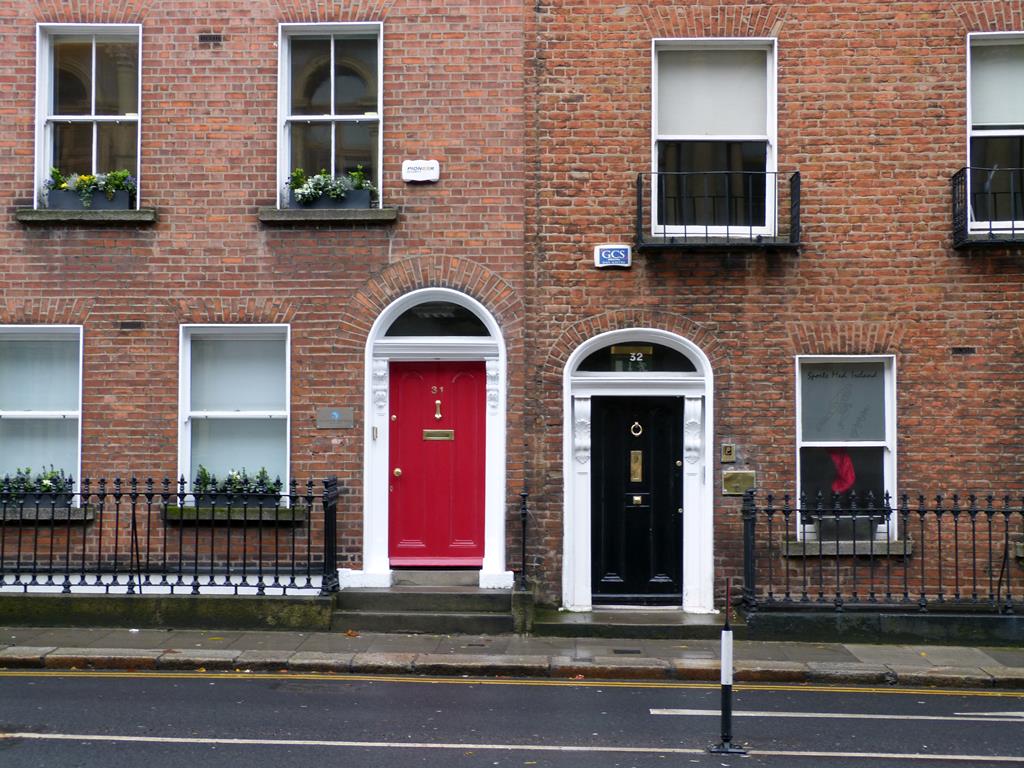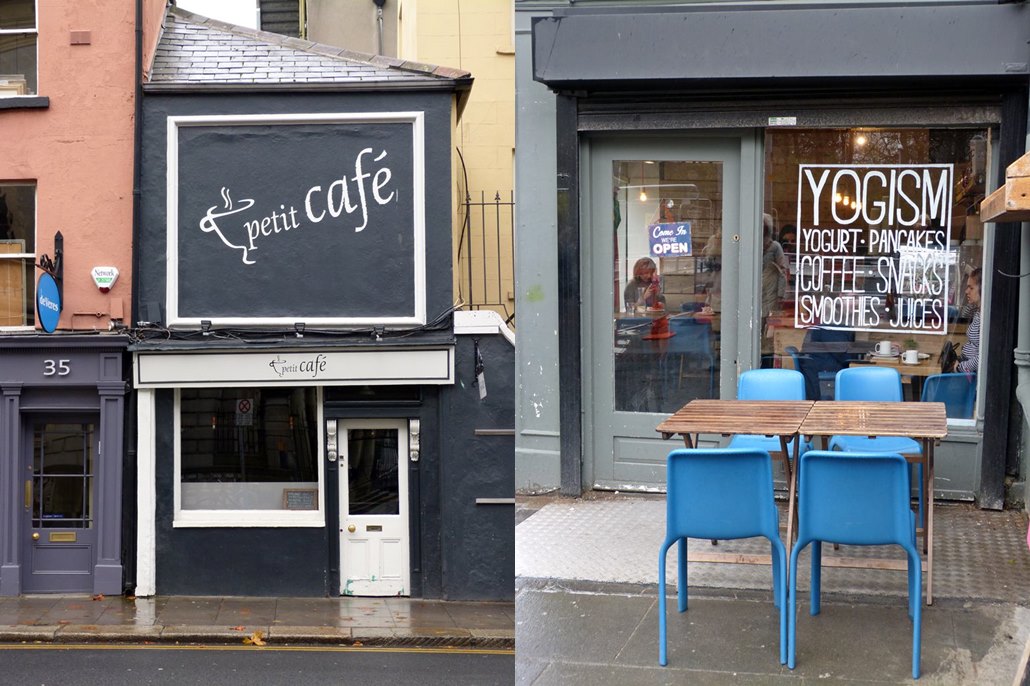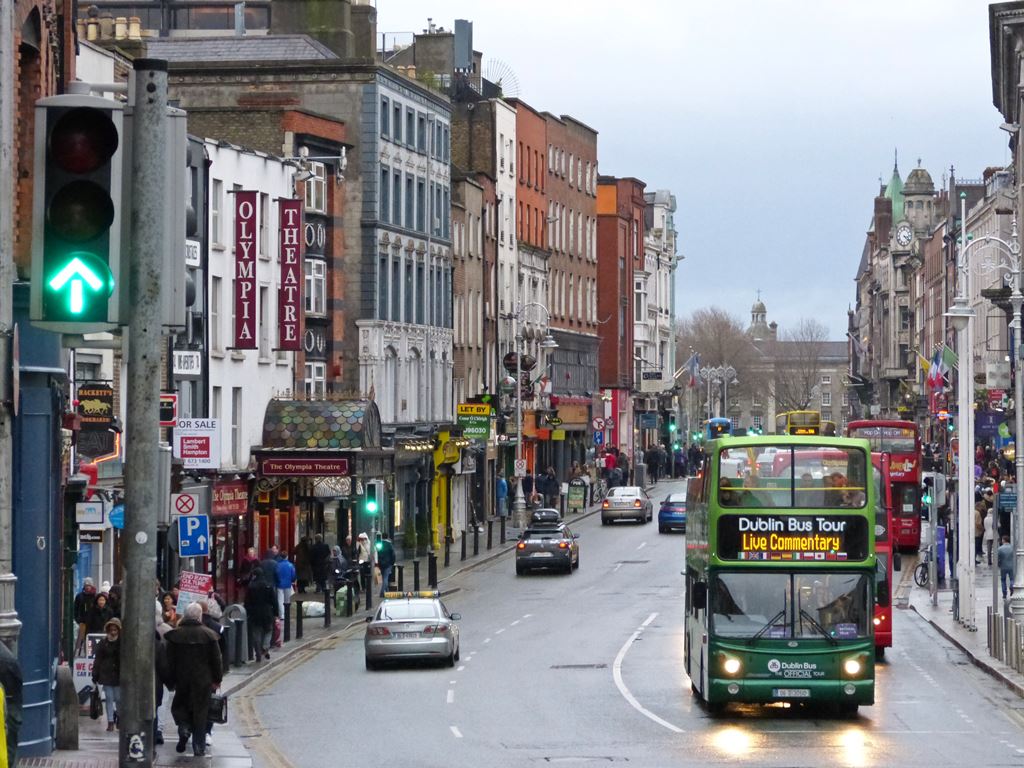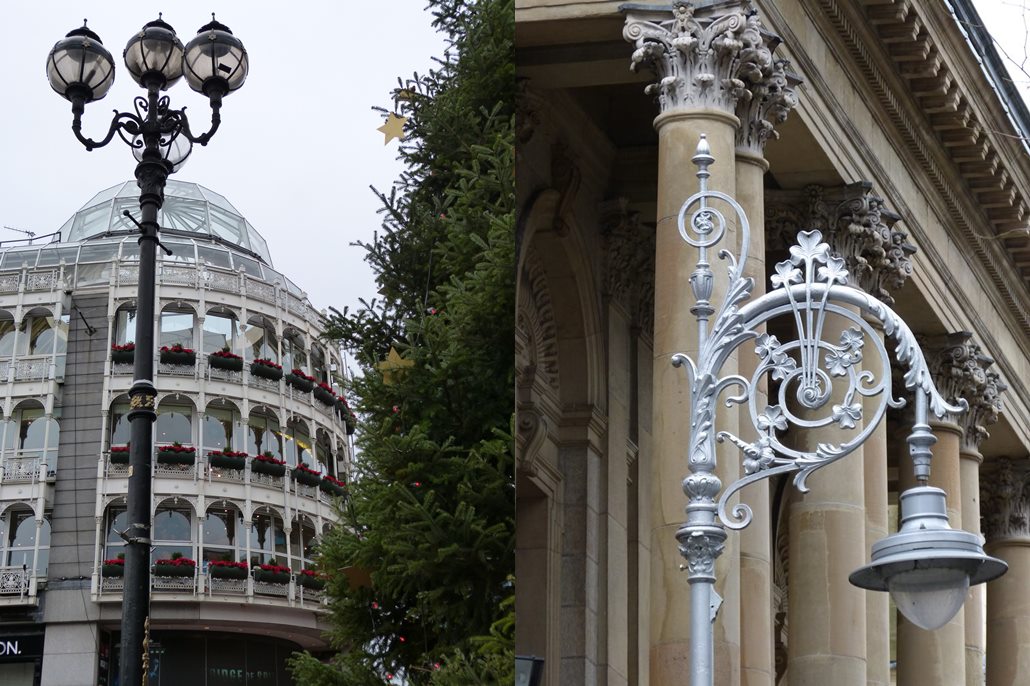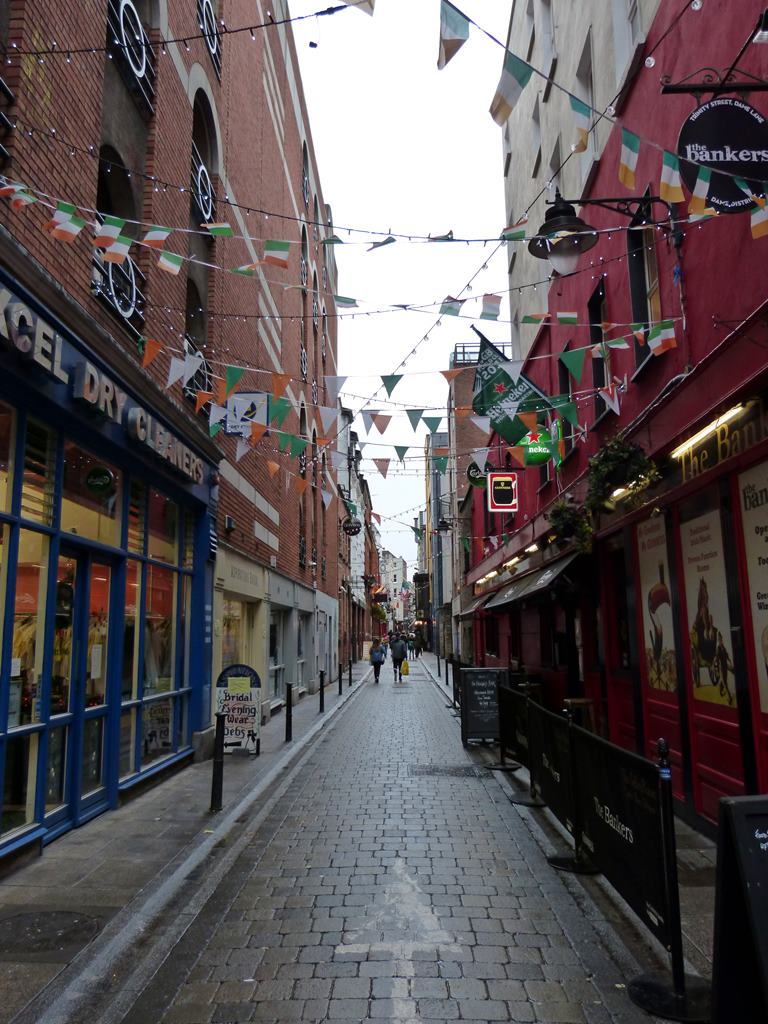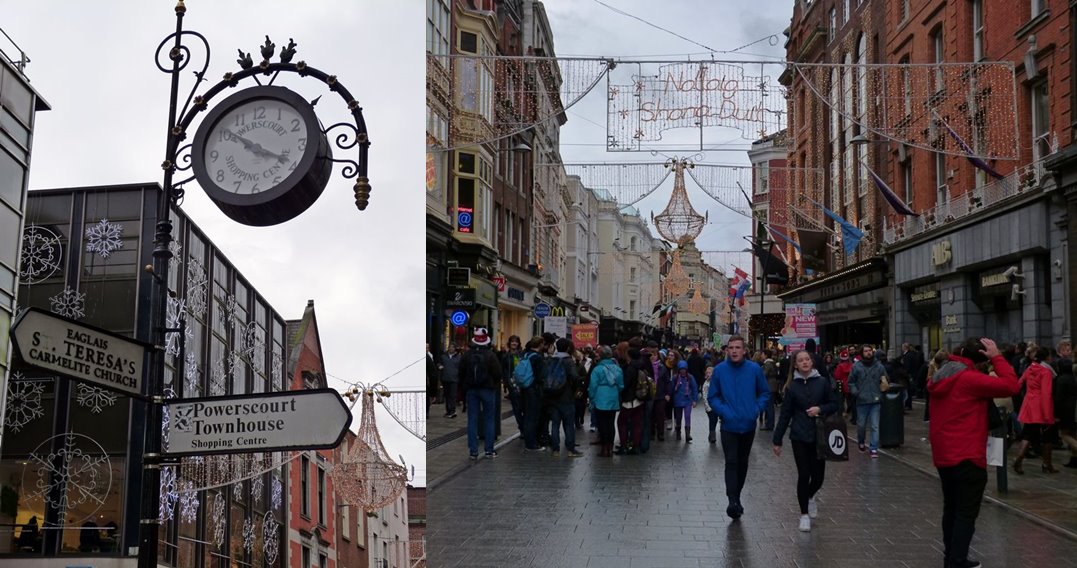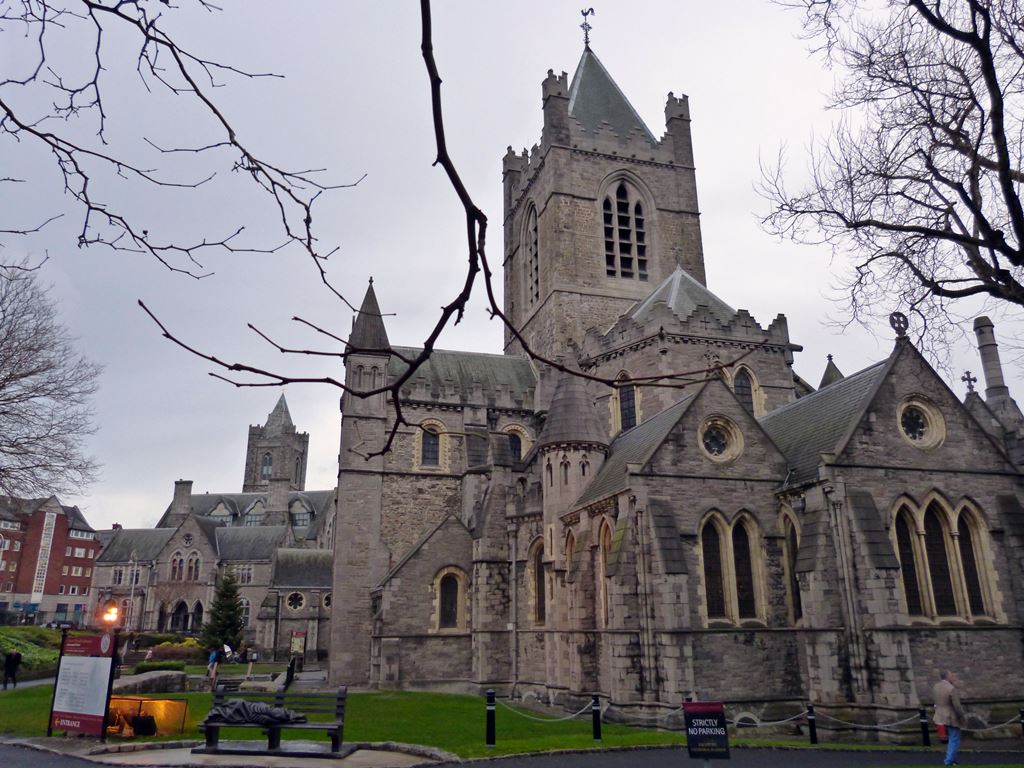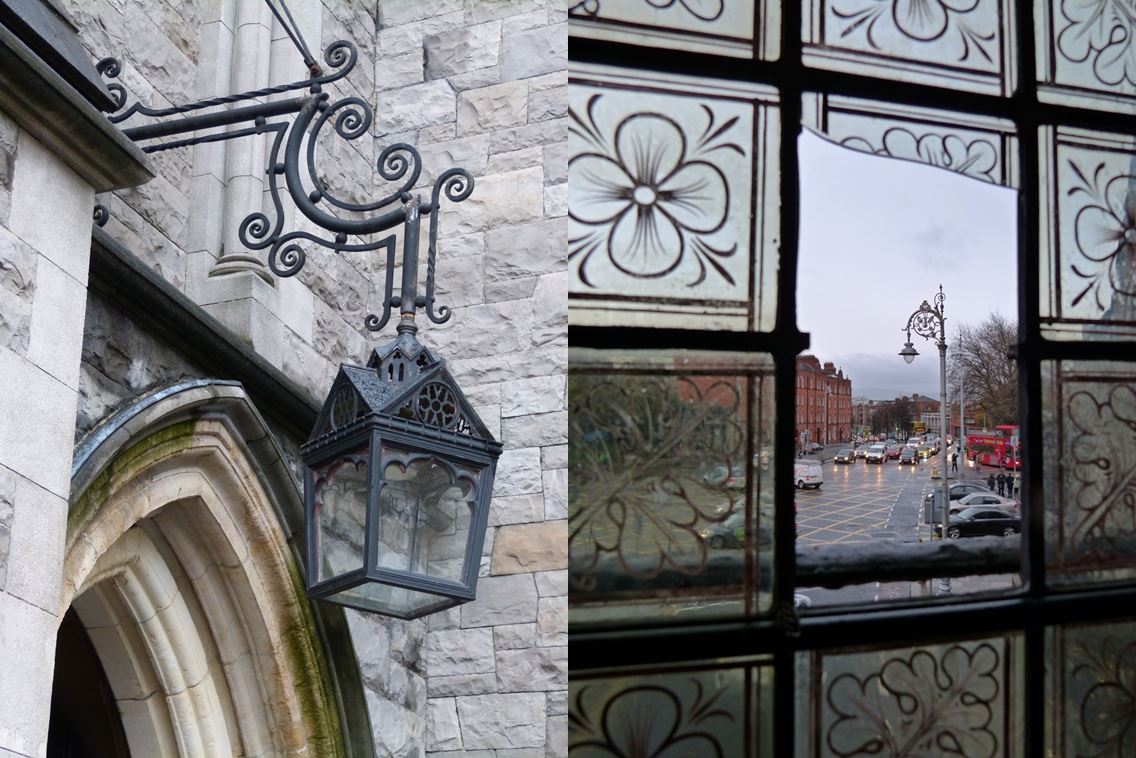 The Temple Bar
At the end of the day I returned to Temple Bar. Now the quarter was filling up with people fast and the so called Temple Bar Pub is the center of their attention. It is amost impossible to catch a free seat at one of the tables in the front. However, if you walk through it there is a room where everyone drinks their guiness while standing. Even though this place is really popular among tourists I gave it a pass and found a much quieter pub where actual talking was possible.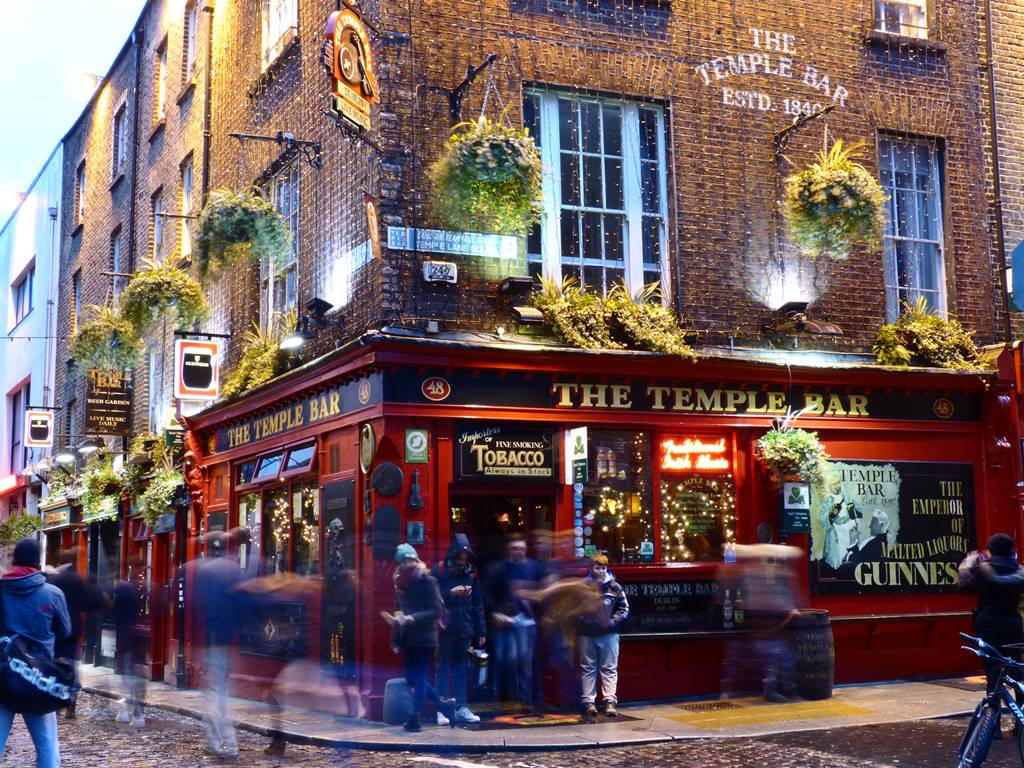 Docklands
After the non existing sun set and I have rested for a while in the hostel, I once again grabed my tripod and stepped out. This time I was headed in the direction of the Dublin Docklands. An area that lies on both sides of the River Liffey, roughly from Talbot Memorial Bridge eastwards to the 3Arena. On my way I came across this Christmas market which was a surprisingly awesome photo spot. Don't you think?
The Dublin Docklands were once part of the city's harbor before it turned over recent years into a business area. Packed with people at day, at nights the streets are deserted. One of the main sights is the Samuel Beckett Bridge. Its architecture was not like anything I have seen before and especially its reflections in the Linney are nice to look at. I walked back to the city center along the river, saw people in shorts (Ireland, right?) and enjoyed the special atmosphere.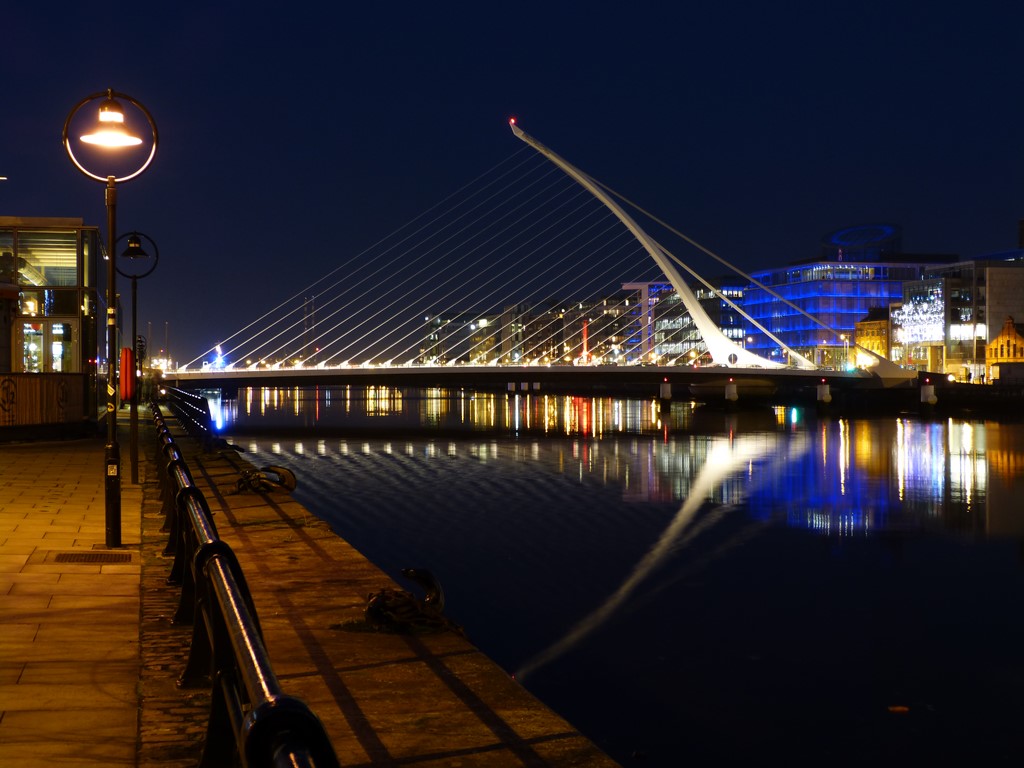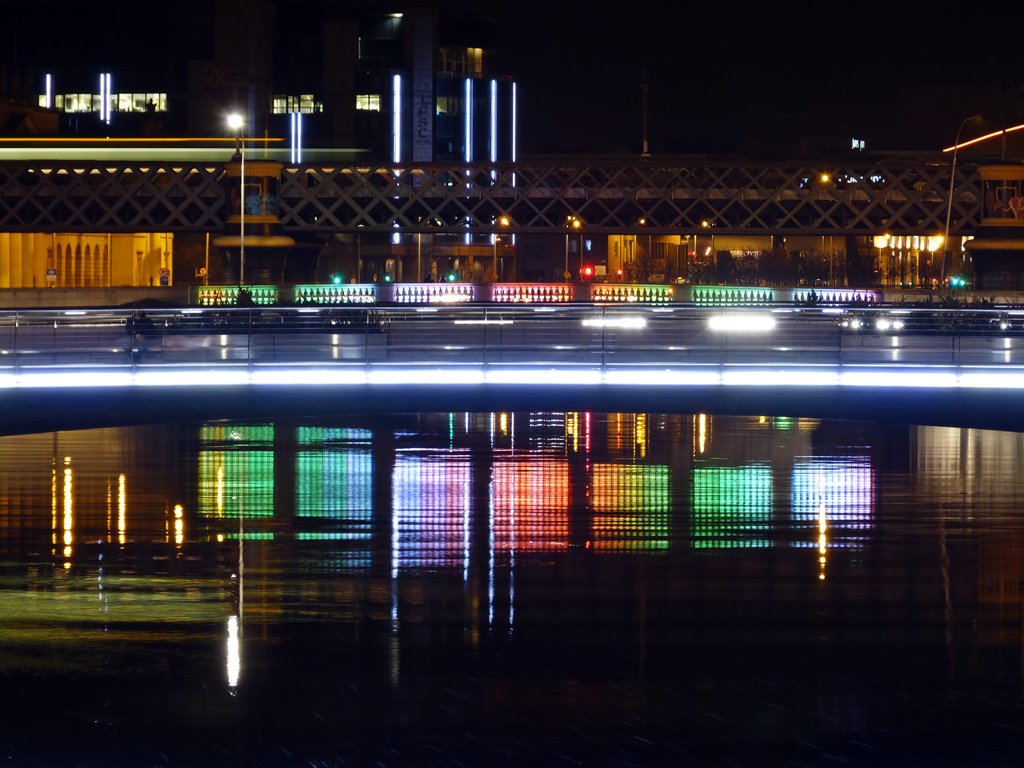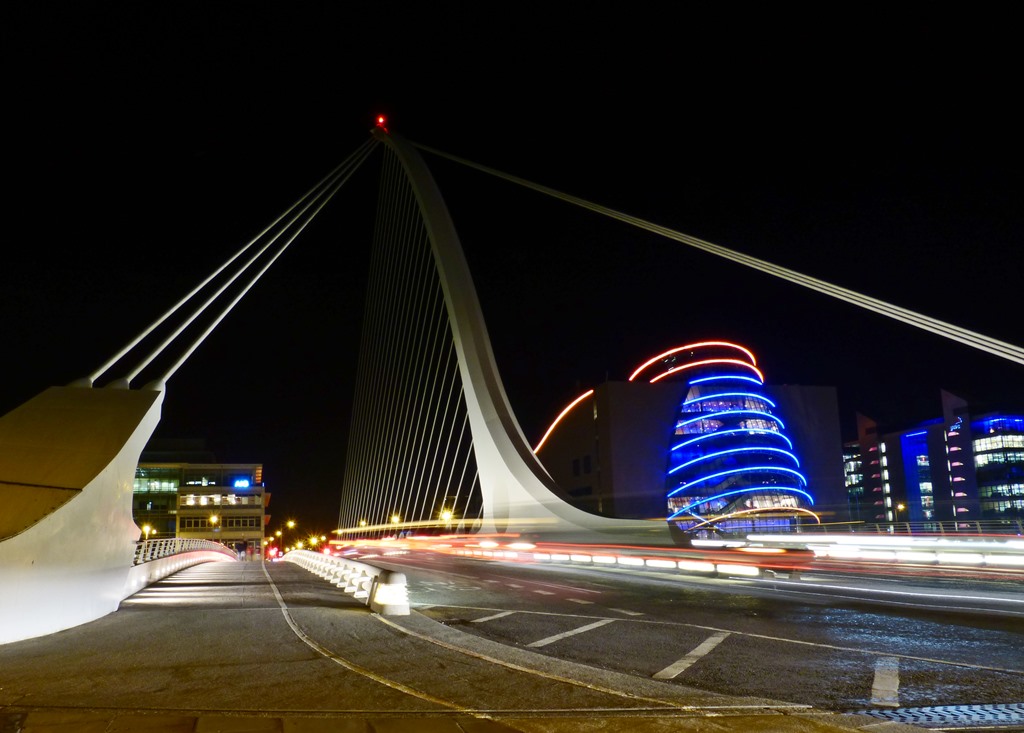 Have you been to Dublin at Christmas time? What were your experiences? Or are you more of a Howth fan yourself? Tell me about it in the comments below! I'd love to hear it!