St. Mark's Square. Ducal Palace. Rialto Bridge. The city is always crowded with tourists. Year-round. But if you look closely, you can discover some secrets of Venice. Let me take you to my 10 favorite hidden locations in the city.
My personal secrets of Venice
1. Palace at the Grand Canal
I know what you think: How can a palace at the Grand Canal be a secret location? But I'm not talking about just marveling at it from the outside. You can actually go inside.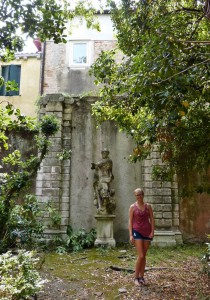 Ca' Tron is a Venetian palace from the 16th century. Like other palaces this one got its name from the noble family that lived there in earlier times. I originally went there to visit its beautiful garden. And after I arrived I was surprised to see that the doors to go inside were open.
No one was around, so I did not hesitate and entered the gothic-byzantine building. My heart was pounding loudly against my chest. However my feet pulled me straight forward.
I walked up the stairs and from the upper floor I had the most amazing view over the Grand Canal. It was absoluty amazing. Later on I found out that Ca' Tron is now owned by the University of Architecture of Venice (IUAV) and houses the Faculty of Territorial Planning. Neverthelss: I loved every second of it and can totally recommened this free and once in a lifetime activity.

2. Ponte delle tette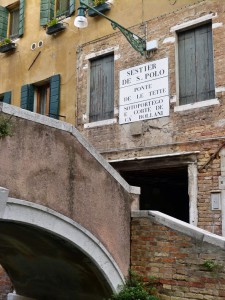 Venice is a labyrinth. I myself experienced that more than once.
I had lived in Venice for more than six months when I tried to find this innocent looking bridge in the quarter of San Polo. Even though I had a map on me, it still took me more than 30 minutes to find the ponte delle tette. What makes this bridge so special, you ask?
It not so much about the bridge itself but what happened around it. In medieval times women at the 'bridge of titts' tried to get men's attention. They were prostitutes, so called carampagne. Because the Venetian law forbid them to offer their bodies openly on the street, they had to become inventive. So they were standing topless inside of the surrounding windows.
Nowadays there are no more red light districts in Venice (that I know of), but ponte delle tette sure is a secret of Venice that not many know about.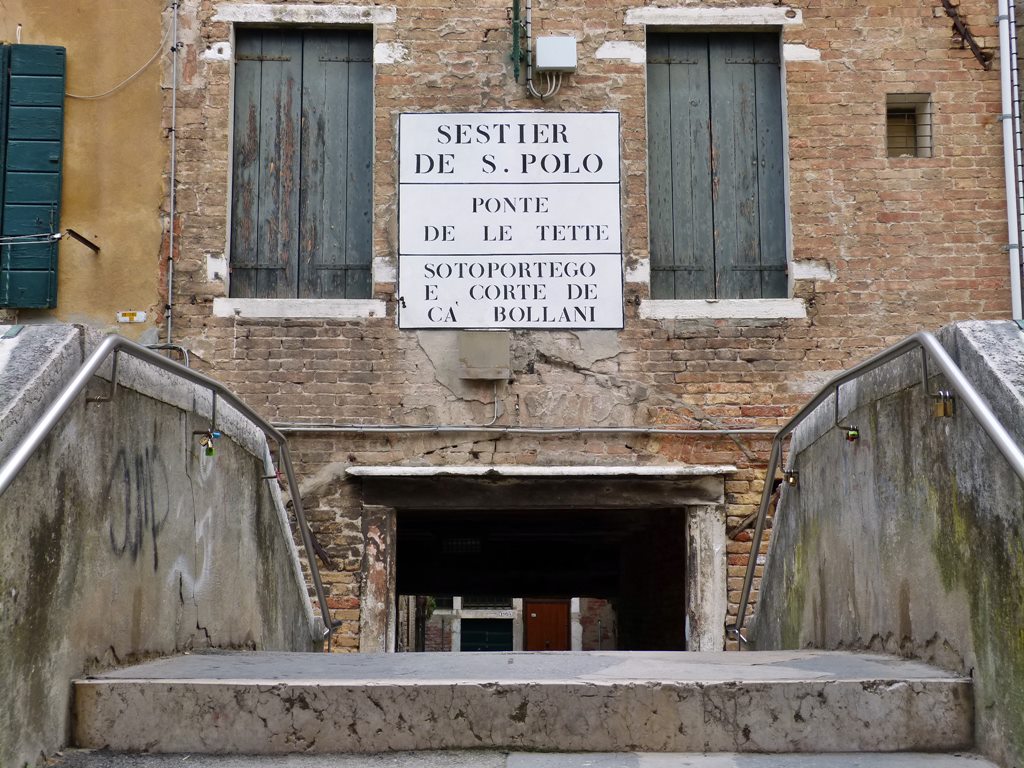 3. Pizza al volo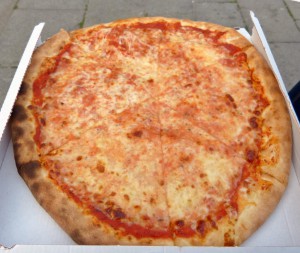 Located in the heart of Campo Santa Margarita, Pizza al volo offers the best pizza in Venice. Hands down! One big slice of one of the fresh baked pizzas in the display costs only two euros. Thats worth your money, if you are only a little bit hungry. But after a lot of walking and exploring I would totally go for a whole one. A  whole pizza margarita costs 3,50 euros, is simply delicious and you'll go straight into pizza heaven after tasting it. I cannot tell you how often I went to Pizza al volo, however, I know for sure that I brought everyone who came to visit to that place.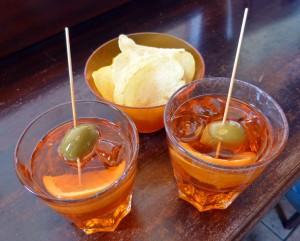 Campo Santa Margherita is also the main meeting point for students within the city. During the warm summer evenings the place is always packed. People are sitting on the ground, chatting and enjoying themselves. You should try out one of the bars surrounding the campo. I especially like the one with the wood interior. Me and my friends always called it Alberto's, because it is the name of our favorite waiter. Order a spritz all'aperol – Venice's national drink. Only real with olive.
4. Church San Pantalon
Venice has quite a handful of amazing churches. However, if you wanna see one of the lesser known ones, check out San Pantalon. It is a perfect example to not judge a book by its cover.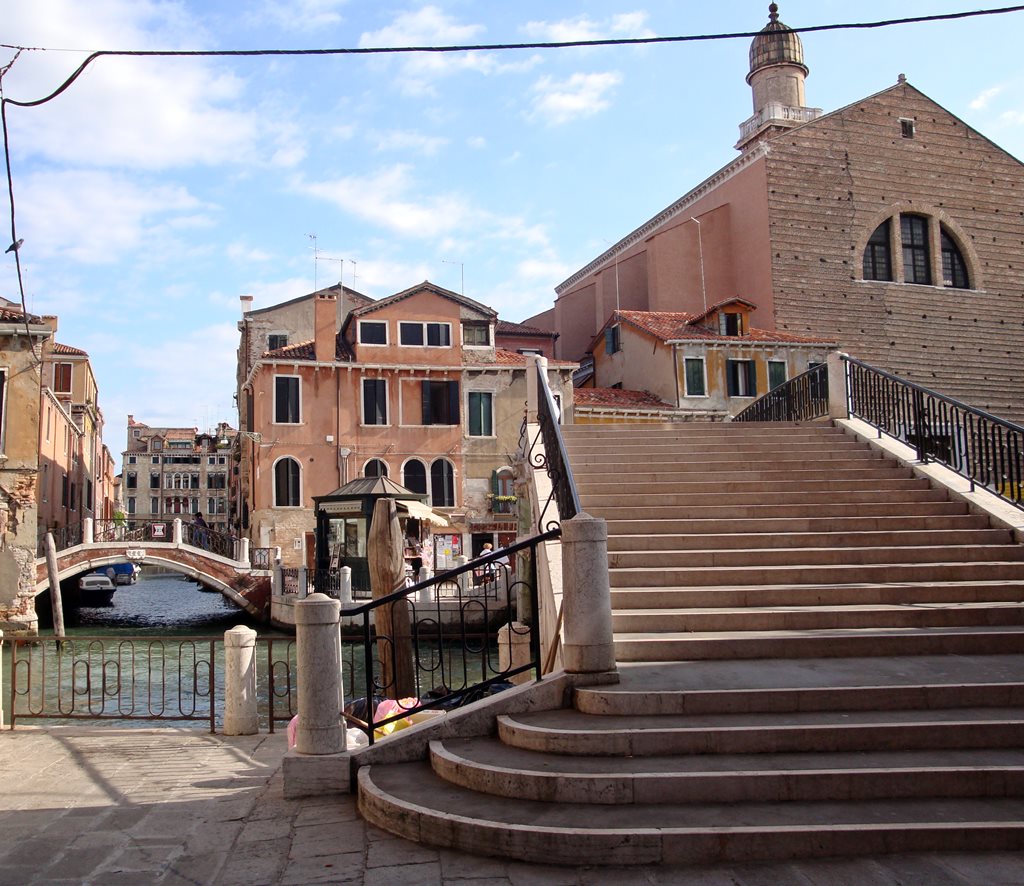 I cannot tell you how often I walked by this church which is close to Campo Santa Margherita. The 17th century exterior  is so inconspicuous that never in a million years I would have expected the jewel that is hiding inside of it.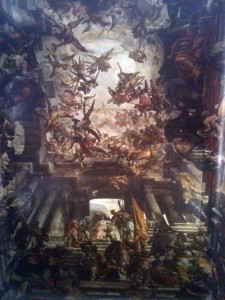 Nearly at the end of my time in Venice I stepped into the church, which is only a few meters away from Campo Santa Margherita, and was immediately surprised and impressed at the same time. But why?
Because of the ceiling painting. It covers not only the entire ceiling but also parts of the walls. It shows The Martyrdom and Apotheosis of St Pantalon and was painted between 1680 and 1704 by Gian Antonio Fumiani. I sat down on one of the pews and threw my head back. The inside of the church is not well lighted but that only contributes to the darker atmosphere of the painting. It is atmoshperically dark, brilliantly detailled and knows how to give the illusion of different levels of depth. Or would you have thought that this masterpiece is actually painted on only one level?
5. Taverna al Remer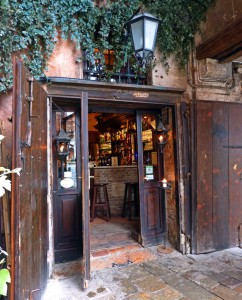 Taverna al Remer is one of my favorite secret spots in Venice. Not only because their Happy Hour (buy one drink and help yourself at the buffet), but because you can sit on the footbridge at the Grand Canal. Besides the great view, I had the best time drinking spritz all'aperol and eating some local food with good friends while watching vaporetti, taxis and gondole passing by.
Of course you can also sit inside which is really small and cute. The entrance to the Taverna is hidden under an arch at the end of some narrow Venetian streets. It is not really easy to find, but maybe this is the reason why it's not packed with tourists all the time. So shhhhhht, don't tell anyone.
6. Less crowded beach at Lido
When I tell people that Venice has a beautiful beach, often times people look at me in disbelief. Alright, technically speaking, the small island named Lido is not part of the historic center, but who cares? It is a real beach and it is only a short boat ride away.If you follow the crowd, you will get to the main beach with little shops, restaurants and beach chairs.
This is great for most people, but if you are looking for a bit more nature and quietness: Take a bus at Lido station and drive down Via Sandro Gallo. The Italians are not really into signposted bus stops, so I can only tell you to get off the bus after you pass a gas station on the left side of the road. If I could do it, so can you. Cross the street and keep walking straight until you hit the beach. An Venetian friend showed me the way, so you know it is fore sure off the tourist path. At the beach choose a spot you like and dump into the ocean. It will feel so good!
7. Parco Savignon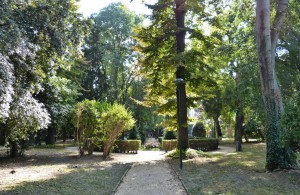 As beautiful as the narrow streets and little canals of Venice are, I sometimes missed a little nature. To breath, think and see different things. Unfortunately the city is not so well known for its wide meadows and deep forests. But if you explore more areas than just St. Mark's Square and Rialto bridge, you'll find some beautiful green and quiet spots. Like Parco Savignon.
I found this park located around the corner of the train station St. Lucia. What really surprised me was how big it is and that at the same time I haven't heart of it before. No tourists were around, only locals. Moms were chatting while their children played together and an elderly man was reading a book. I sat down on a bench and closed my eyes. I could hear something I haven't heard in a while: birds chirping in the tree crowns. I spent my afternoon in Parco Savignon and strolled home with a much lighter mood afterwards.
So if you need a break from exploring or just wanna mingle with some locals, this place should be your destination of choice.
8. Fondamenta Sacca San Girolamo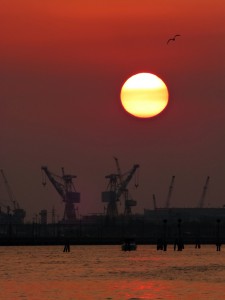 I always loved walking in Venice. It made me more conscious about my surroundings and I started seeing the beauty in details. One evening in July I decided to go for a walk. I packed my camera and as usual Venice did not disappoint.
There obviously are some pretty sweet spots to view a Venetian sunset. But for now I want to tell you about the Fondamenta Sacca San Girolamo, the place I ended up. It is a promenade at the western end of the island and therefore a 45 to 60 minutes walk from the city center.
I especially like that the Fondamenta is so far away from everything. The further I went, the little people crossed my way. After this exercise I was rewarded with a colorful sun that set behind the cranes of Marghera (industrial area belonging to the region of Venice).
My advice: Bring a few snacks, a bottle of wine, someone special and just enjoy the beautiful Venetian. It is one of the secrets of Venice, for sure.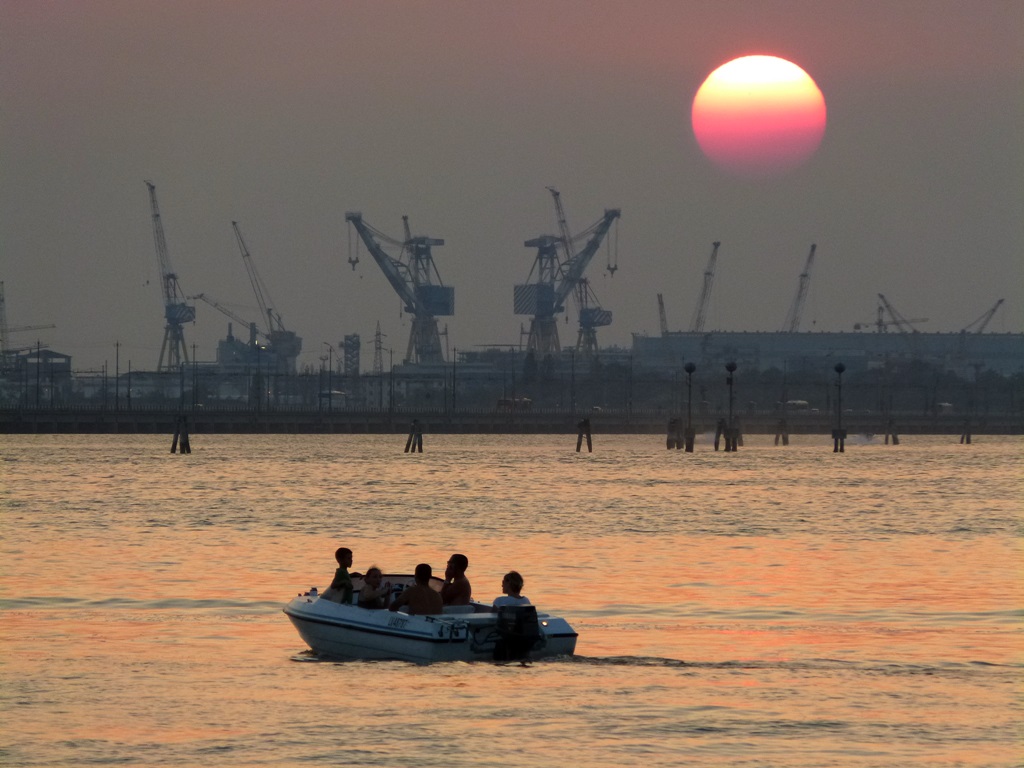 9. Libreria Aqua Alta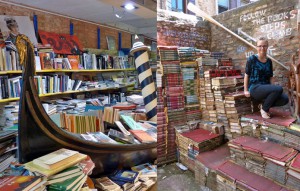 To be honest, this place in a cute little campo alsong Calle Lunga  is not such a secret gem anymore, but it is just too amazing not to include it. The Libreria Acqua Alta in the quarter Castello calls itself "The most beautiful bookshop in the World" and it most certainly is unique. In a good way.
Books, maps, postcards are lying around inside, outside, everywhere. Mainly Italian books the library also has a variety of international books as well. A real gondola is standing in the center of the book shop and the fire exit leads you to an open canal. The owner Luigi speaks multiple languages and likes to have a chat with his customers. Try going in the early morning or in the late afternoon hours, then the place will not be as flooded by tourists.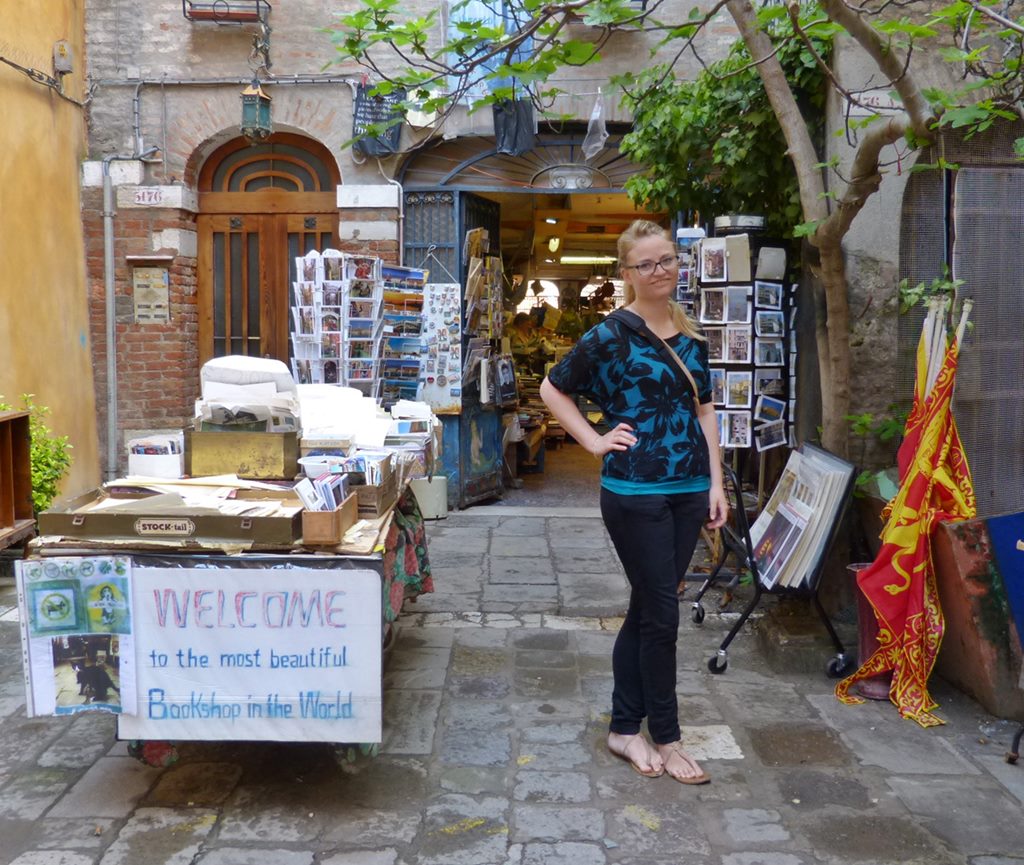 10. Hot chocolate at Vizio Virtu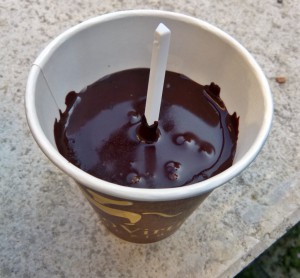 Did you know that a hot chocolate was originally as thick as creme? I did not. Lucky for all of us: One secret place in Venice still serves the old version of it.
I had no idea what I got myself into on a cold but sunny day in spring when two Austrian friends invited me to check out this place called Vizio Virtu. We entered and everywhere I looked I saw anything chocolate: Bars, cookies, candies and the above mentioned thick hot chocolate.
I dug my spoon in the drink I was served and it seriously did not move one millimeter. Drinking, even though it was more eating than drinking, filled me up quite fast and safe to say I had a little sugar rush after it. It was delicious and if you can, you should make time for a break at Vizio Virtu. You will not regret it.
What are your favorite spots in Venice? Have you been to any I recommend in the article above? Or do you prefer Bologna over Venice? I'd love to hear about it in the comments below!