What to see, do and skip having only 1 day in Sintra. I'll tell you why you definitely should make time for this special world cultural heritage in Portugal.
Sintra in 1 day: What to see and what to do
It was early morning in Lisbon when I woke up. The anticipation rose immediately. After my daily travel routine of taking a shower, having breakfast and packing my essentials, I took off. It was finally time to go to magical Sintra. I've heard only good things about this Portuguese UNESCO site and couldn't wait to see it with my own eyes.
How to get to Sintra from Lisbon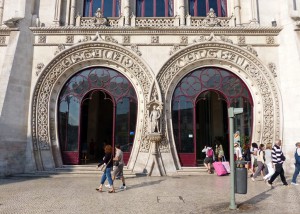 It's fairly easy to get from Lisbon to Sintra. You can either rent a car, take a bus or go to Rossio Train station and catch one of the trains that run every 15 minutes. With a combi ticket for 15 euros you can not only get to Sintra, but also take the busses in Sintra as well. The train ride from Lisbon takes about 30 minutes and Sintra's station is the last stop. So no worries about missing your exit.
The station is small and right in front you can hop on one of the city busses. However, there's also the possibility to get onto one of the guided tourist busses which bring you to all the main sightseeing attractions but which will cost more. You can recognize the tour guides by their uniform. I like to plan as it comes and so I decided to take the city bus. After a few minutes of studying the map, I knew where I had to go and the bus took me to my first stop: Palácio Nacional de Sintra. Even though there are a few nice rooms inside of this former Royal Palace, you should really skip this one and head to the Palace Quinta da Regaleira right away.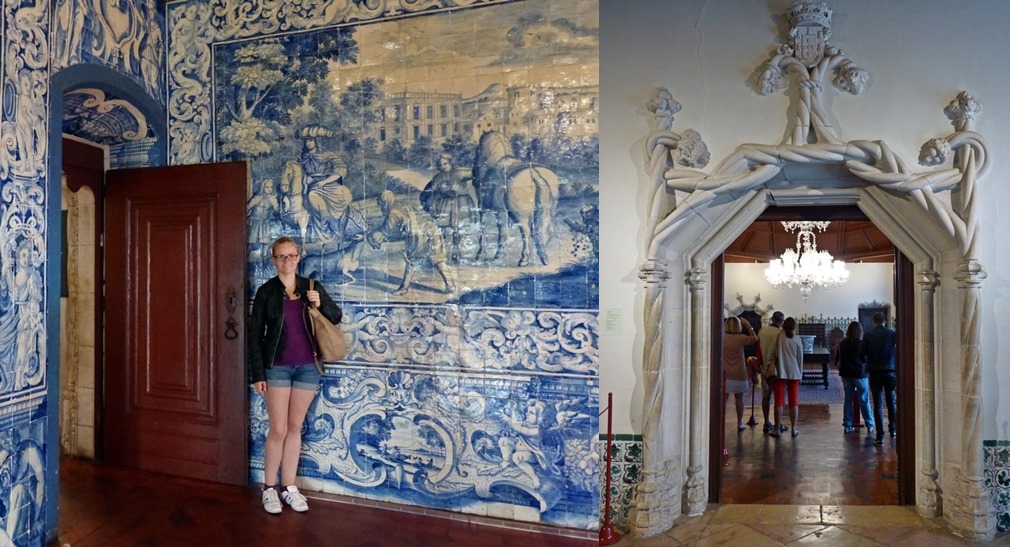 The mysterious garden of Quinta da Regaleira
Around lunch time I arrived at Quinta da Regaleira. It was only a five to ten minutes walk from the National Palace. After standing in line for 15 to 20 minutes, I finally walked up the hill into the mysterious and magical garden. I instantly felt like I was in another world. Lisbon and its busy streets and crowds of people were forgotten. Now everywhere I turned I saw pure nature: trees, lakes, grottoes, wells, fountains and a vast array of exquisite constructions.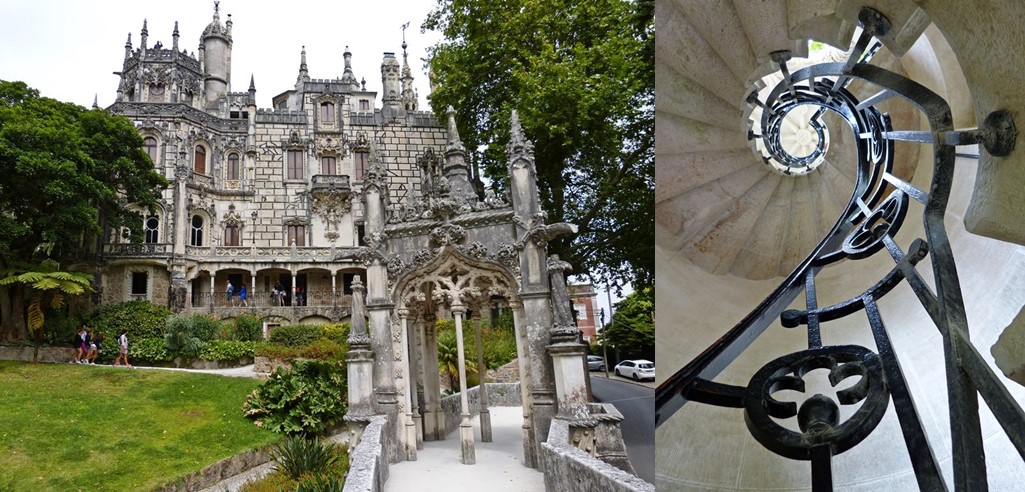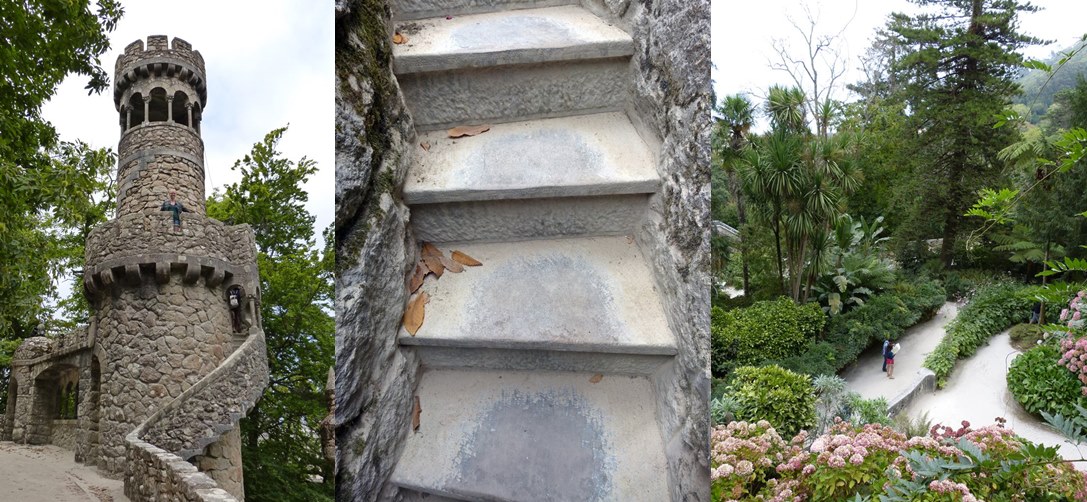 I walked beneath waterfalls, inside of extremly dark caves, up the famous spiral stairs of the "Inition well" and looked down a lookout tower onto the four hectares of the park. It's a magical place and even though I spent nearly two hours in the park I easily could have stayed the whole afternoon. This place should definitely be on your Sintra list. I loved every second of it.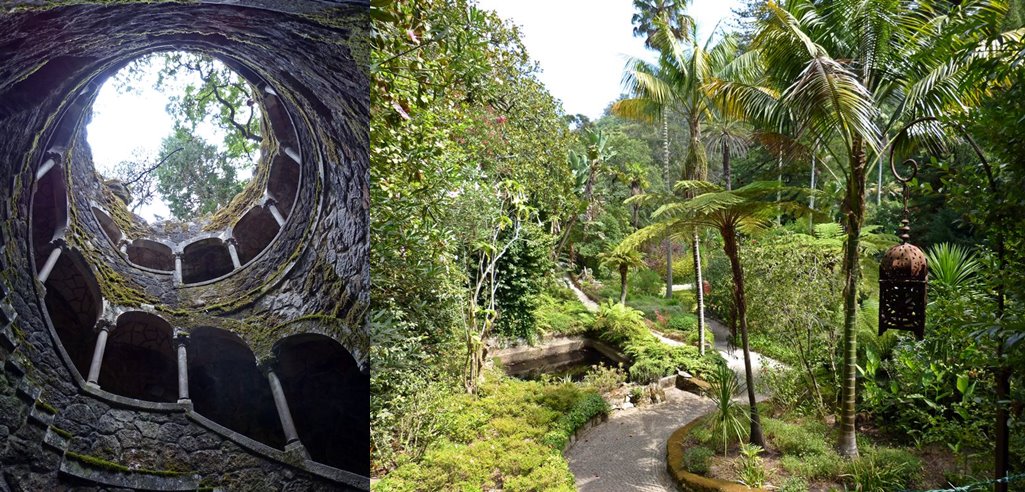 My crazy ride in a Portuguese tuk tuk
Especially during high season Sintra can be crowded with people and cars. Busses cannot get through. After waiting at the bus stop in front of the Palace Quinta da Regaleira for more than half an hour, I had to get inventive. So on my way to another bus stop I saw a tuk tuk coming towards me. It happened so fast. I wasn't actually aware that I was holding my hand out. I said "Pena Palace" and one minute later, I was sitting on this tuk tuk's back seat.
With no windows and the wind in my face, my first tuk tuk ride began. The driver weaved so hard from side to side, I nearly fell out the vehicle! (Thank God for seat belts!) Meanwhile the fast-driving but really nice guy gave me some insider information about the palaces and even stopped at a view point along the way. He told me he usually only shows paying groups this place, so I felt really special. I had to climb up a big stone and from up there I had a beautiful view over the forest look alike area of Sintra and of course my tuk tuk destination: Pena Palace.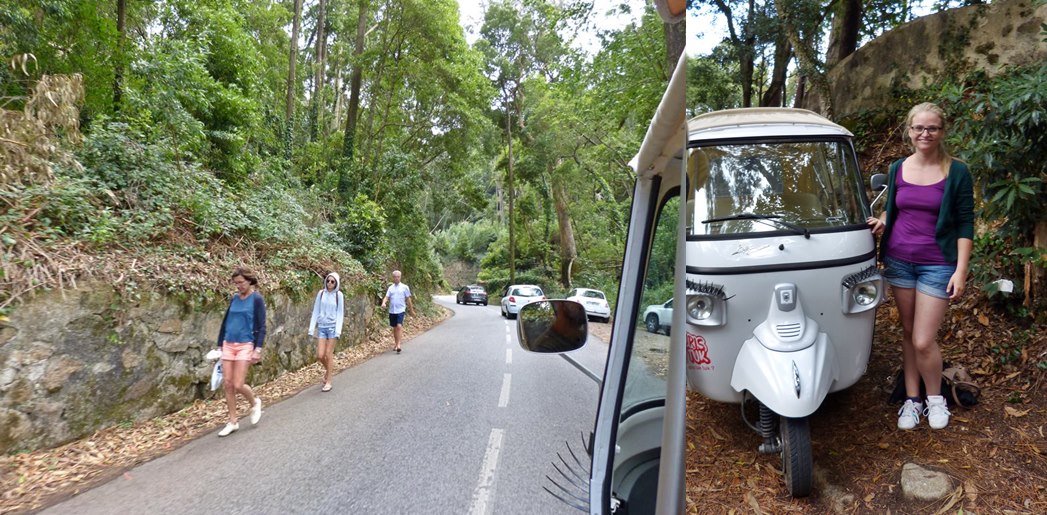 When arriving at the Pena Palace the driver said he could help me get a ticket. The line in front of the ticket counter was super long so I happily accepted his offer. We walked into a souvenir shop next to the ticket counter and two minutes later I held a ticket in my hand. We said goodbye and I knew right then: This fifteen minutes tuk tuk ride would have been the highlight of my day.
Pena Palace or how some architects got really drunk and created a Lego fantasy
After having my ticket, I passed the first gate and had to walk up the rest of the hill to the actual entrance. You can also take a bus but they'll charge you for it. That's needless because you'll need almost the exact time as the bus. So save the money and do some exercising.
Despite my first belief that this palace was the result of a group alcohol excess, this 19th century palace was designed by only one German architect. His name: Baron Wilhelm Ludwig von Eschwege. However, alcohol must have played a big part in the actual planning process. Otherwise I cannot understand how this palace came to life. The colors and forms are so vivid. I've never seen anything like it. The first few minutes I stood there in disbelief and could not believe my eyes. It felt like the earth had swollen me whole and spitted me out in a parallel universe of Super Mario and his friends.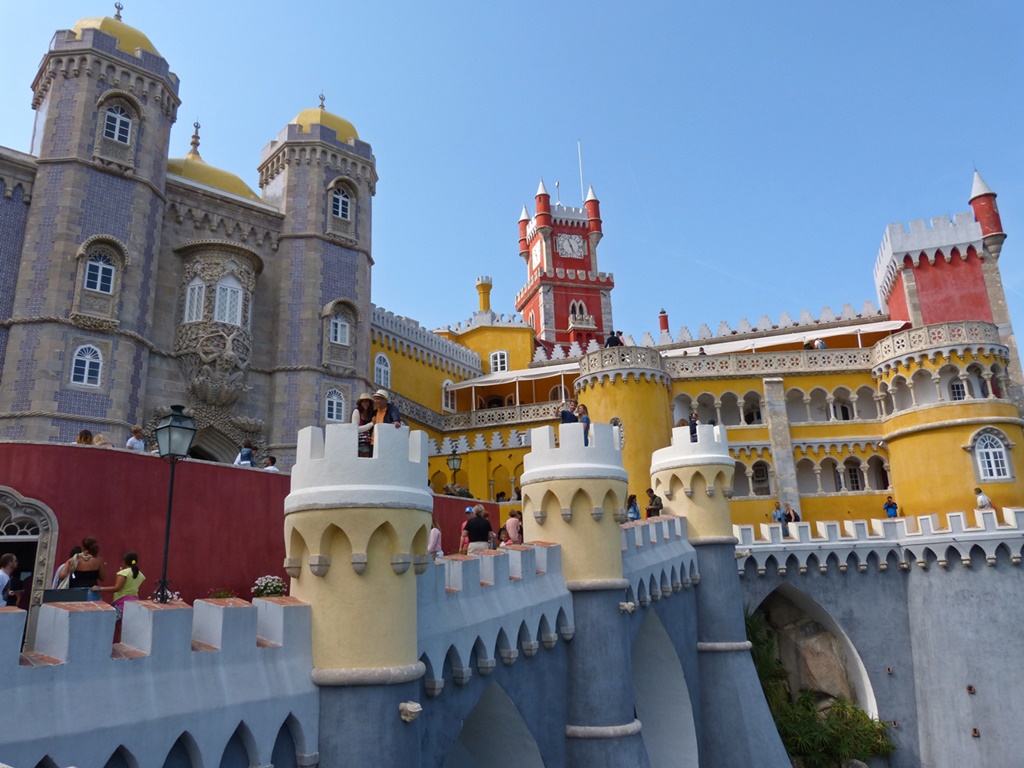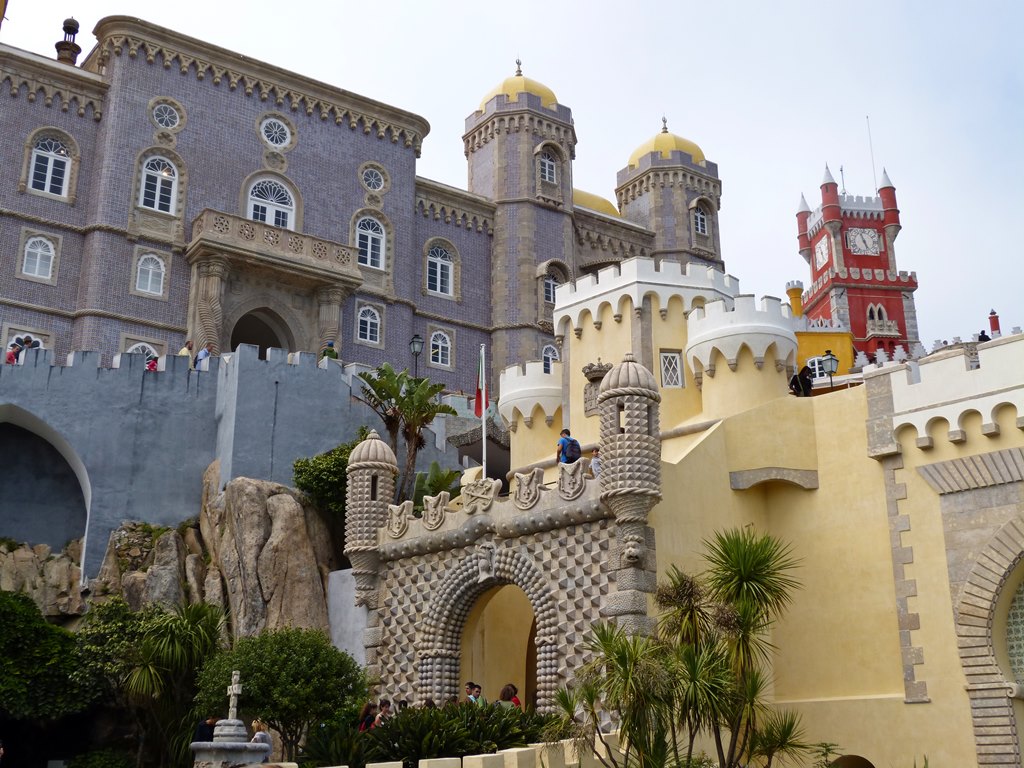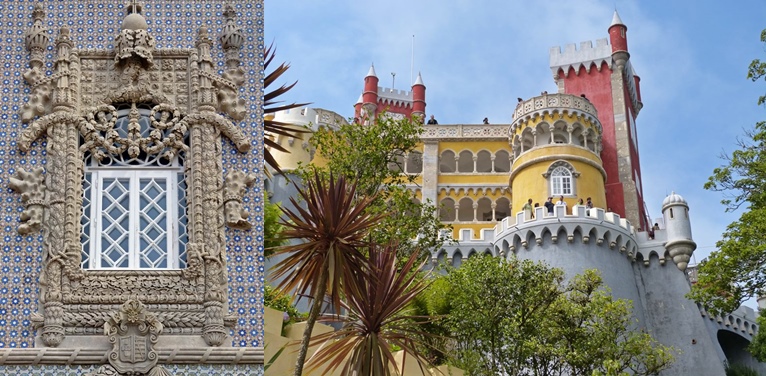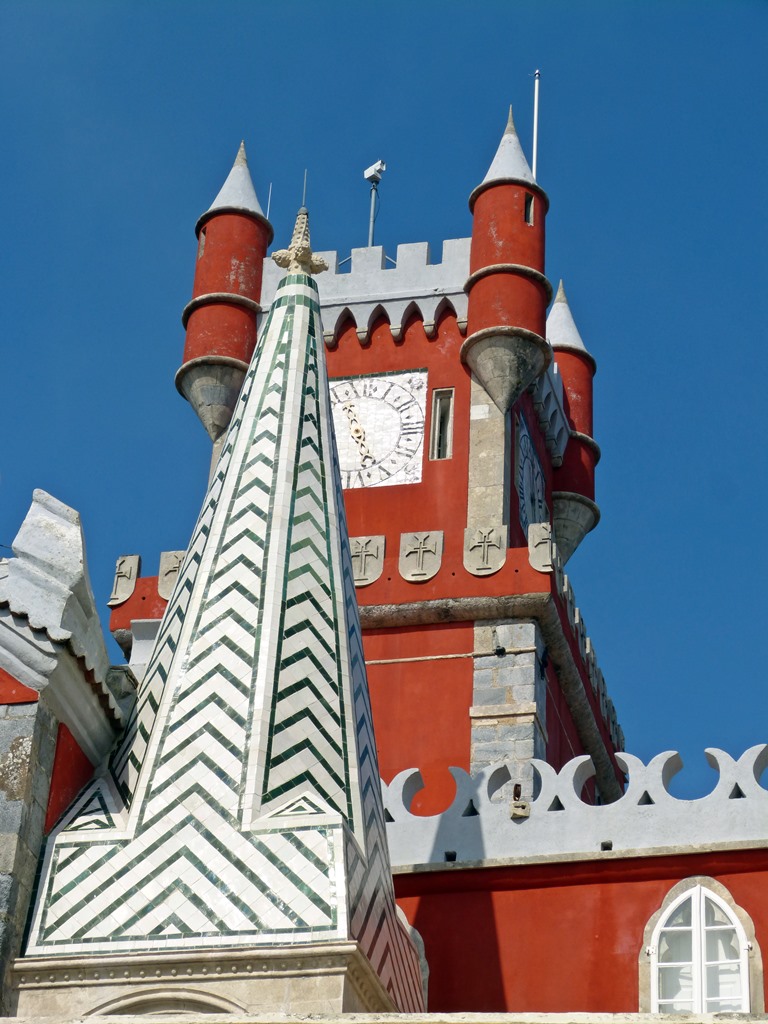 I didn't bother going inside of the Pena Palace, even though the entrance fee of 14 euros almost made me do it. But I had other plans for the rest of the day. Namely going to Cabo da Roca, the most western point of Continental Europe. However, seeing this place and taking photos were absolutely worth it in itself. It's one hell of a photo motive. Especially with the astonishing view over the whole area. The palace is the most high-leveld point in the area and you can walk around it with a clear view, you can see the sea and Lisbon in the far distance. Bring a sweater though, because up there it can be crazy windy!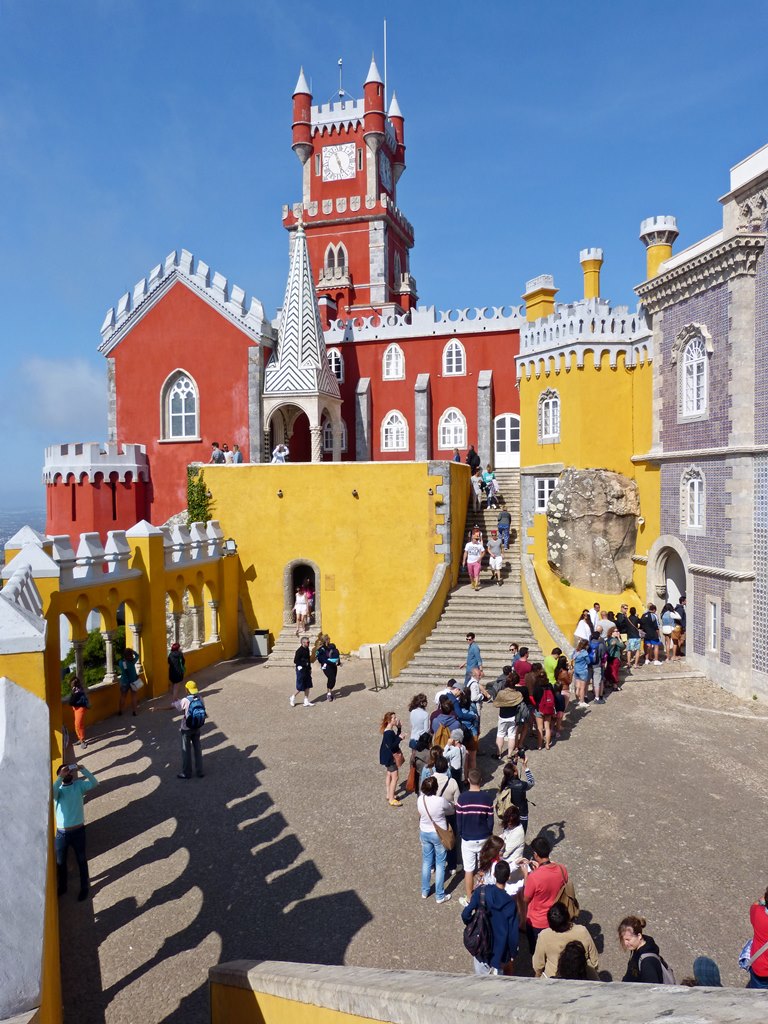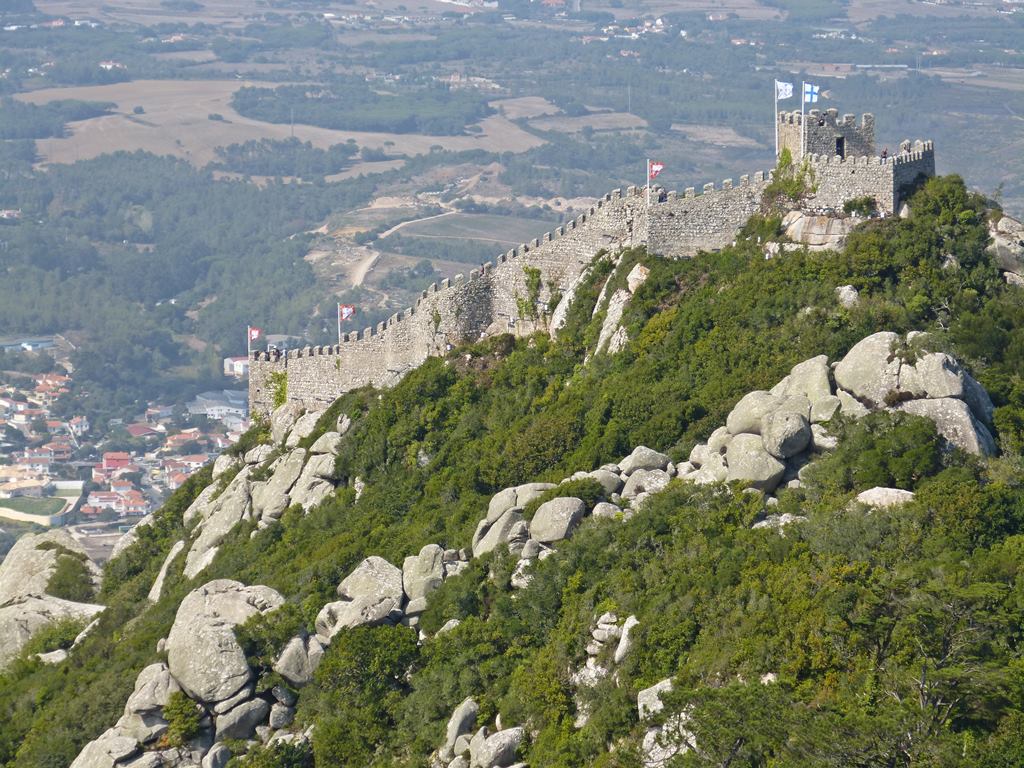 Back at the entrance gate I got in line for the bus which brought me back to the station. 50 people were already in line. I had no high hopes to get there anytime soon. Three busses in a row came and went. Without me. Unfortunately I still had to wait. In this case: the fourth time's a charm. After what felt like an eternity and with great relief I arrived there where six hours earlier my day in Sintra had begun.
I caught my breath and got onto the next bus. The one to Cabo da Roca. Five minutes later I was off to a new Portuguese adventure.
Have you been to Sintra? What did you think of it? Tell me about it in the comments below. I'd love to hear it!