Pink Street, Tram 28 and a Golden Gate Bridge doppelganger. Need more reasons to love the city of seven hills? Check out my 10 Must Sees in Lisbon.
10 Must Sees in Lisbon
Alfama, Lisbon's oldest district
Alfama is the oldest but also poorest part of Lisbon. Front up advice: Wearing good walking shoes is the key. The whole district has been build on an hill located between the São Jorge Castle and the Tejo river. The closest subway station is Lisboa S. Apolónia. Right outside you can see the "entrance" to Alfama. Leave your map in your bag and just start walking because it's the same thing as in Venice. The streets are so narrow that not all of them can be found on your map and it's also more fun to explore an area like that. Don't you think?
Immediately you will see a lot of houses, which are run-down. Some more than others. However, I instantly fell in love with the district. Its colorfulness and architecture still got a lot of charme. Trust me on this: Even walk into streets that look like and maybe are a dead end – you never know what you are going to find. For me it was small inner courtyards with flowers on the balcony, wet clothes hung out to dry and cute little details.
What above all else really amazed me was to find two huge, and I mean humongous, churches standing in the center of Alfama. They look as good as new, definitely constrast with those dilapidated houses around them and show the strong religiousness people felt in earlier times.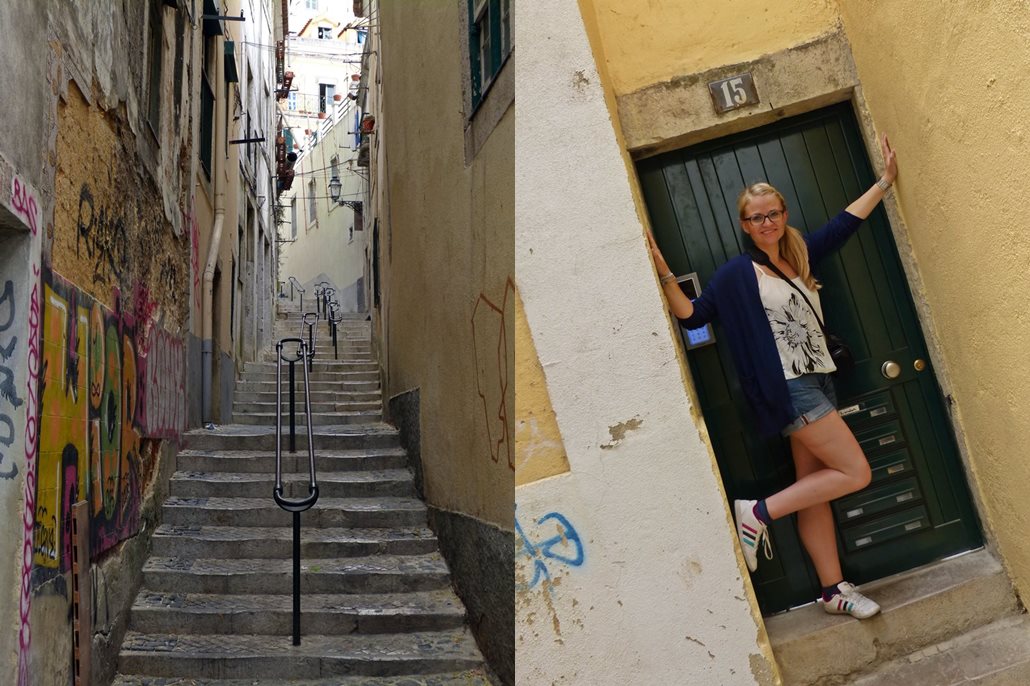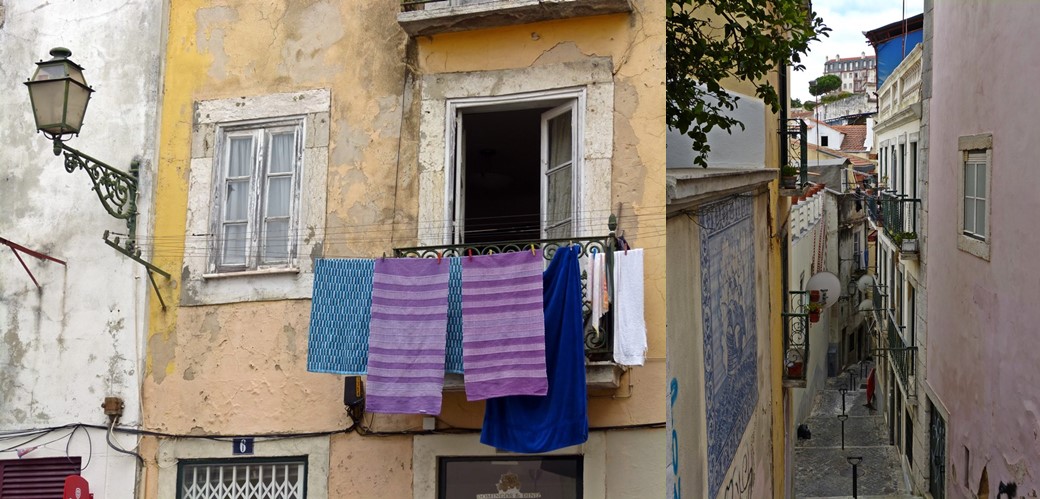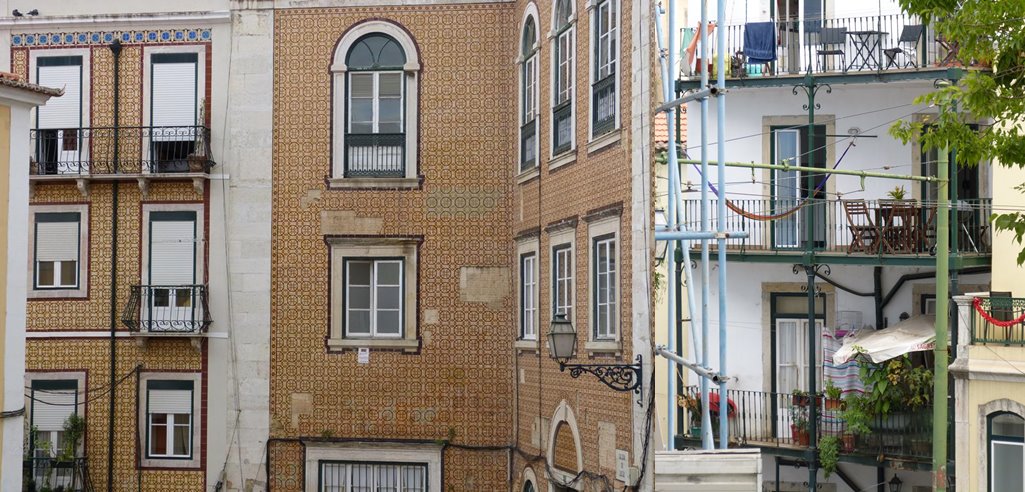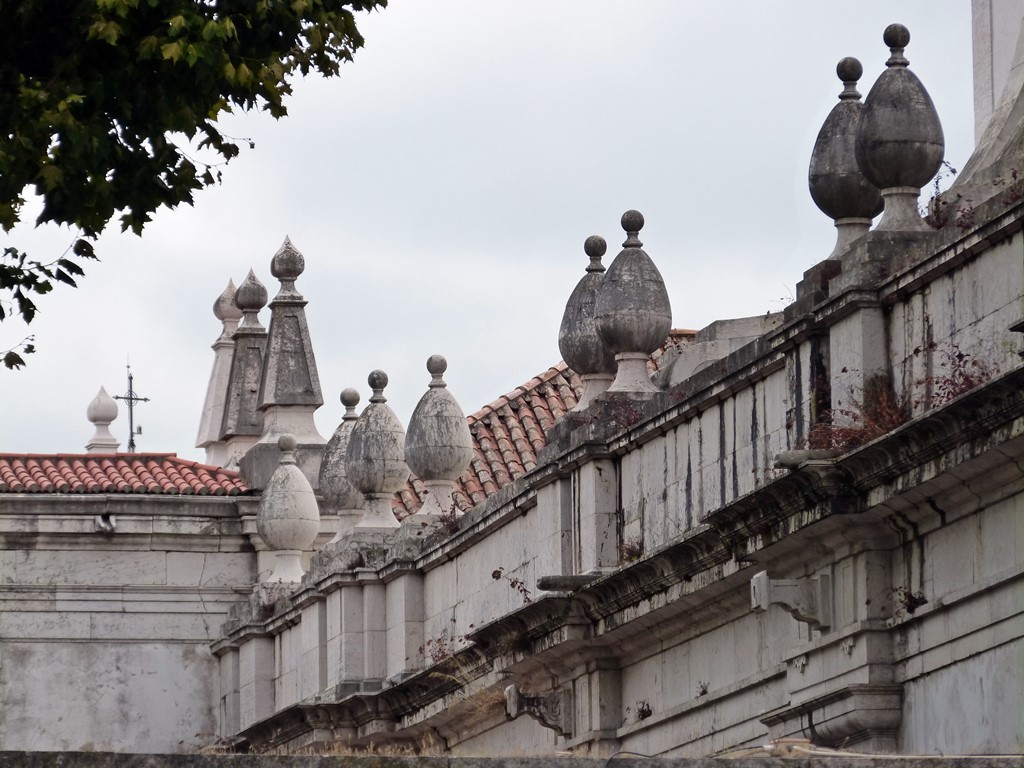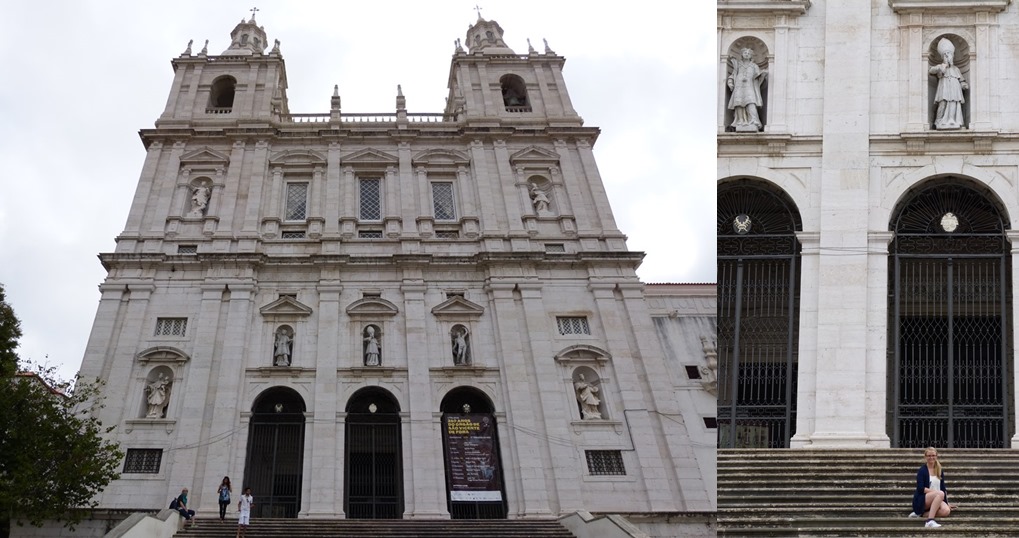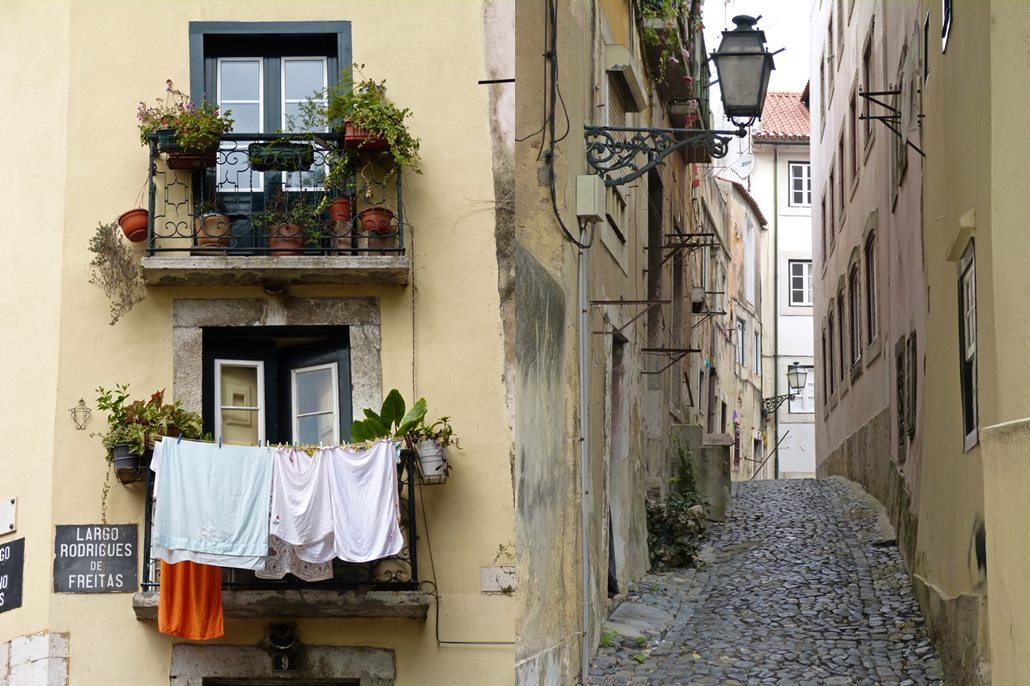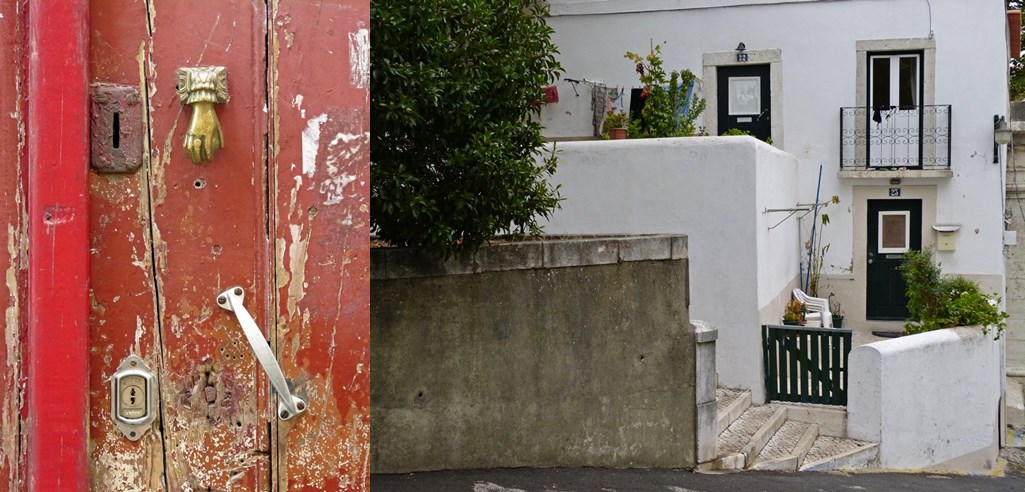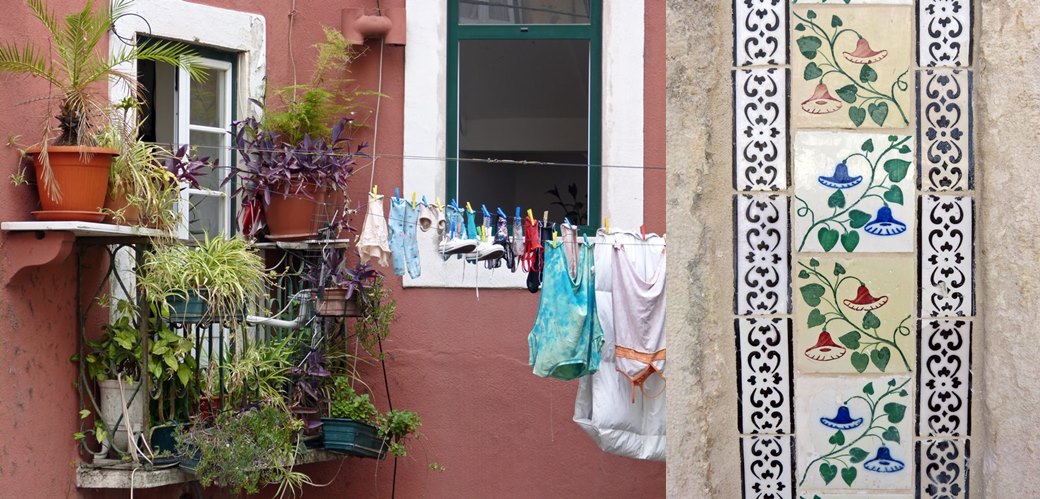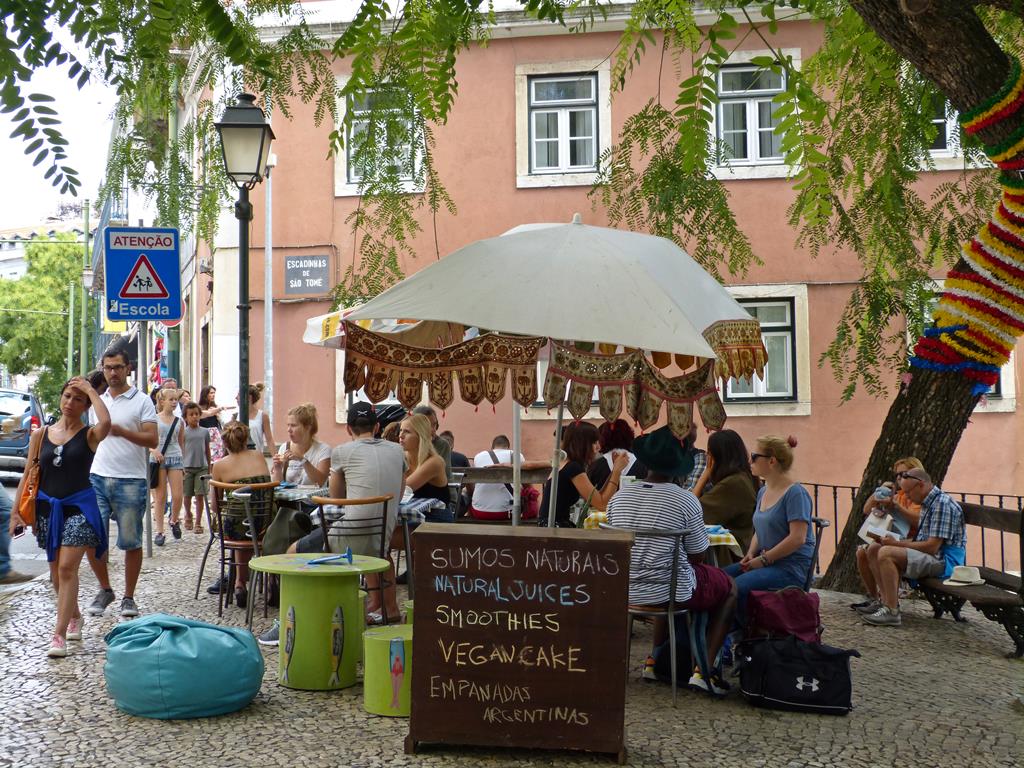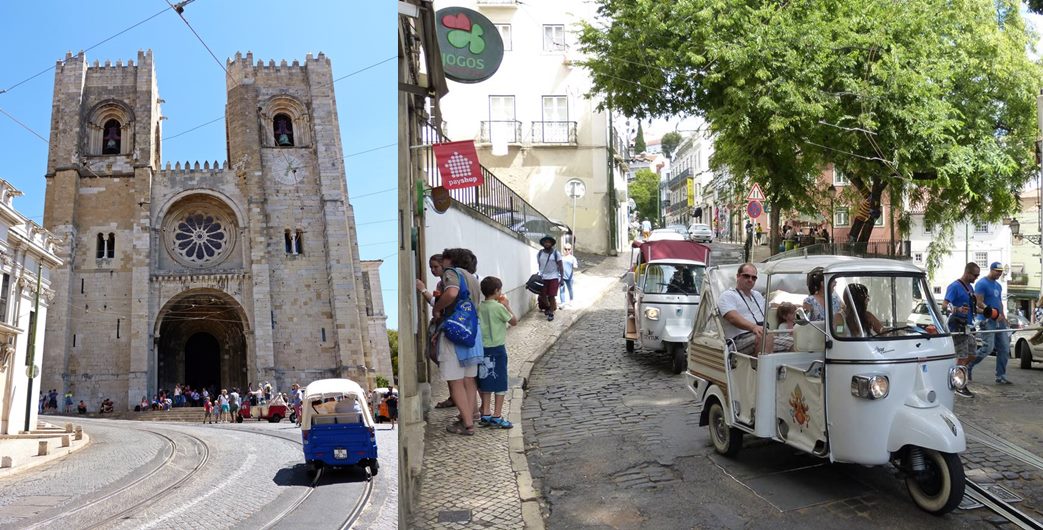 Pink Street
"Oh my god, how cool is that?!" was my prompt response after learning about this street's existence. So I got up early the next day, excited to see it with my own eyes. At that time the city was just slowly waking up. People were either on their way home or early birds like me. After arriving at Lisbon's Pink Street in the district of Cais do Sodre it was more than obvious how this coloful street got its name.
For years Pink Street hosted drunken sailors, drifters and prostitutes. Street fights were more than common in this center of one of the city's red light districts. In the 1980s things started to change for the better and Cais do Sodre together with another district called Bairro Alto was turned into a hip neighborhood. But only in 2011 the street became a stylish makeover and was painted in a bright pink. Nowadays it offers a popular nightlife area with bars and clubs opened all night long. Try getting there as early as possible, if you want to take some photos without the usual crowd.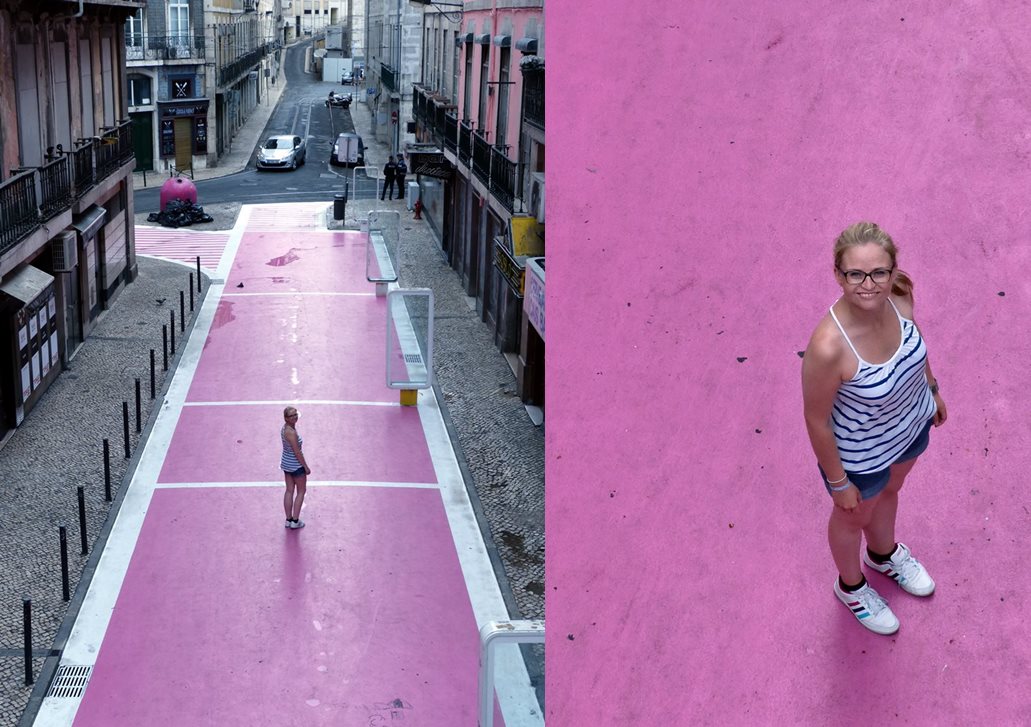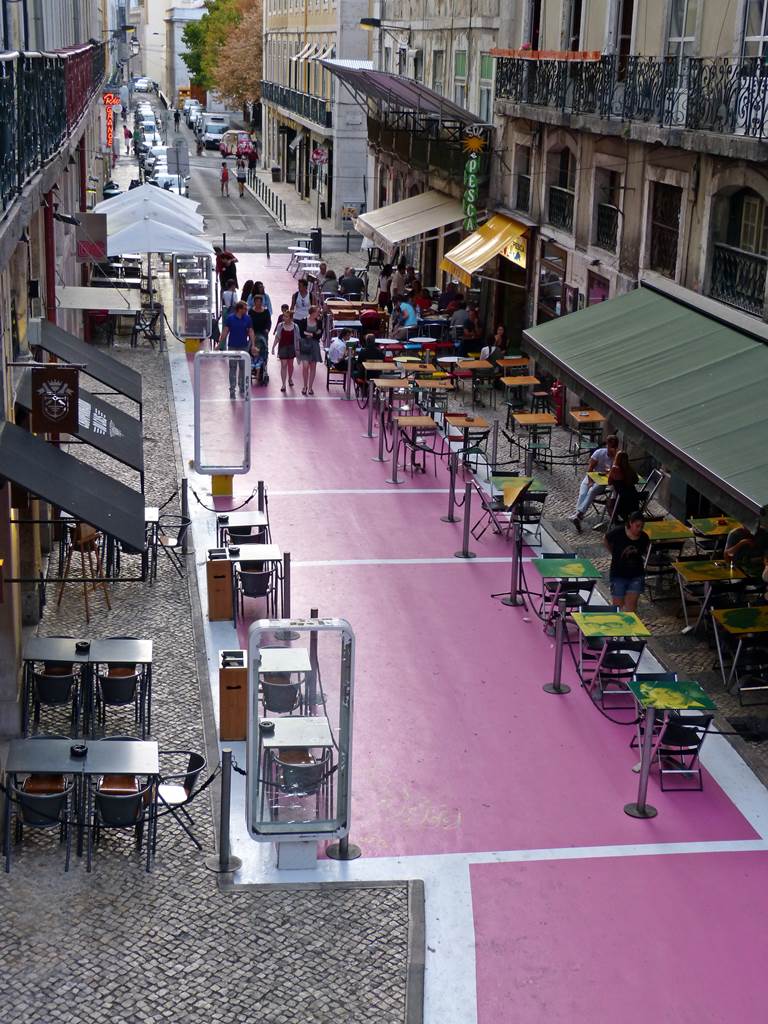 Livraria Bertrand
From the outside this small shop in the district of Chiado seems almost inconspicuous. Only three little words at the corner indicate that it is indeed the oldest bookshop in the world. Livraria Bertrand was founded in 1732 by Jean Joseph Faure and if you are a little "book nerd" like me you simply have to see it.
In the beginning the shop on Rua Garrett 73-75 only had two, but today it has six salesrooms with more than 70,000 books. The wooden furnishing looks really welcoming and even though Livraria Bertrand mainly has Portuguese books, you can find some English literature there as well.
Attention: Be careful, you can easily spend a few hours inside. However, if you just want to cross it off your bucket list, take a photo from the outside. You may need some patience due to the pedestrians, but it is managable.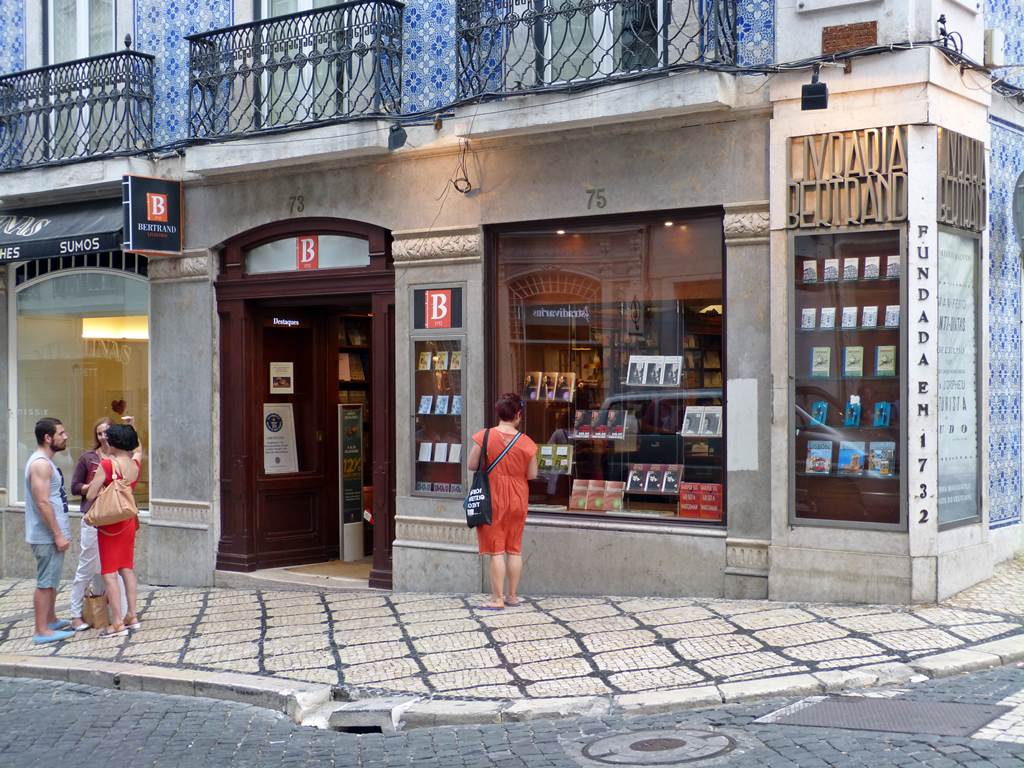 Trams of Lisbon – the yellow cable cars
When thinking about Lisbon one of the first things that probably pop into your head are the yellow cable cars. They are omnipresent throughout the city and obviously one of the coolest ways to get around. Yet they can be very expensive and usually really crowded. To make sure you get a window seat, get on at one of the starting points: Praça do Martim Moniz (north of Baixa) or Campo de Ourique. Instead of a single ticket buy a day pass for 6 euros and hop on hop off as often as you please. Plus: Free use of subways, buses and funiculars as well.
Tram 28 is the longest route in Lisbon and goes up and down steep hills and twists around narrow streets which shows you breathtaking views in different districts. Each having its own personal charm and magnetism. It follows a picturesque route that leads you to some of the city's main attractions including churches, castles, monuments and gardens. It daily departs every 11 minutes with the final departure being around 9 P.M. The whole ride takes about 40 minutes. Line 28 also takes you to one of the city's most popular observation deck I will tell you about later on.
Please be aware that a ride on this old tram is not a comfy thing. The benches are made of wood, tram lines were laid as if part of a fairground ride and the sharp brakes cand send stood passengers tumbling down the aisle. But these also are the reasons what makes Tram 28 a lovely adventure. Don't miss out on that!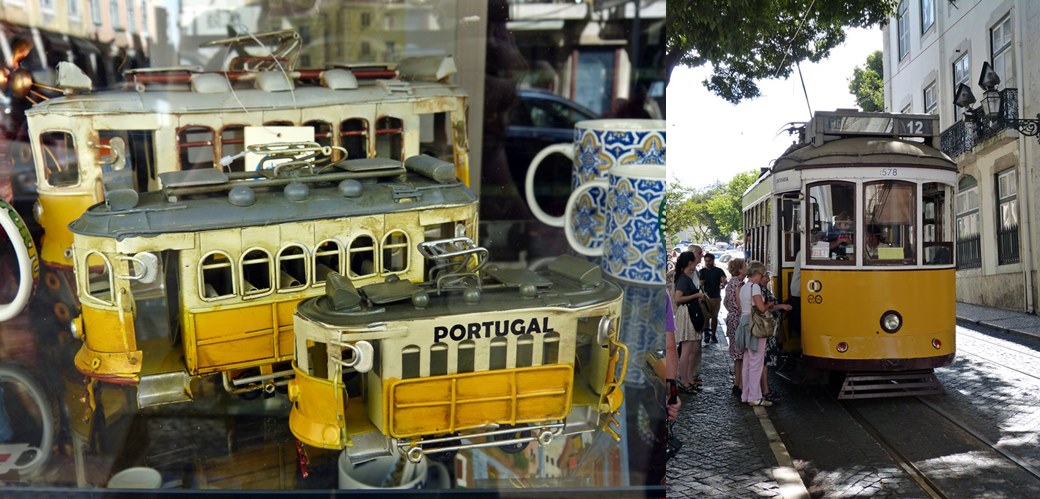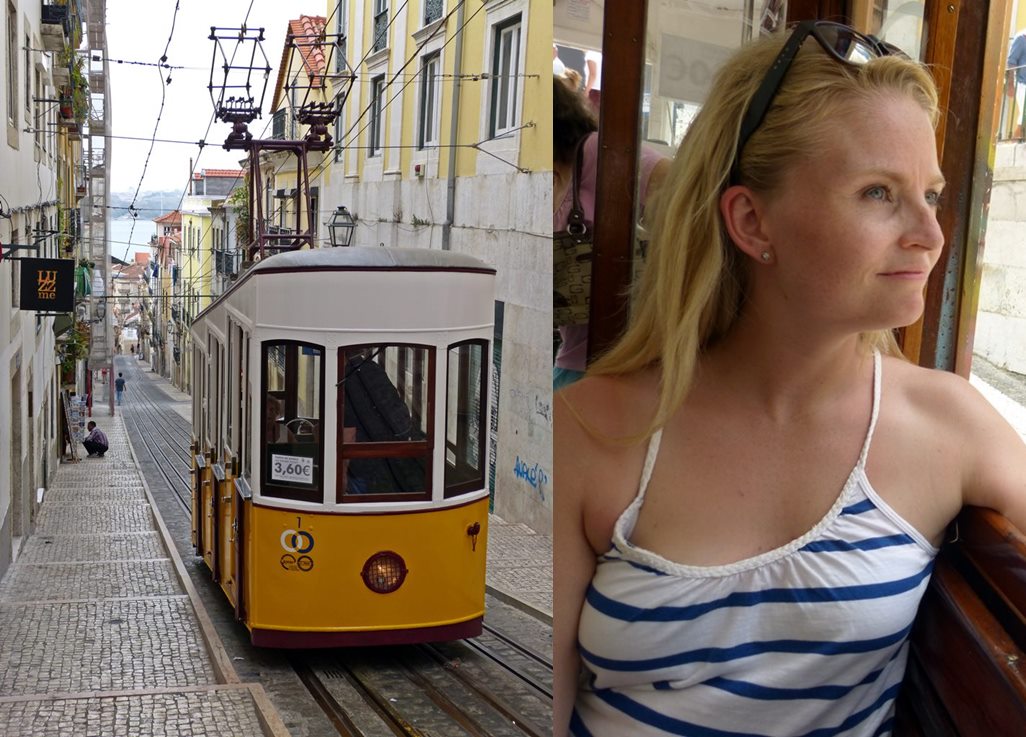 Looking down on Lisbon
There sure are many viewing points in Lisbon and all offer a different angle on the city, but my personal favorites are: Miradouro da Senhora do Monte and Miradouro de São Pedro de Alcântara.
To reach Miradouro da Senhora do Monte I advice you to ride Tram 28 to the stop Rua da Graca. Walk up Rua da Senhora do Monte and after five minutes you have a lovely view over Lisbon from the East. I went during sunset and it was just breathtaking. Keep in mind though that the wind up there can be tough, so don't forget to bring an extra sweater just in case.
Miradouro de São Pedro de Alcântara on the other hand is perfect for a lunch break. You can either walk up the hill by yourself or take the Gloria funicular from Avenida da Liberdade for 2 euros. In my opinion this is not really necessary but a fun thing to do. When the sun is out Lisbon's characteristic colorful architecture bathes the area in shining bright light. At least allow yourself two hours at both locations. If you're lucky you can even hear some street musicians. Bring some sandwiches, cool drinks and just enjoy the view.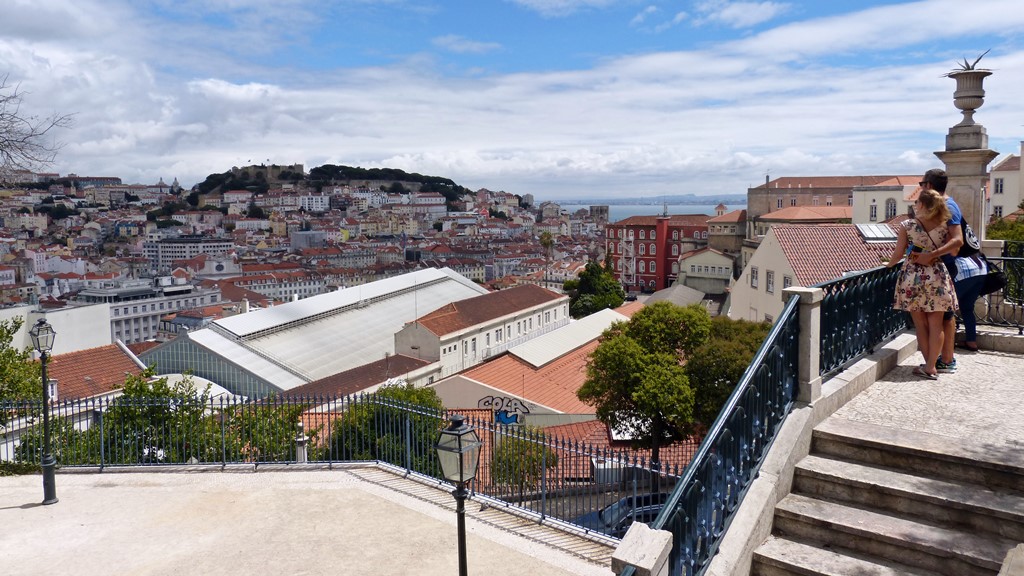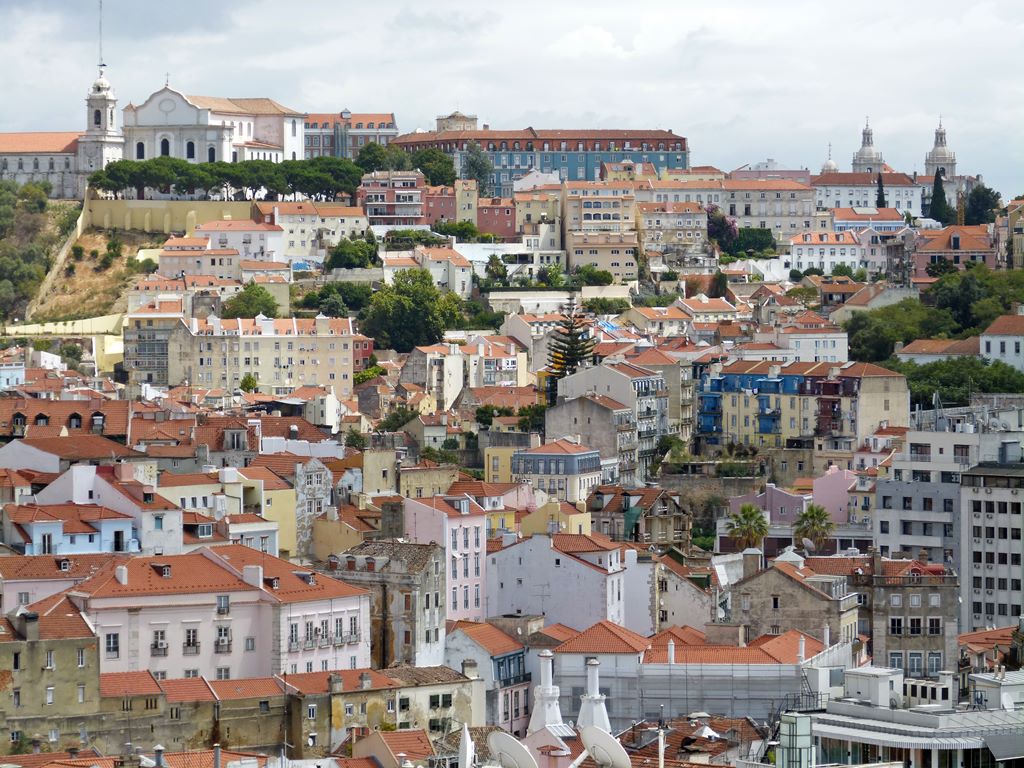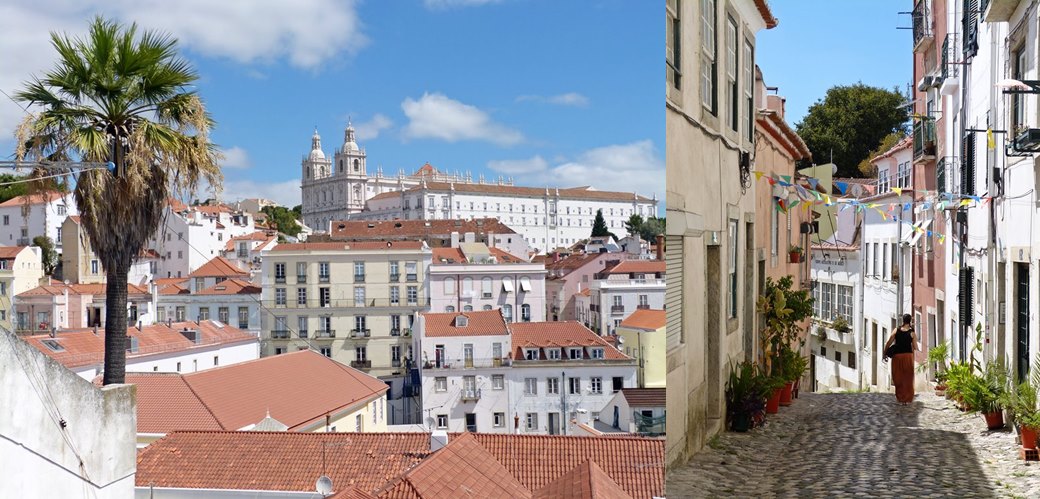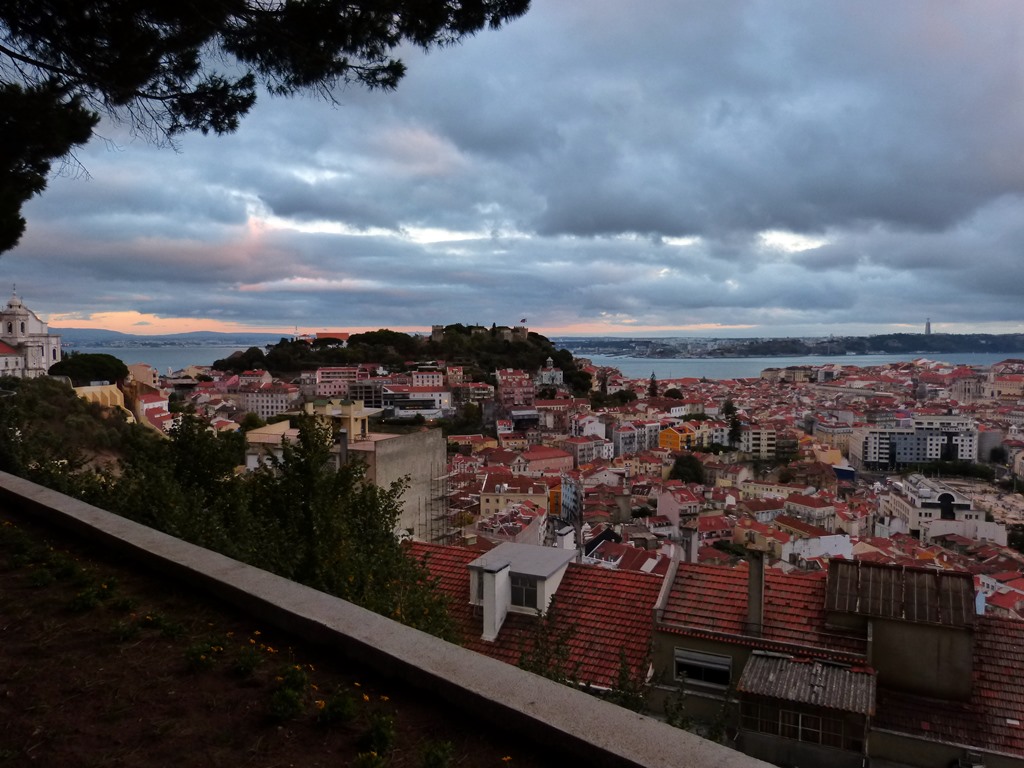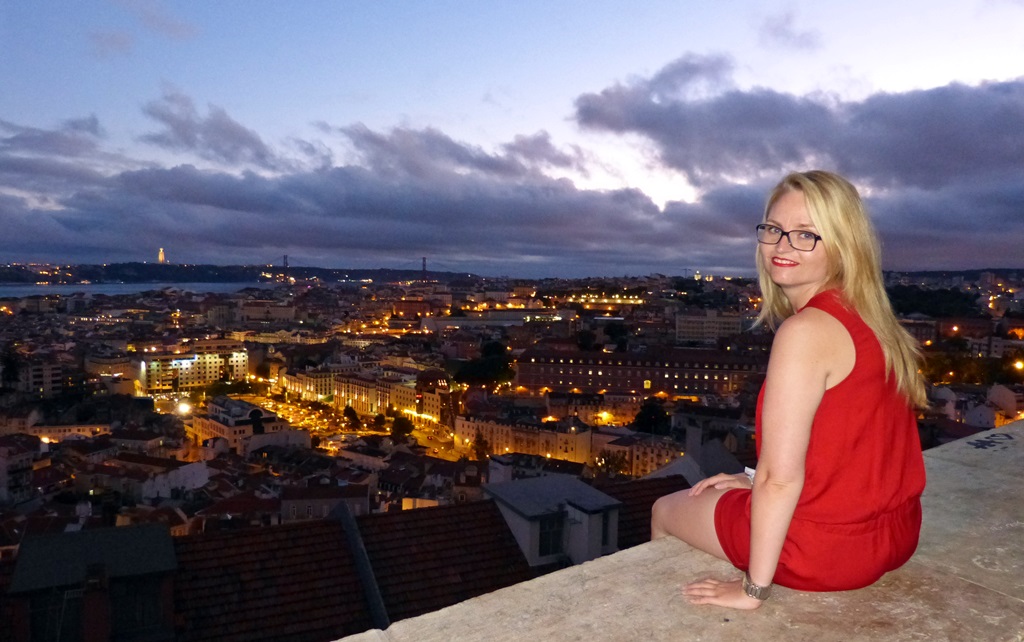 Padrão dos Descobrimentos and Torre de Belém
Are you up for a small road trip? Yeah? Take the regional train Comboios de Portugal from Cais do Sodré and get off at Belém just ten minutes later. I said small, right? One ride costs no more than 1,25 euros plus 50 cents for the green paper card named Viva Viagem that can be reused later on.
Belém is most famous for its custard tarts. Buy some 'pastéis de belém' and head into the direction of Padrão dos Descobrimentos, the Monument to the Discoveries, along the river. Located where ships departed to explore and trade with India and Orient, it celebrates the Portuguese Age of Discovery during the 15th and 16the centuries. This 50 meter high but narow monument is much higher in real life than what it looks like on pictures. Imagine the statues being three times the size of an average adult height.
Within reach stands the Torre de Belém, a boot-shaped defensive tower from the 15th century. It's one of Lisbon's emblems and a perfect example of the Manueline style. From the top you have a pretty nice view over the bay, though the view from the Monument to the Discoveries is much sweeter in my opinion. I promise! Take a look for yourself: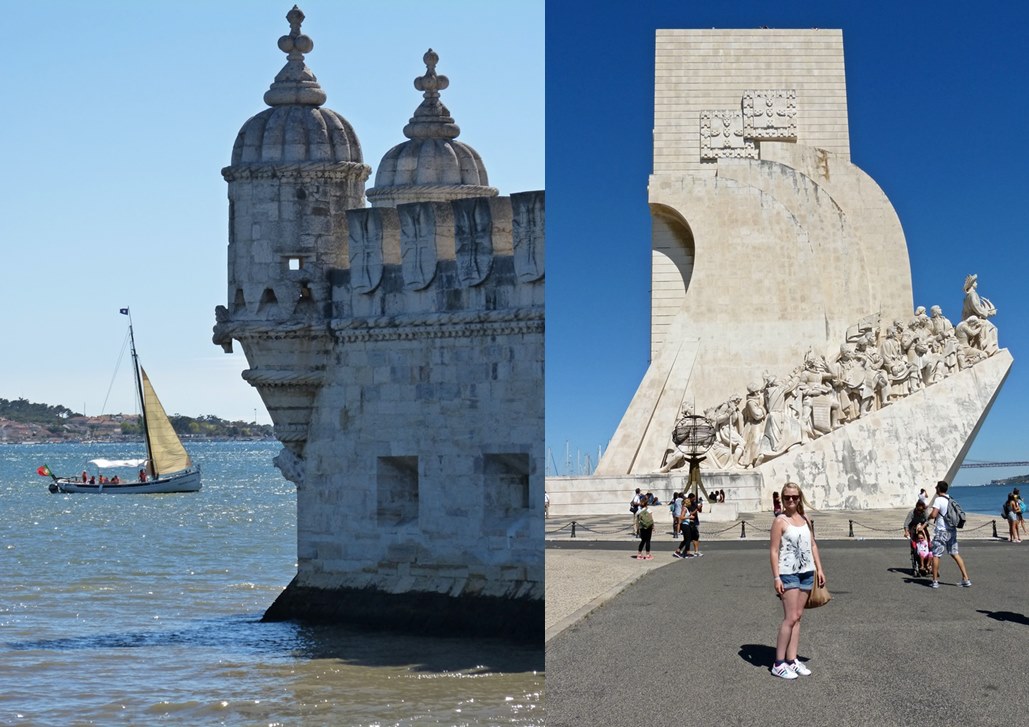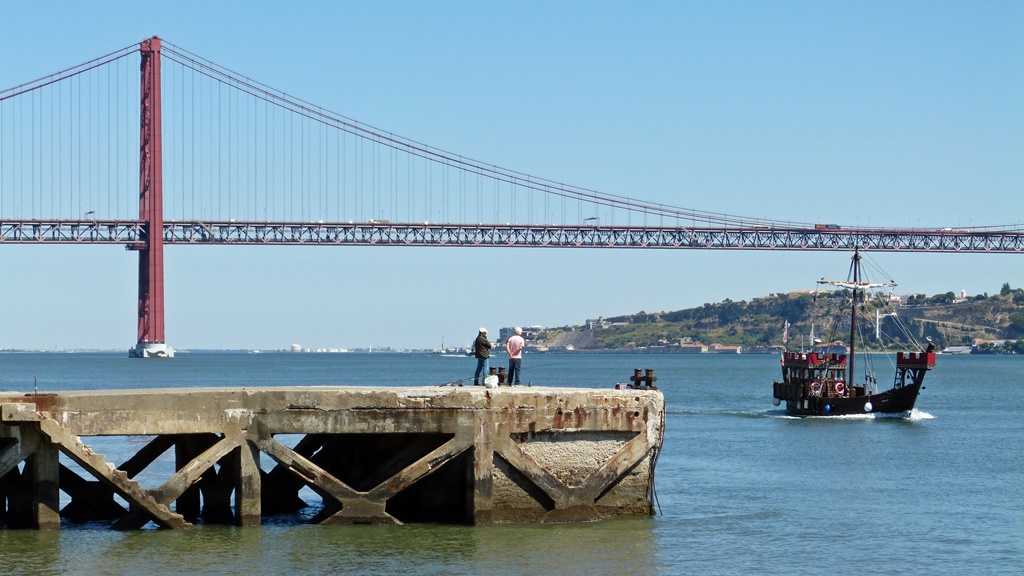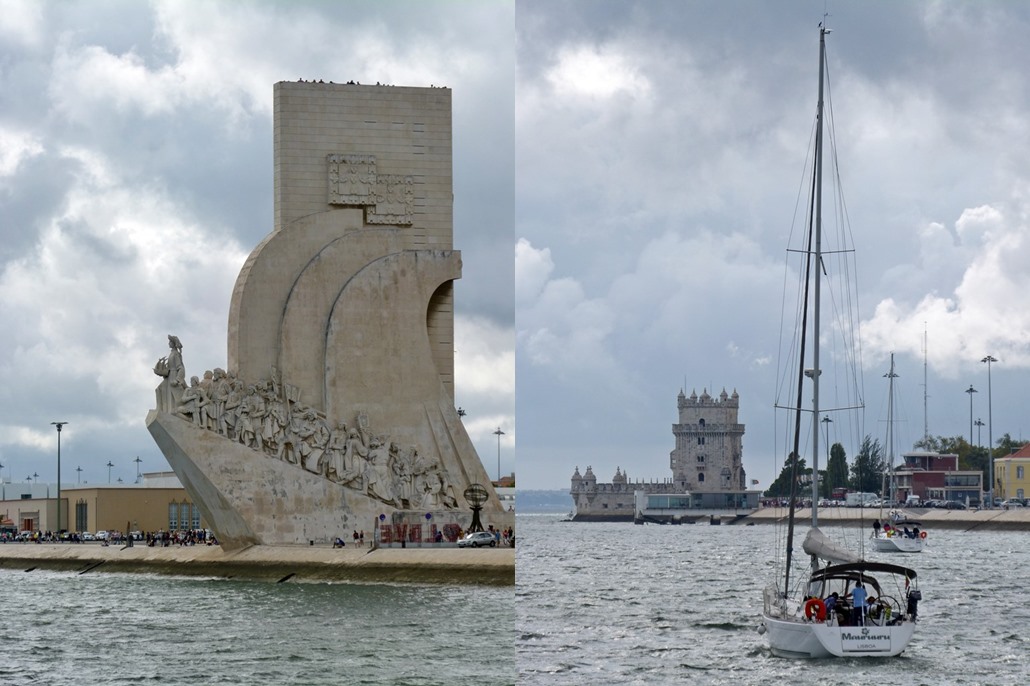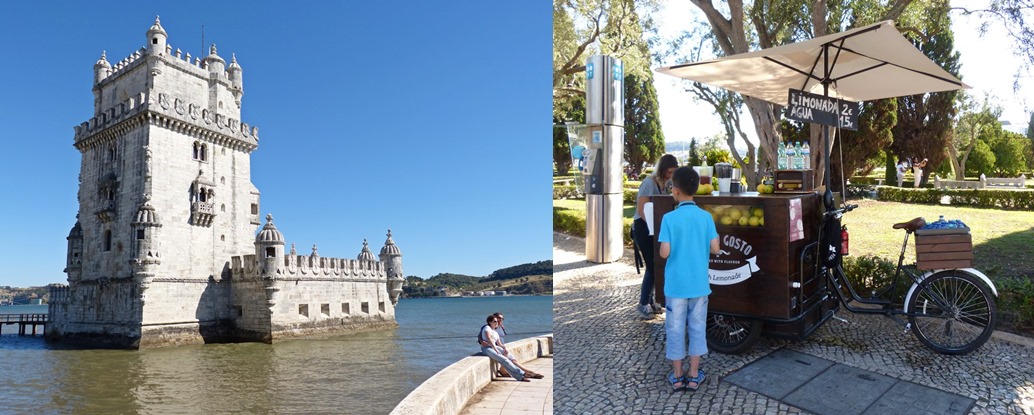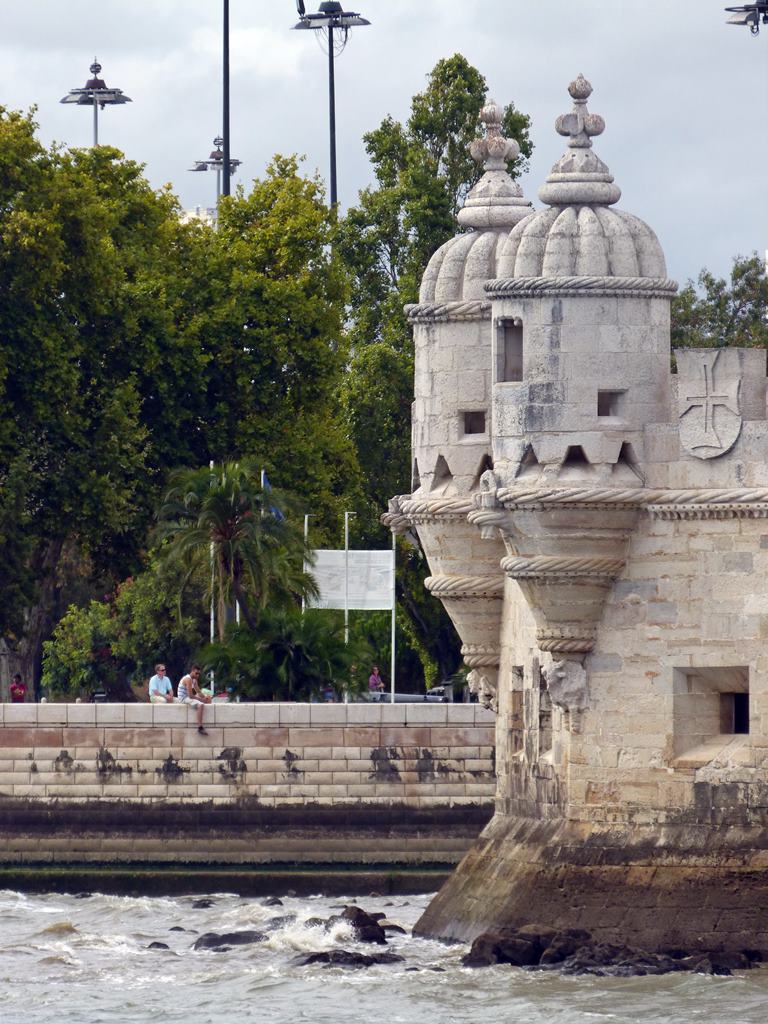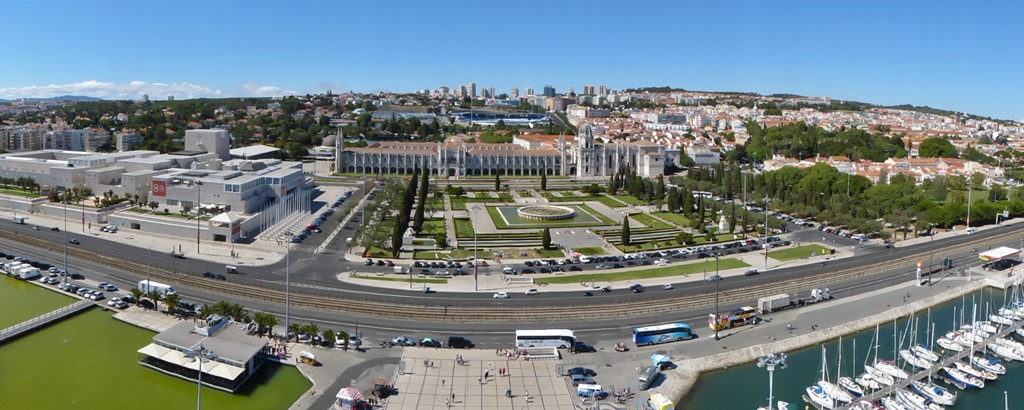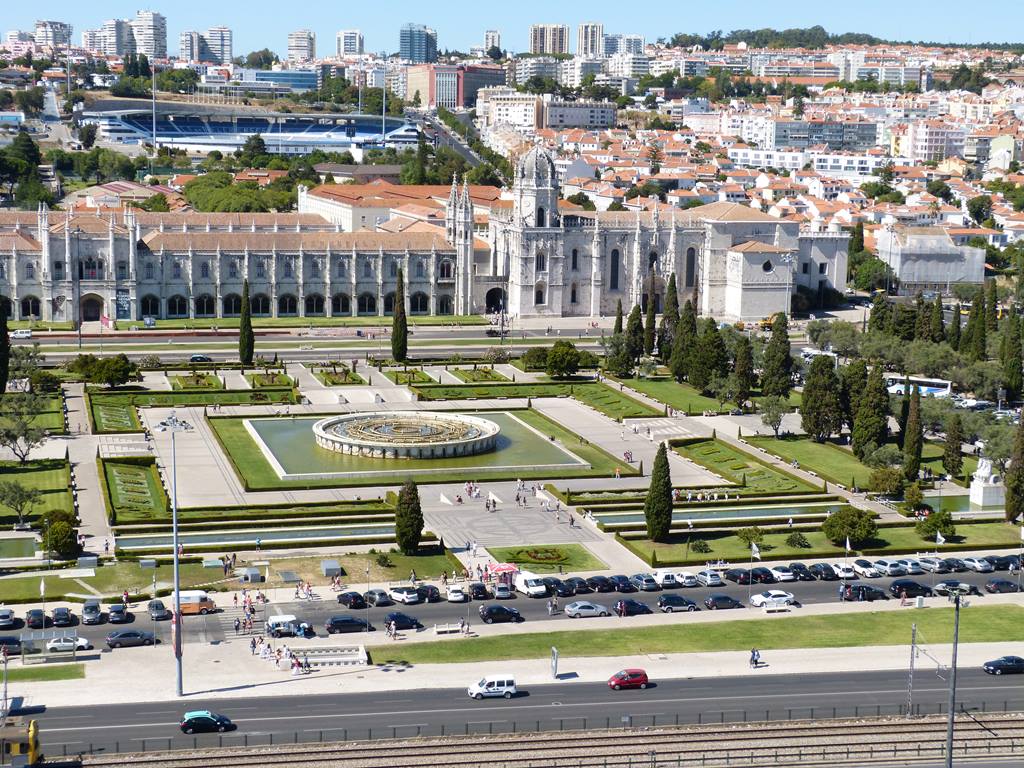 Ponte 25 de Aprile
I know what you think! Isn't this the Golden Gate Bridge in San Fransisco? Ehmm … no! Sorry but it seems the famous bridge in Northern California has a doppelganger in Portugal. It connects Lisbon with Almada on a 3,2 kilometers long road. Ponte 25 de Aprile is the world's second longest suspension bridge for both road and railway traffic after the Tsing-Ma-Bridge in Hong Kong.
It doesn't matter where you stand along the waterside this bridge is always nice to look at. My advice: Grab a drink at one of the outside bars between Praca do Comércio and Cais do Sodré train station. It's a fun and chill way to end your day. Win-win-situation.
I've heard that you have an amazing view onto the city of seven hills from the Santuário Nacional de Cristo Rei on the other side. But if your time is limited, I simply recommend to walk along the waterside in Lisbon, ride a train to Belém or do a yellow boat tour to get a closer look at the bridge.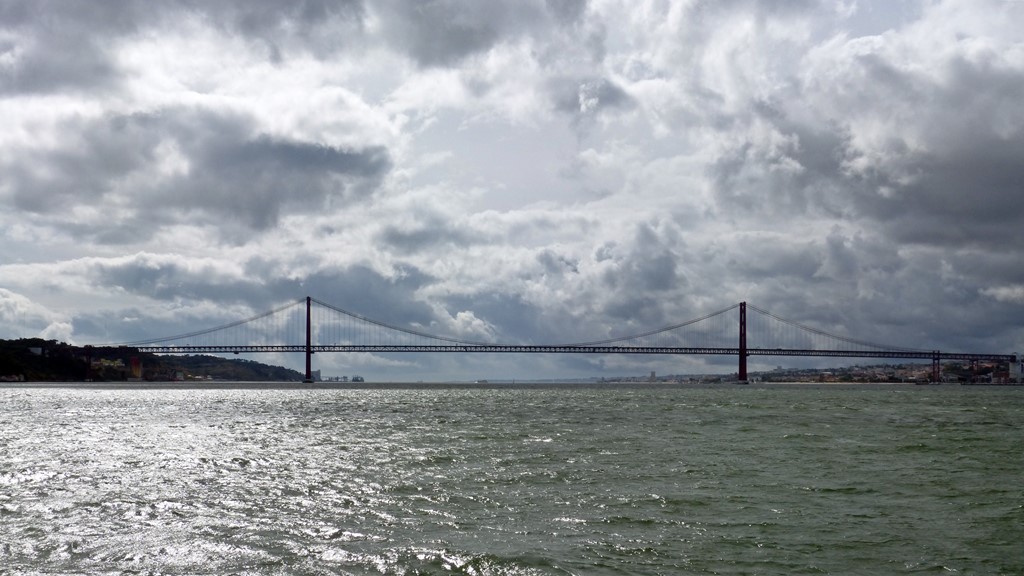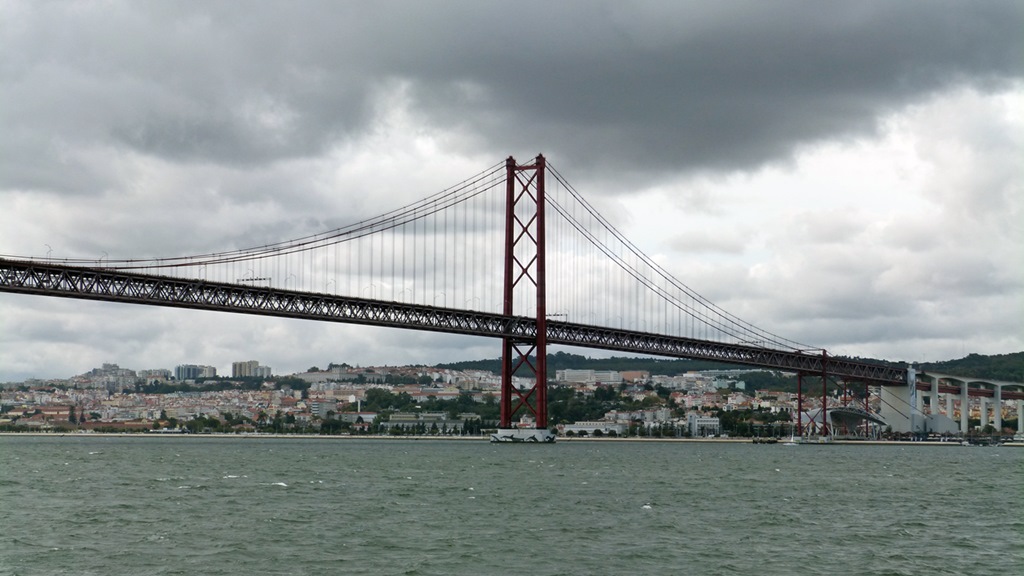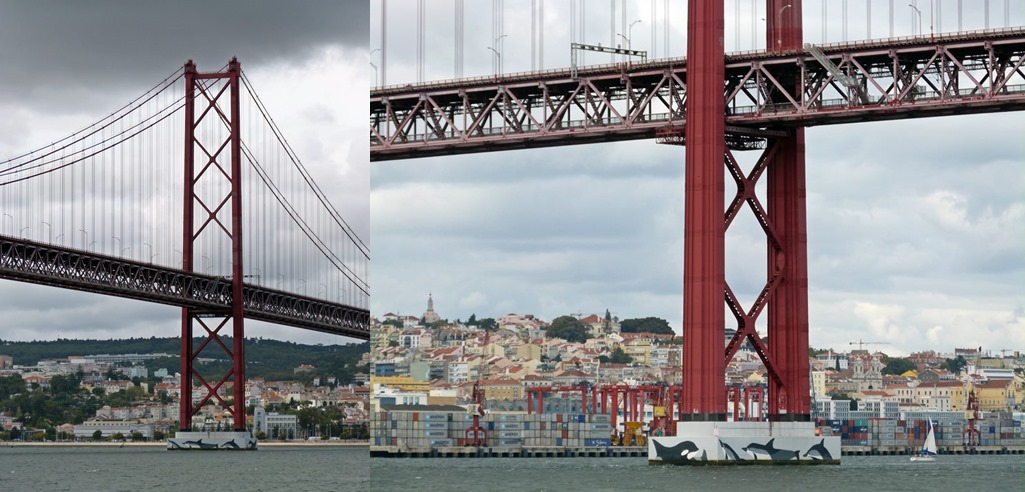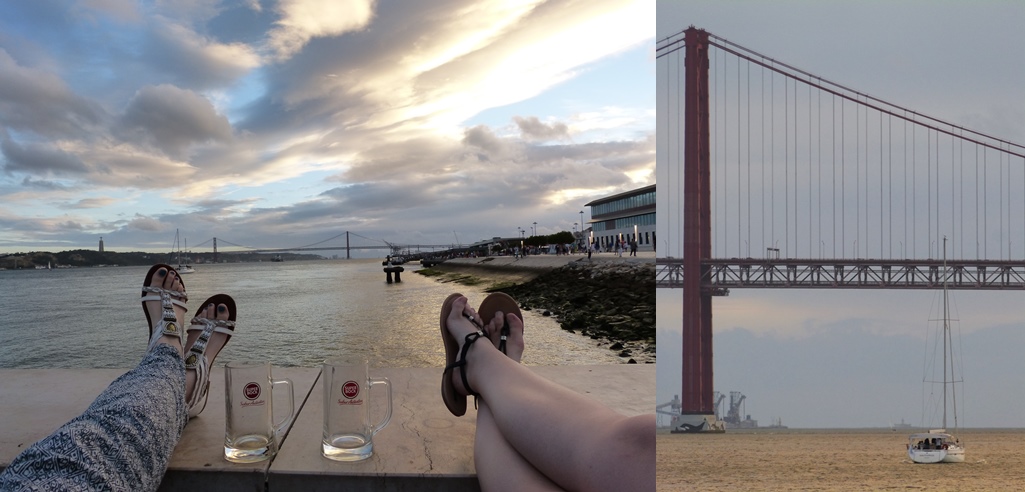 Praca do Comércio and Rua Augusta
The Praca do Comercio is the main square of the city and was built after the great earthquake in 1755. For centuries it was the place where ships from around the world were welcomed. Not for nothing the Portuguese word 'praca' means 'quay'. The two main architectural elements are an equestrian statue and an archway. You can take an elevator up to the top of the Arco Triunfal da Rua Augusta for amazing 360° views. Try being here around sunset for magical views and listening to some live music.
Around the Praca do Comércio you'll find shops, restaurants and a tourist information in some really old houses with arcades. They are nice to look at but don't bother leaving your money there, the prices are just way too expensive. Same goes for the city's biggest shopping street Rua Augusta. Don't eat in one of the located restaurants, better try out smaller restaurants in the side streets. Rather bring your camera and go on a hunt. This street actually was one of the top things on my bucket lists for Lisbon's photo spots and the pictures below don't even do it justice. I was more than amazed by the beauty of it and I think you'll be, too.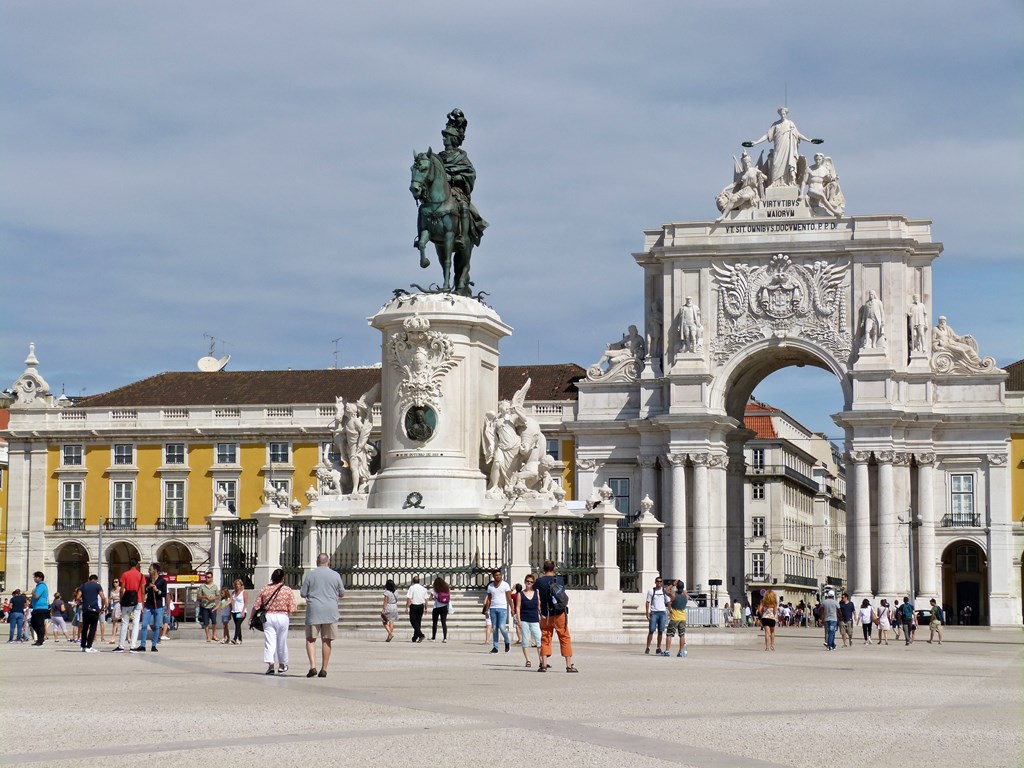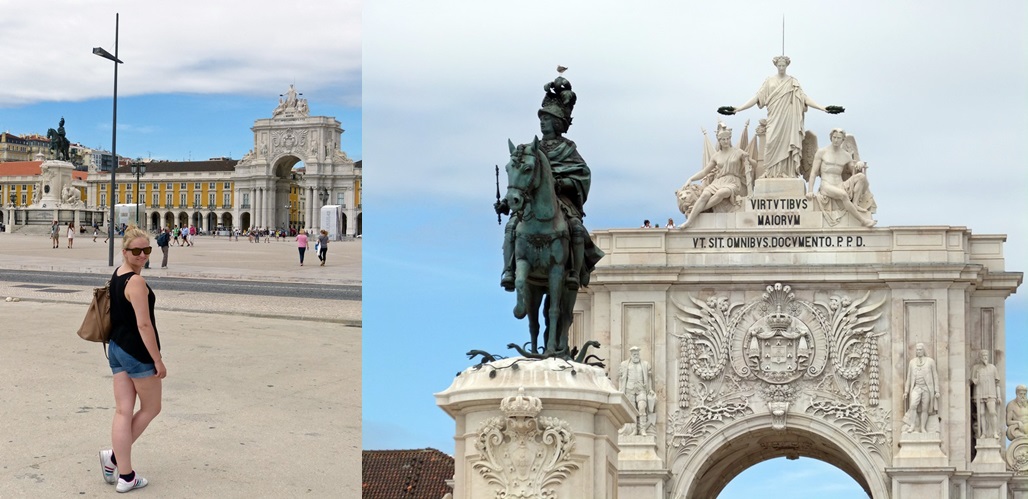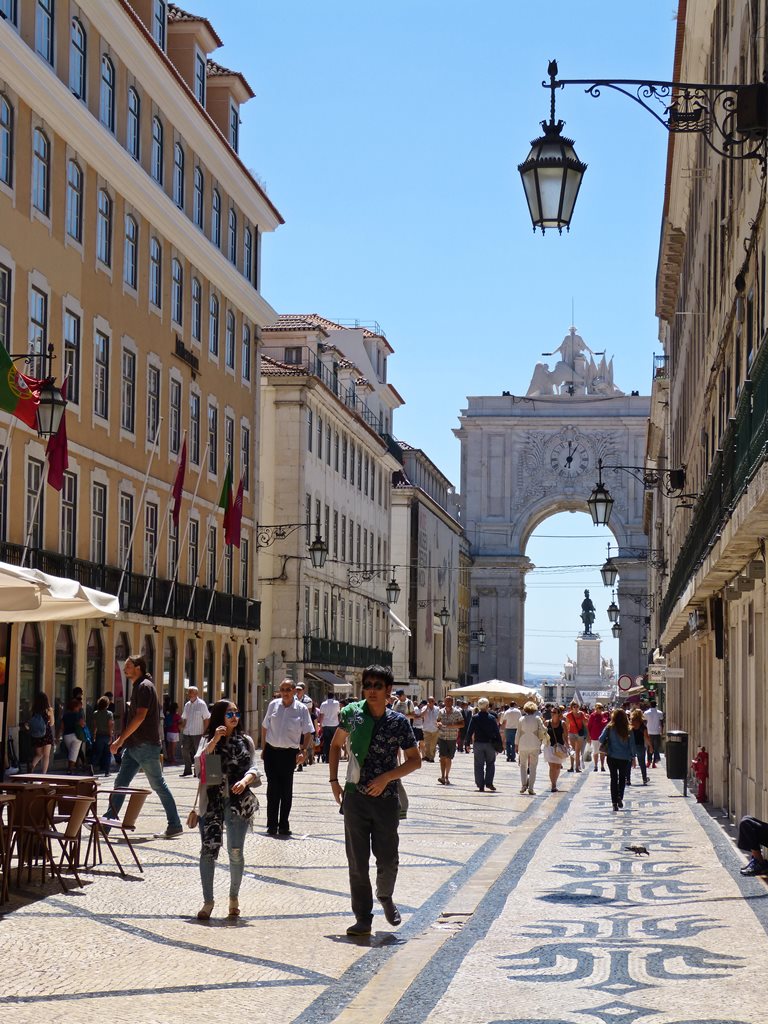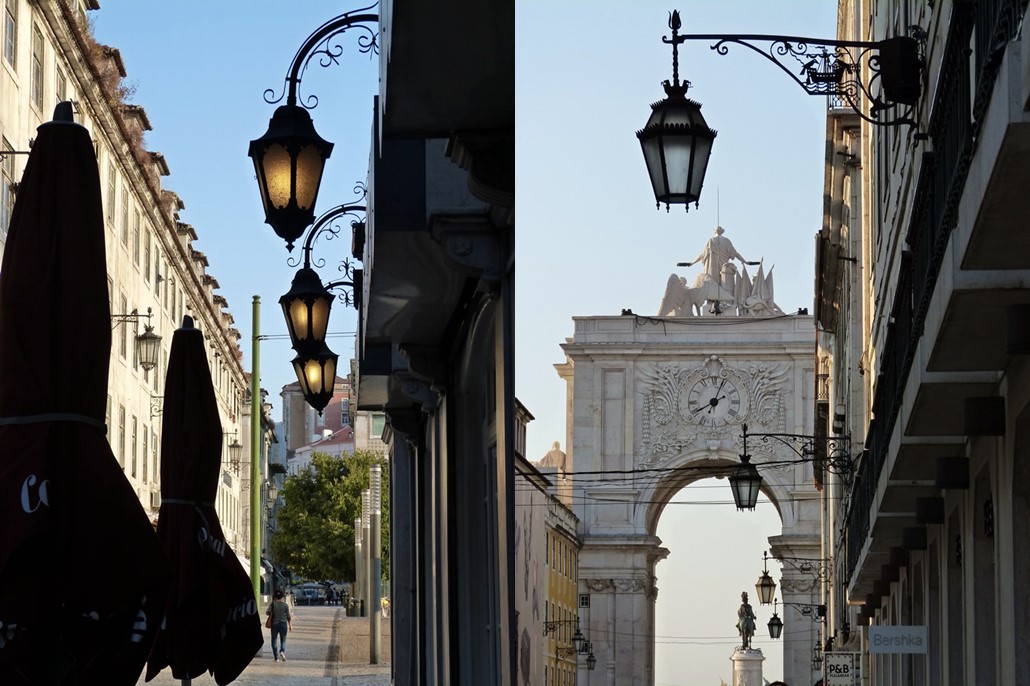 Elevador de Santa Justa
I was wandering the streets of Baixa one sunny afternoon when I came across this tower-like elevator that connects the lower with the upper city of Lisbon. A huge crowd was already waiting in front of it so I decided to walk on and come back early the next morning. Turns out that was the right decision. Except for me only a father with his son and a few other people were there.
I arrived just in time and slipped right into the opening elevador doors to go up. Only after they closed I notized an inspector and what was even worse –  a sign that said: 5 euros per ride. My heart missed a beat. I didn't even check if there was a fee beforehand. 45 meters later and after acting as cool as possible, I stepped out onto the fenced viewing platform. You can also reach this by foot and it won't cost you anything.
And I got even more lucky. How? Because there was no mandatory way to get to the higher observation deck. So I walked up the way people are supposed to walk down and later on I learned that the higher platform would have cost me 1,50 euros. I swear I haven't done either of those things on purpose and I do not recommend to copy my actions to anyone with heart problems. However, from up top you have an amazing view over the district Baixa to the S. Jorge Castle and even the Tejo river.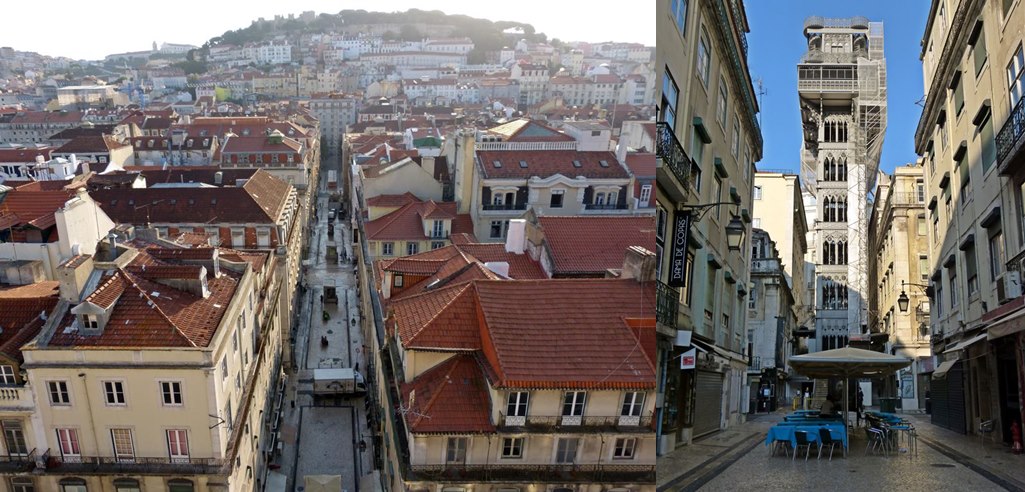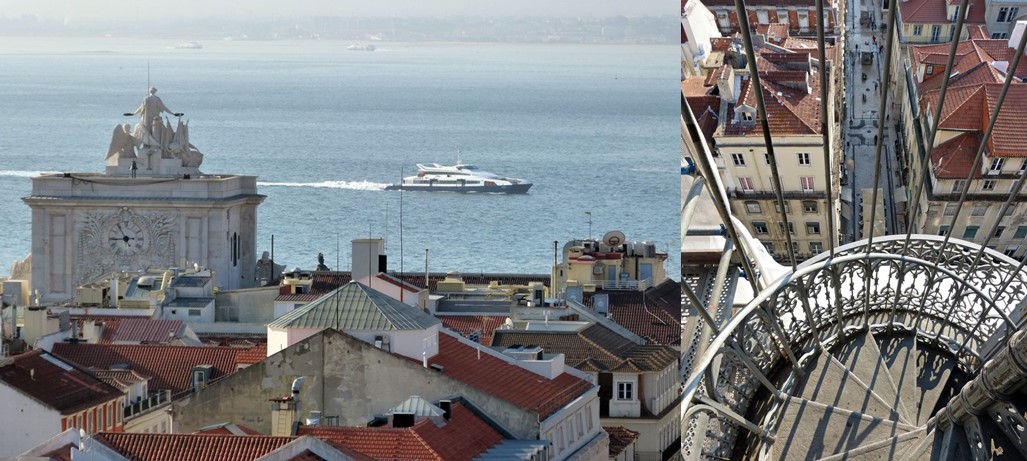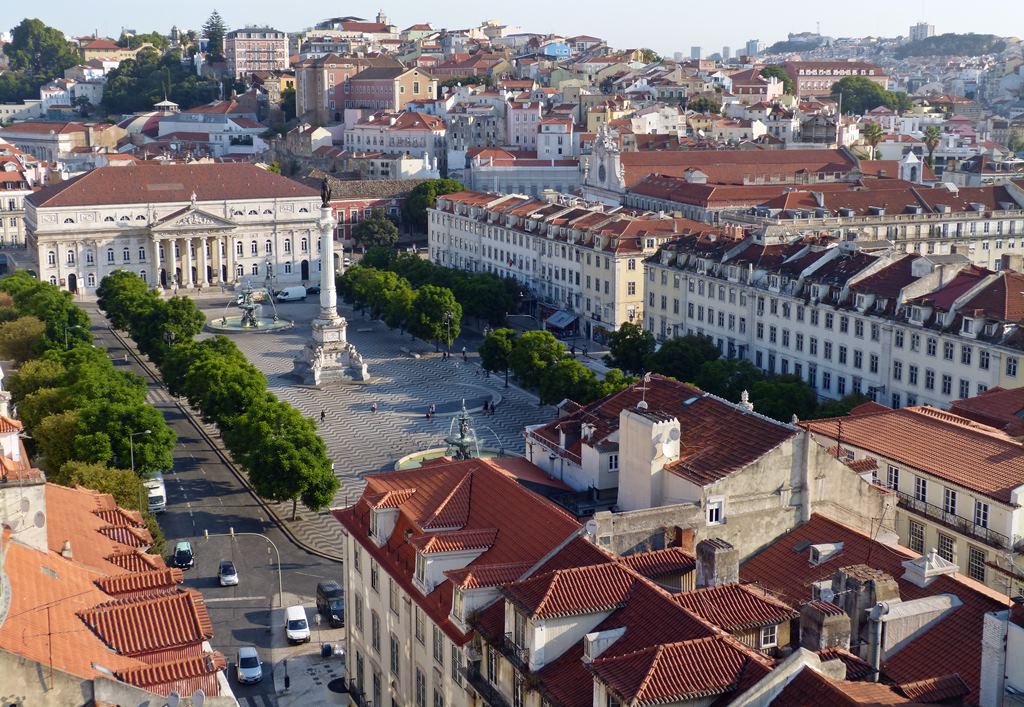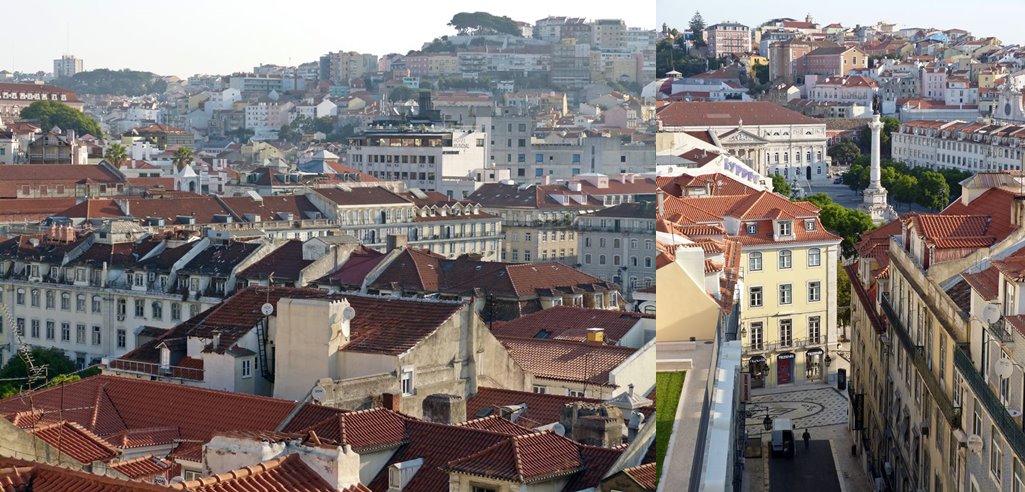 These are my 10 Must Sees in Lisbon. Do you have anything to add? Or do you prefer Sintra or Porto over Lisbon? Write it in the comments below. I would love to hear it!
By the way have you read my posts on 10 Must Sees in Hamburg or 10 secret locations in Venice?